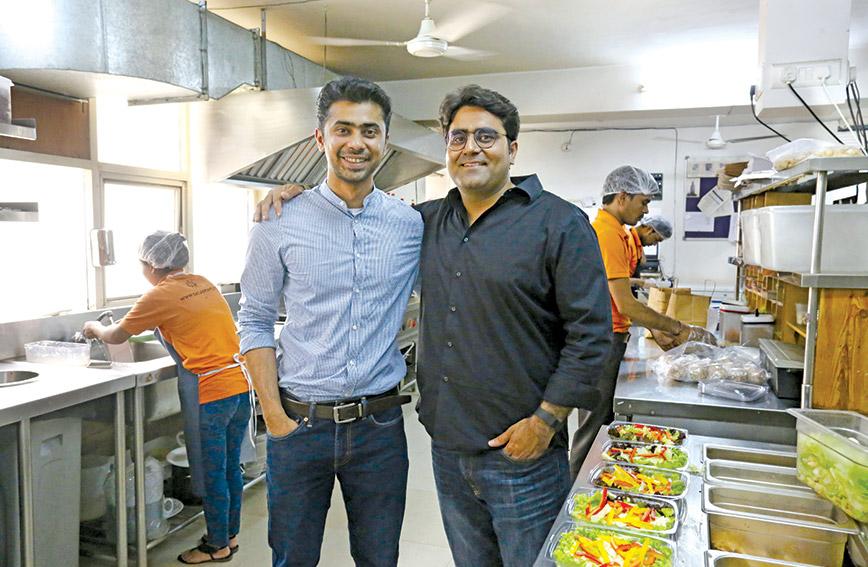 Kunal Gangwani and Varun Madan of Salad Days
Fresh, crisp and catching the clean-eating trend
Civil Society News, New Delhi
Published: Jul. 03, 2017
Updated: Jul. 28, 2017
Delivering hundreds of eatable salads across New Delhi and Gurugram in a day is not the kind of enterprise the faint- hearted should get into. There are power failures, traffic jams and water shortages to contend with. Sourcing high-quality vegetables and fruits is another kind of challenge. It is also important for the packaging to look right and the messaging to be perfect — salad-eating types tend to be finicky. Finally, delivery must be so smooth that none of the stress that went into getting a salad to a demanding customer's table ever gets noticed. It is important that the box be as flawlessly crisp and fresh as the salad it contains.
But two brave small enterprises, Salad Days and Raw Leaf, have shown that the perfect low-calorie meal can reach homes and offices fresh and hygienic in the face of daunting logistics. Riding the trend of eating healthy, they have been first-movers in acquiring a growing number of loyal customers who want to get off oil and heavily cooked stuff. Salads, wraps, grills, shawarmas, smoothies and cold-pressed juices are being ordered for breakfast, lunch and dinner.
Both Salad Days and Raw Leaf are fuelled by the passion of their founders who have started small and are in no serious hurry to grow. They are happy to sell what they personally like to eat, which is, of course, key to the quality they promise. They are also completely hands-on and work with small, self-trained and committed teams. Right now, profits matter less to them than the admiration of customers.
Kunal Gangwani, 29, and Varun Madan, 33, turned their backs on employment and rolled out Salad Days from a hole in the wall at Mahipalpur near the airport where connectivity was so poor that they had to rush out of their office to take the first orders on their mobile phones.
The crummy pavements and crowded lanes of Mahipalpur are an unlikely location for a business in fresh salads. But that is where they got started with Salad Days and had their first taste of failure and success.

A modestly funded company, Salad Days is not the usual kind of business. But if you once played in a rock band together, as Gangwani and Madan did, and you aren't finicky about working out of a basement, chances are that you wouldn't mind plunging in and testing the frontiers of new eating habits. Salad selling can also define your professional life in personal ways. It can turn work into fun.
Gangwani and Madan studied at XLRI in Jamshedpur at the same time. It was here that they were part of the XLRI band, the Bodhi Tree — Gangwani playing rhythm guitar and Madan the drums. With a decent management degree under their belt, they got into jobs and then opted to drift out of them. It was then that they met up again by chance.
Salad Days has acquired a steady viability over three years with one customer bringing in the next. Gangwani and Madan aren't ready to talk numbers yet, but the lights are on and they even make a little money. From Mahipalpur, they have moved their kitchen and office to Udyog Vihar in Gurugram, but the founders still sit in a basement, though a biggish one and nicely done up, and there is a well-equipped and airy kitchen on the floor above.
A second kitchen is coming up in south Delhi because the numbers of those wanting to eat healthy has been growing. Anything oily is increasingly being banished from diets. Fresh greens are the perfect substitute. Working people also don't have the time in the morning to put together lunch or in the evening to cook dinner. Salad Days is a great option.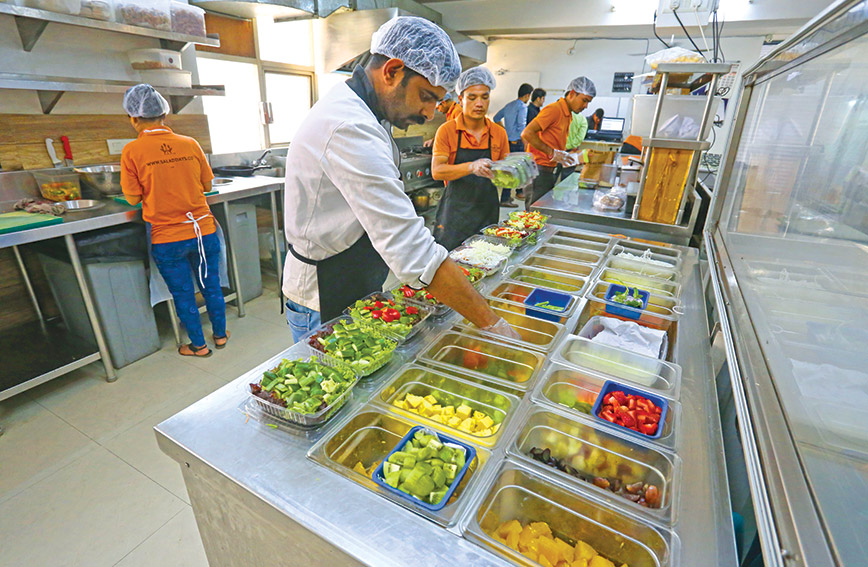 The kitchen at Salad Days
The business has grown just as Gangwani and Madan imagined it would. They saw in themselves their potential customers. They say they had travelled widely and lived in the West and discovered the evolved joys of eating simple salads. So, when they were looking out for a business they could enjoy running, they decided that delivering salads to people like themselves would be a great thing to do.
"We love this kind of food. We wanted to create something that we could buy ourselves," says Gangwani. "We looked around us and found that there were pizzas, burgers, dosas, sandwiches, but no salads. It was a gap we decided to fill."
Salad Days delivers around 500 salads a day. That is a good number, but the founders say they aren't chasing numbers.
"We want to be the best. We don't want to be the biggest. Whatever we do should be the best from our side. If we cannot do it better, it is because we don't know how to do it better," says Madan.
It is also a business not built on big money or lots of cash burn — an euphemism for charging less for products and services than they actually cost so as to lure customers and show numbers.
"What is the point of the hard work we put in if we don't make a profit and literally pay people to buy our salads. A sustainable business is what we want to build. That is why we didn't go after big money," says Gangwani.
But that is not just emotional blabber. It is a good strategy for a business which is not in a hurry. Customers can be few, but if they are hooked and happy, individual spends can be significant. It is a comforting thought to know that you can get a fresh and hearty salad at a reasonable price when you need it.
"There are people who spend more than a lakh of rupees a year eating salads," says Gangwani. "It gives us confidence that we have played our cards well."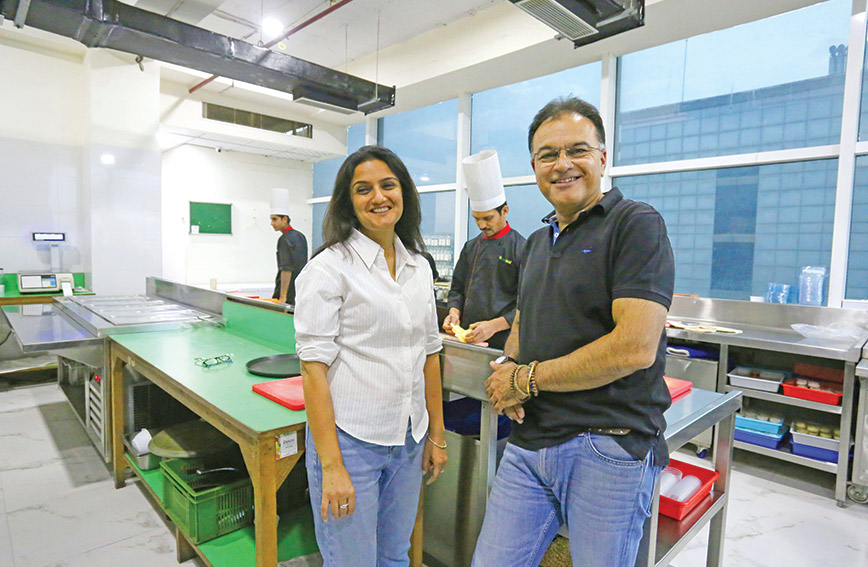 Seema and Simarjit Singh of Raw Leaf
At Raw Leaf, Simarjit Singh, 50, has also happily done his own thing and is soaking in the early success of his enterprise. He has teamed up with a school friend. Singh's wife, Seema, handles marketing.
Raw Leaf was started in 2014 and has just about begun to break even as the number of customers has grown. Located in Gurugram, close to where the Singhs live in Palam Vihar, Raw Leaf's customers are mostly among the diplomatic crowd in New Delhi. But with the business having grown by word of mouth, the customer base has expanded to include others. For instance, a TV host has his lunch sent from Raw Leaf to Noida every day.
"I am in no hurry to add customers or put more items on our menu," says Singh. "If the delivery cost is high we charge the customer more. We don't do the 30-minute delivery kind of thing because everything is fresh and an order is made from scratch. So, we say we need an hour and a half. Initially, we would say that we could only deliver the next day."
Raw Leaf is on Zomato and Swiggy, but Singh says he is not interested in paying for visibility on the sites. In fact, an order coming through Swiggy is a problem because the delivery boy turns up and wants the order instantly. Raw Leaf prefers having its own direct customers who are accustomed to its systems.
Singh is a former tea-planter, who got out of Assam when violence overtook the gardens. He relocated to New Delhi and drifted into the food business. The juicy corn and hot dog vends at cinema halls in the National Capital Region are his. He also supplies frozen momos.
It was while trying to think of what else to do that he looked closely at the possibilities in organic farming. "We discovered that organic farming is mostly a big fraud," says Singh, who has an expansive and unpremeditated planter-like manner about him.
In 2012, they took two acres on lease in Palam Vihar and began farming themselves. They began growing vegetables with high-quality imported seeds and investing in their produce. They also put a drip irrigation system in place.
It is five years now and they haven't used chemical fertilisers and pesticides and so what they grow is almost certainly organic. Vegetables they grow on their two acres go into the salads that Raw Leaf sells thereby going from the farm to the table in a specially supervised way.
In an extension of the salad experience, Raw Leaf also offers shawarmas and chicken and pita pockets, which qualify as low-calorie healthy meal options. There are also cold-pressed juices and smoothies.

The combinations are many. You could opt for Detox, which consists of beet, coriander, carrots, tomatoes, mint ginger, amla and lemon. Or you could go for Zest, which has pomegranate, watermelon and mint. Perhaps you would prefer Power Punch which is wheatgrass, beetroots, carrots, celery, mint, lemon and amla.
Salad Days also offers cold-pressed juices and smoothies. It has begun delivering sushi for another enterprise run by a Japanese entrepreneur, who began by being a customer of Salad Days and quickly turned into an admirer.
Both Salad Days and Raw Leaf see their strength in being independent. They exist on their own terms. Quality matters a lot to both and so does transparency in dealing with customers.
Their immediate appeal is in the healthy food that they offer, but is there more to changing customer preferences than diet? Are customers looking for customers they can primarily trust, especially when it comes to food? Are these the truly valuable companies of the future because they have built soul connections with their markets and are shorn of the hype and clever messaging on which bigger and more aggressive brands are built?
Gangwani says of Salad Days: "I don't know of any other brand that has come up in the past three, four or five years where customer loyalty is so strong."
Singh is less eloquent, but when he asks customers who are located at a distance to pay more or wait an hour and a half for their orders, he too tests their loyalty and says much the same thing about Raw Leaf.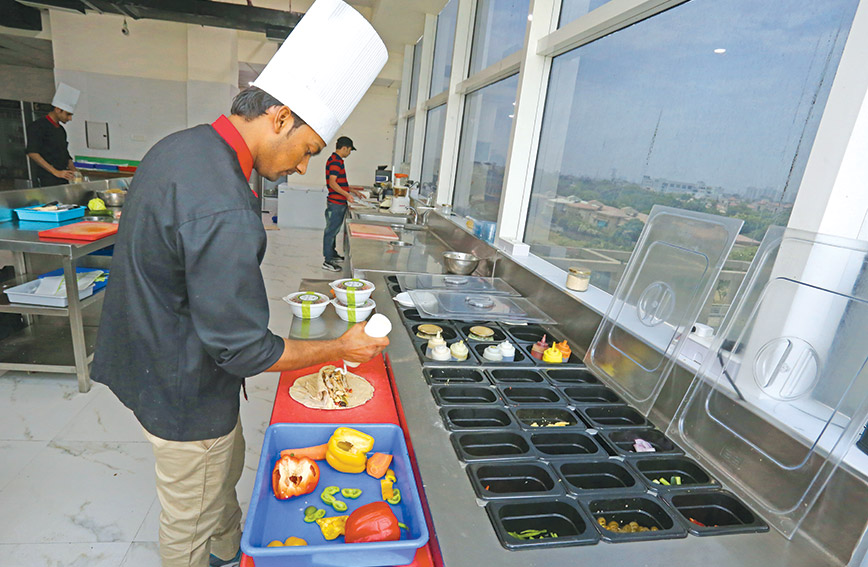 A chef prepares an order in the Raw Leaf kitchen