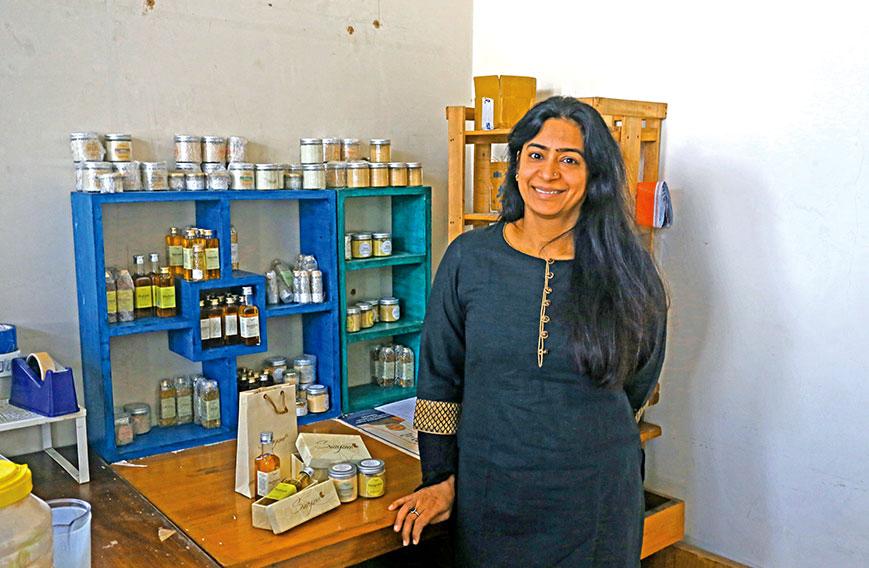 Kavita Bhatia-Gupta at her manufacturing unit with her wholly herbal products
Cosmetics made to order and wholly organic
Civil Society News, New Delhi
Published: Dec. 29, 2016
Updated: Jun. 15, 2017
When Kavita Bhatia-Gupta makes a face scrub, it is so fresh that you can smell the ingredients each time you apply it. It is as though it were made just for you — and in fact it often is. Her customers, once they have tried her formulations, invariably end up calling up to tell her precisely what they need. Someone's skin is too oily or too dry. Or there is a problem with blemishes and patches. Much-feared wrinkles could be making their first appearance.
Kavita has got restorative potions to offer for these and many other personal grooming requirements, but be prepared that nothing she sells is meant to last more than 90 days. It is also not available off the shelf — and of course it can't be because that would kill the freshness and mean using chemical preservatives. She believes in being as natural as you can get.
Her small herbal cosmetics outfit, Svayam, which appropriately means 'self-help', makes a range of hair oils, scrubs, packs, face serums and bath oils that she sells on her own website and e-commerce sites like Flipkart and Amazon.
Svayam's mustard oil with methi and karipatta is gentle and restorative. "It's brilliant for your hair," she says. "The oil arrests falling hair and promotes hair growth." Olive oil with cinnamon will prevent premature greying. "Cinnamon is a natural darkener," says Kavita. There is also a nutritive coconut oil with amla and neem stems.
One face serum has sesame oil, almond and saffron, another has apricot oil with patchouli and almonds. There are bath oils with coffee and face packs using neem, urad and orange.
You can pick four kinds of face scrubs: apricot, rice, orange peel and almond-oats, depending on your kind of skin.
"I have 16 products from the family chest," says Kavita. New formulations she plans to introduce are a walnut scrub and a marigold face pack and one with besan for brides.
For Kavita nothing but the best will do. She sources saffron from Iran, apricots from the Himalayas, coffee from Coorg and cinnamon from Kerala. The turmeric is bought fresh and hand-pounded. Rose petals are really, actually dried in the sun.
Prices are reasonable and vary from Rs 400 to Rs 600.
If you think all this sounds too far out, you can be forgiven. But really it isn't. From trying to cobble together a small, home-based business, Kavita has actually dropped anchor in the waters of high-end personalised care. Her business is built around the special offerings that are small, natural and suffused with goodness derived from the knowledge that came from her grandmother and mother. It is the beauty stuff they used at home. Often it came from the kitchen or garden. If one knew what to use it was there.
Two years after her first order came in, Kavita has a growing roster of repeat users. She gets a lot of inquiries from men for herbal formulations to combat baldness. "It's a real concern among men. The thing is boys don't take care of their hair when they are young. They think oiling their hair is a girlie thing. We persuade girls to do it. But consistent care from a young age can help hair growth," says Kavita.
Her business grows by word of mouth. But its huge potential is in being unique and small.
An MBA from the Birla Institute of Management and Technology (Bimtech), Kavita set up Svayam with just Rs 2 lakh taken as investment from her husband. There wasn't the cash to burn on retail space or fancy branding and commissions. She needed to go direct to her customers, which in turn reinforced her personalised approach with an emphasis on purity and freshness. Now these attributes distinguish her products.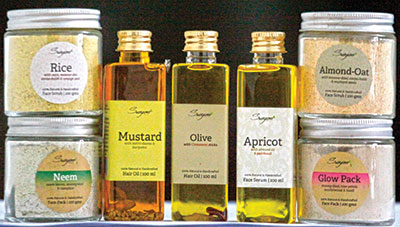 "People call asking to speak to the sales department, but it is I who take the calls because there is no sales and marketing department. From these conversations I get to know what customers are looking for and can tweak my formulations to suit individual needs," says Kavita.
Lack of capital has also meant using a floor of the family house in east Delhi. A factory however small in size would have been a significant overhead. A few girls from low-income families have been trained to make the cosmetics to the proportions that Kavita knows. At every stage Kavita's supervision is paramount. Now one of the girls helps her with computer work.
"It is less expenditure on one hand but it also means that I am hands-on and can ensure quality," says Kavita. "The ingredients are powdered and ground by hand and mixed as they traditionally would be, which is vastly different from a mechanised process."
Creation of the brand and packaging has happened, in much the same way, at home and by using the Internet. Labels and logo design have been done on a website, which also gets them printed.
"Since we don't keep inventories," says Kavita's husband Venugopal Gupta. "We only print what we need to use."
Venugopal is not unfamiliar with start-ups, having been into angel funding. Apart from the initial Rs 2 lakhs that came from him, he has also been on hand to provide advice and perspective.
"When we looked at costing we found that the big brands were charging high prices because of what they were spending on retail, branding and packaging. The costs were being passed on to the consumer," says Venugopal.
"Actually their costs are not much different from ours. But it is all the rest that they do that makes them expensive. For Kavita it was essential to cut out such additional costs."
The challenge for her now is to grow, keep costs down and ensure the unique purity of her products. It is a delicate balance, but all three things need to happen simultaneously for Svayam to be a truly valuable enterprise into the future.