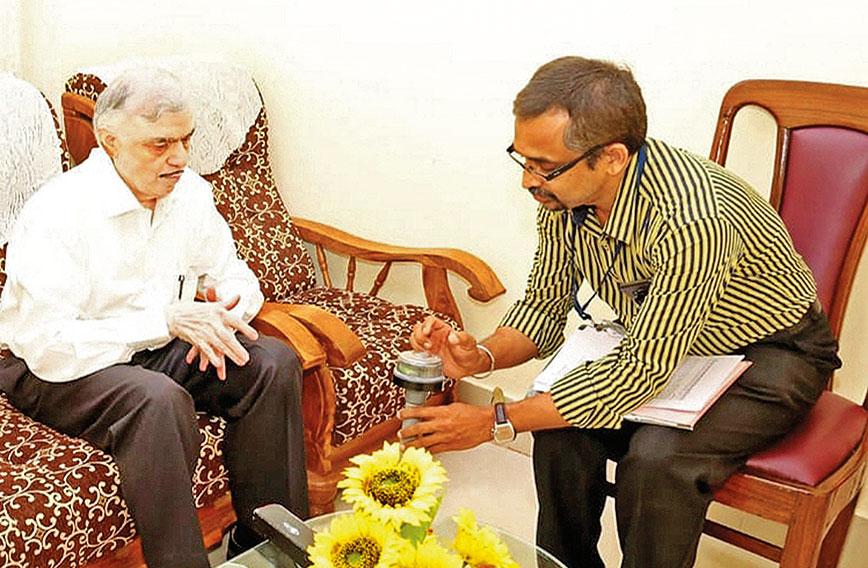 Rajagopal Kaipangala explaining how his invention works to Justice P. Sathasivam
LED light keeps animals away from fields
Shree Padre, Kasaragod
Published: Dec. 13, 2018
Updated: May. 28, 2020
As cropping season approaches in Kasaragod district of Kerala, farmers begin to get edgy. Wild animals from nearby forests start plundering their fields and, in a few hours, months of carefully nurtured crops are ruined.
This season, a gentle solution is available. Rajagopal Kaipangala, 49, has invented a simple device that keeps animals at bay. It is a flickering light placed at different levels which prevents nocturnal animals like wild boars, palm civets, bison, bats and even sambar and elephants from intruding into farms.
His gadget has an LED flashlight and a solar panel encased inside a round transparent case. The farmer has to simply switch on the gadget at the time of installation. Thereafter, it works automatically. Once night falls, the gadget lights automatically. When the sun rises, the light switches off and the solar panel begins to recharge on its own. Kaipangala has named his device KRAC LED light and it costs Rs 1,500.
"What is important is the height at which you instal the light. This differs for different animals," says Kaipangala. He has a diploma in electrical engineering and returned from the Gulf three years ago, after working there for 20 years so that his children could get a better education. Kaipangala began managing his family farm which was situated close to the reserve forest. But his standing crops used to be damaged by wild animals.
So he started looking for a solution. Kaipangala had read that lights discourage nocturnal animals from coming close to fields. But he noticed that he could still see wild boars passing beneath street lights when he rode his motorcycle at night. That set him thinking. "Perhaps a flickering light at eye level would ensure that the animal sees it for sure," he thought. He experimented with this idea for three years.
For wild boars, he assessed that the height of the light should be about 30 to 35 cm from the ground. Lo and behold, this started working and inspired him to research further. After some trial and error, he has now standardised the average height lights should be placed for different animals. A light at five feet keeps bison away. For the palm civet, a light about one foot high is enough. After discussion with forest officials, he estimated that for elephants the light should be placed eight feet from the ground.
Initially, Kaipangala would hang two inexpensive LED plates, back to back, to emit light at 360 degrees. In the next stage of improvisation, he lit these LEDs with a small chargeable UPS. The UPS had to be brought home and recharged at least once in two days and sometimes daily. Added to this, wires had to be connected between LED plates strung in different places. This system worked well.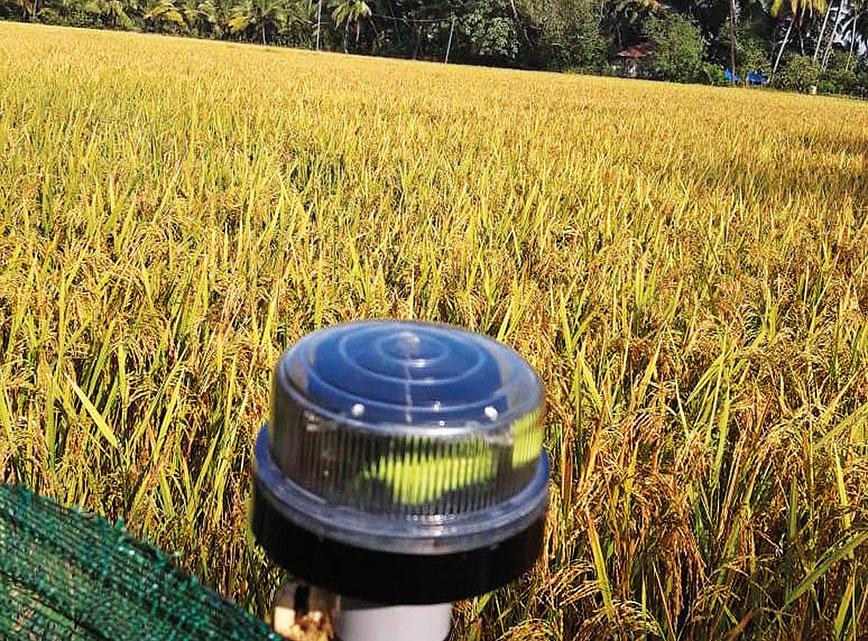 KRAC LED is a flickering light with a solar panel
At first, Kaipangala used to advise interested farmers on how to build this system. "Get a guy with some electrical knowledge in your area. You can do it yourself with just a little money," he used to tell his customers. But, as demand grew, he improvised the gadget to its present form.
Now, each unit has a solar panel. So no wires are needed and the system doesn't have to be taken home for recharging. "One should study the entry point of the wild animal and place the light strategically along its route. Undergrowth has to be cleared from that area," says Kaipangala. He has installed just one light near his 70-cent coconut, breadfruit and banana garden. "For three years, it is working well. But if it isn't lit even on a single day, wild boars enter," he says.
At the end of this October, Kaipangala installed one unit of his LED flashlight system near a 4.5-acre paddy field belonging to Mohana Shetty, a farmer in Mogral Puttur in Kasaragod district. This was one of six such units ordered by Krishi Bhavan of Mogral Puttur. "The lights were installed just a fortnight before the paddy harvest. But after that, raids by wild boars have stopped," says Chavana Narasimhalu, agriculture officer at Krishi Bhawan. They will instal five more units on various farms soon.
Kaipangala 's advice is to instal lights at a maximum distance of 20 metres from one another for all-round protection. But what if a wild boar or some other animal senses danger and enters from another route close by? "That is a possibility. But, so far, this hasn't happened," he says. "Rajagopal's device is effective," says M. Rajeevan, divisional forest officer, Kasaragod. The forest department has installed three units in Kasaragod range to prevent elephants entering farmers' fields. "The gadget is mobile. We keep moving the lights from one location to the next, wherever we think elephants may intrude. We find they don't venture into areas where these lights are placed."
Mahesh Puchchappady, a farmer and journalist from Sullia taluk of Karnataka, has starting using these lights to prevent sambar from entering rubber plantations. "At night, a herd of sambar comes in and eats the bark of rubber trees. Eventually, the trees die. They also eat the leaves of young plants," he says. A fortnight after the LED light units were installed, he found sambar staying away but he would prefer to wait for a month before giving a final verdict on the efficacy of Kaipangala 's invention.
The gadget was also installed at an open prison in Cheemeni in Kasaragod district. The prisoners grow tapioca and a variety of vegetables. These are eaten by wild animals. The lights kept the animals away.
"One research paper says that 35 to 45 percent of standing crops are destroyed by wild animals across the globe. Out of this, 50 percent of the damage is caused by wild boars," says Kaipangala.
His new gadget runs with a 2.5-volt solar charging panel. It has 12 LED lights arranged in a circular shape on the circumference. One major advantage is that the gadget is waterproof. The 2200 Mhz batteries work for 72 hours after full charging. The light automatically switches on and off. So far he has sold about 50 such units.
During the recent Innovators Meet held at Central Plantation Crops Research Institute, Kasaragod, Justice P. Sathasivam, governor of Kerala, showed interest in Kaipangala's invention. He has written to the government, drawing its attention to the gadget.
Kaipangala has also met Dr D. Sajith Babu, district collector of Kasaragod, and explained his innovation. In response, Babu informed him that he has plans to convene an awareness class for farmers in villages affected by wildlife.
Contact: Rajagopal Kaipangala: 90616 74679 (WhatsApp) rajagopala.kaipangala@gmail.com