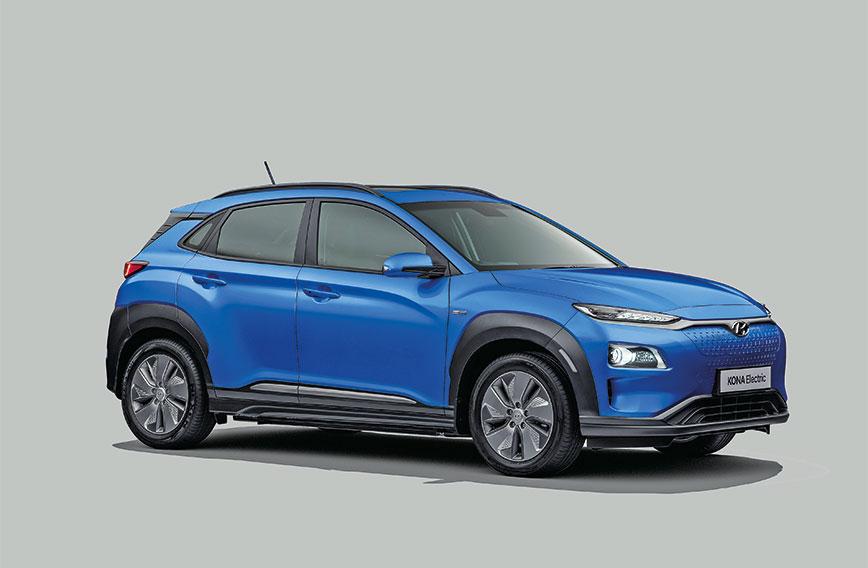 The Hyundai Kona, India's first SUV EV
A really big EV: How Kona changes the game
Murad Ali Baig, New Delhi
Published: Jul. 30, 2019
Updated: Aug. 23, 2019
The launch of the Kona by Hyundai in July has raised the bar for expectations from electric vehicles (EVs) in the Indian market. It offers almost the same acceleration and power as a big petrol or diesel engine and its battery can take you from Jaipur to Agra via Delhi. It has the oomph of an SUV, and at first glance, resembles Hyundai's Creta. It is not lacking in terms of styling and interiors either.
In India thus far, electric cars have been souped- up golf carts. With the Kona the game has changed. It is a full-fledged SUV whose motor has a huge torque of 40.27 kgm that delivers roughly as much power to the wheels as a big 2800 cc internal combustion engine.
With so much power, the Kona is capable of furious acceleration from standstill to 100 kmph in just 9.7 seconds. It can also maintain high speeds though, during the launch, it was restricted to 150 kmph in the Buddh International Circuit in Noida.
Anyone buying an electric car tends to worry about how far one can go. How far can the battery take you and how to recharge quickly? Well, batteries have gone through a transformation and the Kona comes with a new generation lithium-ion battery that delivers about 450 km on a full charge.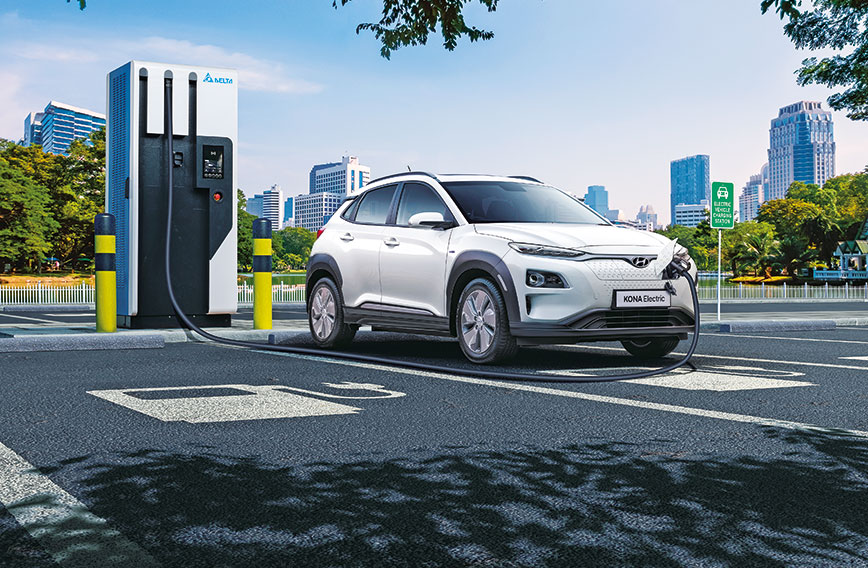 A visual representation of a DC quick charging station
A portable DC (direct current) quick charge device (provided with the car) can provide an 80 percent charge in just 57 minutes. A full charge from a normal domestic electric point may need 19 hours. But at a recharge station it could take six hours. The battery, however, cannot be swapped.
For a full charge, just 39 units of electricity are consumed, which means you spend about `200. Many potential buyers who may be concerned about the life of the expensive battery pack should be reassured by Hyundai's offer of a huge eight-year warranty with virtually unlimited mileage in addition to the three-year overall warranty. As there is no engine and gearbox and so few moving parts, there will also be very little service needed during its lifetime.
The Kona is priced at `25 lakh, which is about double the price of the Creta. But consider the minimal running and maintenance costs as savings and the price difference begins to narrow. There is also a tax-break of `1.5 lakh on interest paid on loans for electric vehicles proposed in the Union budget.
Apart from its cost economics, the Kona is a very complete SUV with good looks, LED headlights and tail lights, excellent interiors including ventilated front seats. There is also a huge array of electronic gadgets for communications, navigation and entertainment as well as many new features for safety and comfort. Other cars may have ABS but the Kona offers ESC or electronic stability control and VSM or vehicle stability management to make driving safe in all road conditions. There is at present only one premium model with leather seats, leather-wrapped steering wheel, sun-roof, R17 alloy wheels, sporty roof rails, LED headlights with auto levelling functioning, impact sensing auto door locking and unlocking, and many other features.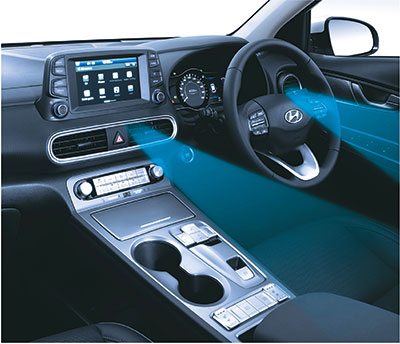 (Left: option of driver-only air conditioning)
It takes time for buyers to become confident of using any new technology. But Hyundai comes with the experience of having sold over 300,000 electric cars worldwide and knows that what happens elsewhere in the world will also happen in India eventually. Ten years from now most new cars and bikes will be electric and we will forget that we were once so scared. Of course, much more infrastructure is needed by way of recharging stations and switching stations where the complete battery pack is quickly removed and replaced with another pre-charged pack.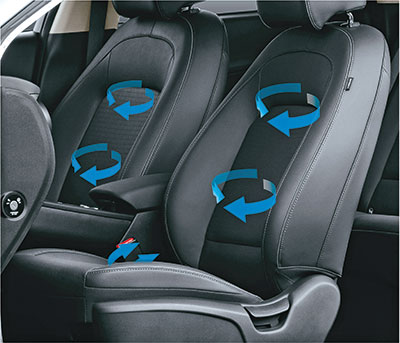 (Right: Front ventilated and heated seats)
In the recent Budget, the government announced a step to encourage EVs by reducing the GST from 12 to five percent and concessions in customs duty on imported batteries, motors and some other components. This is encouraging but it is not enough. There are no fiscal incentives like the substantial subsidies offered by many other countries. The huge savings in fossil fuel consumption and foreign exchange savings, to say nothing of protecting the environment, fully justifies not just a tax holiday but also direct incentives for buyers.
In another decade EVs will undoubtedly be popular in India and this will mean a substantial reduction in consumption and import of petroleum products though fossil fuel vehicles will continue to be needed for the existing fleet of cars, bikes, trucks, tractors and buses until they get scrapped.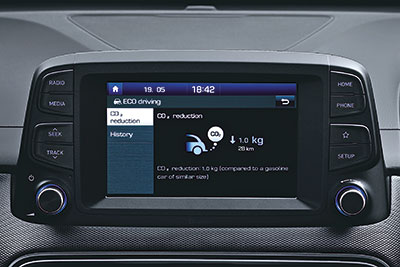 (Left: ECO driving information)
The process of a switchover will also mean the decline of repair facilities because EVs need very little repairs and maintenance. It could take a decade before all IC engines are scrapped, but when that happens it will be the end of petroleum imports as well.
EVs are revolutionising global mobility. Last year 5.6 million EVs were sold globally of which half were sold in China. Actually, the EVs recorded are limited to cars and China has many more electric two-wheelers. EVs are also becoming very important in the US, Europe, Japan and other countries and every auto major in cars, bikes and other vehicles is investing heavily to introduce them.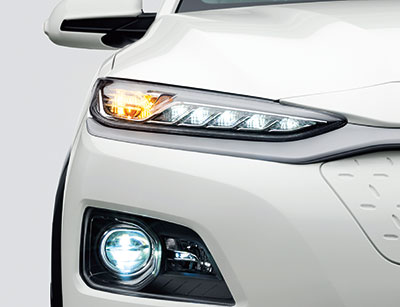 (Right: Distinctive split LED headlamps with LED DRLs)
Nissan sold 360,000 of its EV, the Leaf, and is the world leader today. Tesla sold 240,000 of its classy vehicles and is perhaps the best known. Other well-known cars are Chevrolet's Bolt, Ford's Volt and Focus, Mitsubishi's 1-MIEV, BMW's i3, and Mercedes' B-Class. Toyota and Volkswagen are working together on EV development and there are several other strategic alliances.
The shift to EVs is mainly because the world recognises that some 900 million vehicles fuelled by fossil fuels like petrol, diesel and LPG on global roads are major polluters. Fossil fuel vehicles are doomed because EVs are much more efficient than internal combustion engines and are thus cheaper to own and use in the long term. Many people, however, have had deep reservations in adopting this new technology because many of the early EVs were very expensive, very heavy and offered a limited driving range. But these limitations have increasingly been done away with.
The internal combustion engine is inherently inefficient as it has to waste about 70 percent of its power in sucking in fuel in one piston while compressing it in another as well as in expelling the burnt exhaust gases from a third. A conventional car has to also move power through a gearbox and wastes energy in the cooling system, turbochargers and so on.
In contrast, an electric motor just spins efficiently in one direction so that almost all the energy of the motor is delivered to the wheels. The power train, therefore, is essentially just the big battery pack and the electric motor. This difference in power efficiency means that the torque or power delivery of a 10 hp electric motor would be roughly the same as a 30 hp internal combustion engine.
The power ratings are also very different. A typical 100 hp engine delivers 100 hp only at its maximum rated speed and usually operates at about a third of this peak power unlike an electric motor that delivers the same power output at low speeds and high speeds. With this an EV can accelerate from standstill to top speed without any need to change gears. An EV also makes no sound and so it needs a virtual sound generator to warn other road users.
India's first electric car was the Reva which was introduced in 1994 and sold some 4,000 units to 26 countries before it was bought by Mahindra and Mahindra (M&M) in 2010. It was essentially a small two-seater passenger version of a golf cart with a small motor just capable of providing air-conditioning. It was too expensive and impractical for most people in India but quite popular in the 26 countries that offered incentives and special facilities like a zero congestion tax in central London.
It was followed by a number of hybrid cars that were conventional cars with an electric power boosting system. Several hybrid models like the Honda Accord, Toyota Camry, Maruti Ciaz were sold even though they were rather expensive. Today M&M sells a Verito EV and the small e2o but many other new models will soon be on the market including the MG EZS, Nissan Leaf, WagonR-EV, Tata Tigor, Maruti Ertiga, Tata Attroz and M&M's e-KUV300. Other car makers have ambitious plans for India too as it is now the world's fourth largest car market. Renault may introduce a small Zoe and its larger K-Ze, Ford the Aspire EV and Nissan its Leaf.
India also has more than 20 makes of e-rickshaws, about five electric scooters, 10 electric motorcycles mostly made in the unorganised sector using kits imported from China that, shocked by its terrible environment, vigorously adopted EVs just a decade ago. Today almost all of China's two-wheelers, including pedal cycles, are electrified.