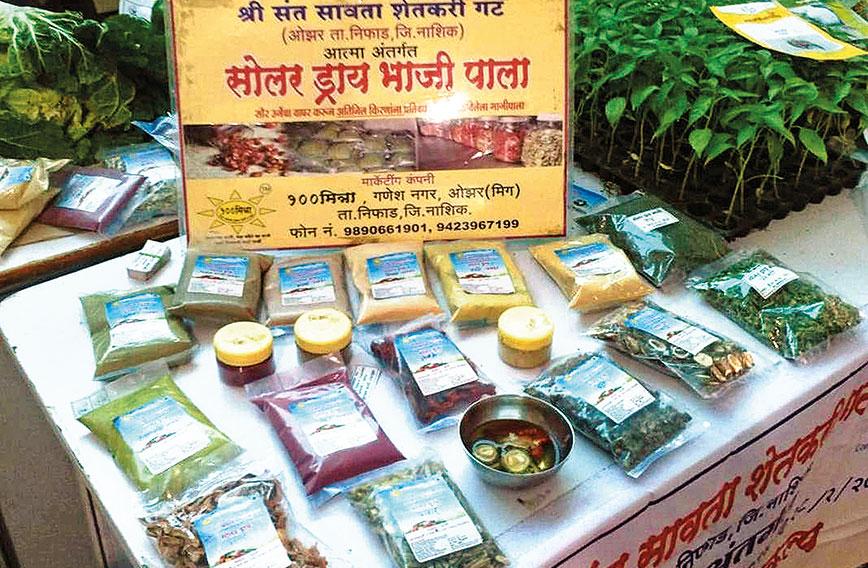 A range of solar dried vegetables is sold by the Shri Sant Savta Shetkari Gut, a farmer producer organisation
Solar dryers giver farmers market clout
Shree Padre, Nashik
Published: Jun. 10, 2019
Updated: Jul. 01, 2019
It is a story heard across India. Small farmers are left with vegetables they cannot sell when prices fall because of overproduction. Potatoes are dumped on the road in Uttar Pradesh by angry farmers and in Odisha tomatoes lie crushed and abandoned.
The situation was similar in Nashik district, a significant vegetable growing belt in Maharashtra. Tomato, bottle gourd, chilli, onion, fenugreek and more grow here. When prices crashed, small farmers wouldn't harvest their standing crop but leave it to rot in their fields. It was cheaper that way.
In recent years things have begun to change. In Ozar, 20 km from Nashik, the Shri Sant Savta Shetkari Gut (SSSSG), which is a farmer producer organisation (FPO), has found a way out of this quagmire. It spots a glut in the market and signals farmers to divert their crops into processing. The vegetables are dehydrated with solar dryers and then packed and sold to markets beyond Nashik where they fetch a better price.
The farmers have even coined slogans to promote their products, like 'Smart kitchen ki smart bhaji' and 'Avoid non-veg, try dry veg'.
The SSSSG was started in 2013 by 25 farmers. Govardhan Kulkarni, 47, is secretary and Vilas Sathbhai, 50, is president. The idea first came to Kulkarni and his friends when they were looking for ways to combat the market collapse they so frequently faced. The solution they found was to process vegetables every time prices collapsed.
The farmers then set out to understand processing techniques. Out of all the preservation methods they examined, like freezing, pulping and dehydration, they realised that only dehydration was farmer-friendly. "It is low-cost and simple. Ordinary farmers can carry out this process easily," says Kulkarni.
Taking the weather in Nashik into consideration, they opted for solar dryers and began a search for the best ones. After a few months they zeroed in on a 20 kg solar dryer made by S4S Technologies, a company in Mumbai. In 2014, the solar dryer was priced at Rs 18,000. It now costs Rs 35,000.
"The solar dryer company just showed us some dried samples. But we weren't taught the right methods of dehydration. So we had to learn through trial and error how different vegetables need to be cut, how long the drying process takes and so on," says Kulkarni. This learning took the FPO one and a half years and a few tonnes of vegetables got wasted during trials.
The second problem was standardisation of quality. Each farmer's product varied in quality. "The product has to be tightly packed immediately once it has been dried after bringing it to room temperature," warns Sathbhai. "Otherwise it will absorb moisture from the atmosphere and get spoilt."
Organising capital to begin their venture proved to be a headache. The farmers could get financial help from the Maharashtra Agricultural Competitiveness Project (MACP). A provision existed. But getting the subsidy meant first repaying their loans. They also had to provide guarantees to get loans from banks.
Eventually, Sathbhai and a few farmers mortgaged their land to organise the money they had to repay the banks. The farmers finally invested Rs 25 lakh, out of which Rs 8 lakh was a grant (from the government).
Quite quickly, their venture has become commercially promising. Kulkarni explains: "Take bottle gourd. Its normal price is Rs 10 per kg. But during a glut, it can fall to just Rs 2. That means 20 kg will earn the farmer only Rs 40. But if we dehydrate bottle gourd, its price rises to Rs 140. Ayurvedic medicine companies buy this."
SSSSG had to do some market research to find out that there was demand for bottle gourd powder among Ayurvedic companies. Subsequently, they entered into an agreement with an Ayurvedic company to supply dried bottle gourd on a regular basis. It is also bought by people who are diabetic. Beetroot powder is bought by those with haemoglobin deficiency.
To make one kg of sundried tomatoes, 22 kg of fresh tomatoes are required. If the price of tomato dives to Rs 4 per kg you need Rs 88 worth of tomato to produce a kg of dried tomato. After adding labour and other expenses, the cost of a kilo of sundried tomatoes works out to Rs 180 per kg. It fetches the farmer a much higher price of Rs 400 per kg.
Altogether SSSSG produces 17 types of dehydrated vegetables including ginger, garlic, carrot, bhindi and cluster beans. In the leafy vegetables category, methi and coriander are the most important.
In 2017-18, the SSSSG dried 45 tonnes of vegetables and leaves which gave them 2.5 tonnes of dehydrated products. The average price they got for one kg of dehydrated vegetable was Rs 262. Their total turnover was Rs 680,000, expenses came to Rs 513,000 and net profit was Rs 167,000. In the two previous years, they earned a total profit of Rs 475,000 from five tonnes of dehydrated products.
SSSSG sells its products wholesale and retail. It has over the years taken part in over 100 exhibitions. A 100 gm packet is generally sold for Rs 60 to 70. "In some exhibitions, we have earned Rs 8,000 to Rs 9,000 in a single day," says Kulkarni.
It is also cheaper to eat dehydrated vegetables. Kulkarni explains that a person in a day can consume about 15 gm of dehydrated vegetables which, when rehydrated, becomes 120 gm. If you consume fresh vegetables, you will pay Rs 5 for 120 gm. But 15 gm of dehydrated vegetables costs only Rs 3.50 and there is no wastage. The shelf life of dehydrated vegetables is six months. Improved packaging can extend shelf life.
The FPO even has a slogan to illustrate their calculations — 'Buy vegetables once, eat it for six months.'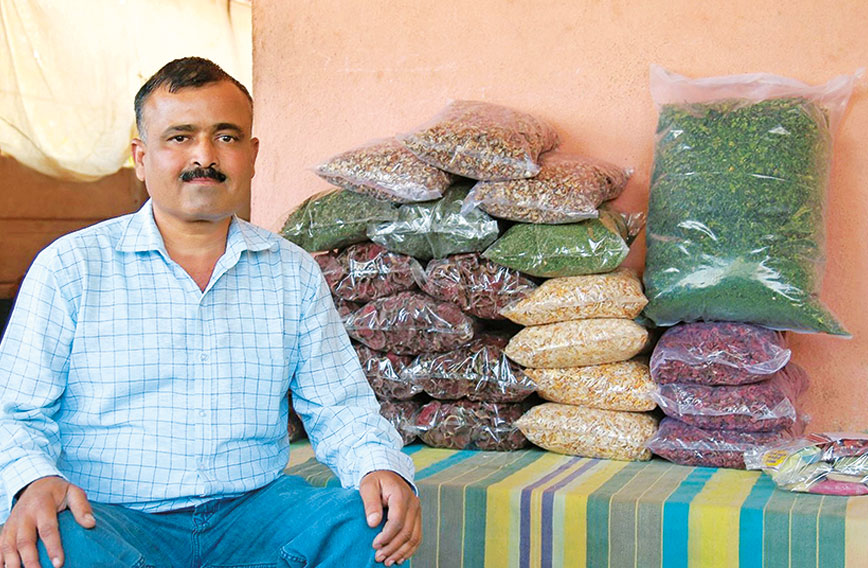 Govardhan Kulkarni with some of their dried vegetables

Plans and hiccups

The initial plan was that all 25 farmers who are members of SSSSG would dehydrate vegetables at their premises. Then products would be pooled and marketed. But in this case, farmers would have to wait a few months to get returns. All members weren't on the same page on this. It also took them a while to figure out how to use solar dryers and produce dehydrated products.
Farmers here, on average, own small fields of around two to four hectares. "We keep a quarter of our land for vegetable cultivation. Drying vegetables in the sun is not new to us. But dehydration on a commercial scale and selling dehydrated vegetables for domestic use is a totally new concept for us," says Kulkarni.
Vegetables are cut before drying. Any crop generally requires three days to dry completely. Around 25 kg of fresh vegetable are required to get one kg of dried vegetable.
The SSSSG now has 50 solar dryers. Each can dry 20 kg of fresh vegetables at a time. Twenty dryers are kept on an open ground near its office. The rest are positioned on the premises of farmers whom SSSSG has trained. It buys the dehydrated products made by these farmers.
Five solar dryers are reserved for trials. If a group of farmers from a nearby area is interested, a solar dryer is given to them for three months. The dehydrated vegetables they produce are bought by SSSSG and the farmers can buy the dryer if they want to, or return it.
Farmers here have some traditional experience in vegetable dehydration especially with regard to methi and bitter gourd. The reason is that the price of methi rises from Rs 2 in November to Rs10 before summer. After April, methi is not available at all. Traditionally, farmers used to dehydrate both vegetables for the lean season. So they are producers and consumers of these vegetables.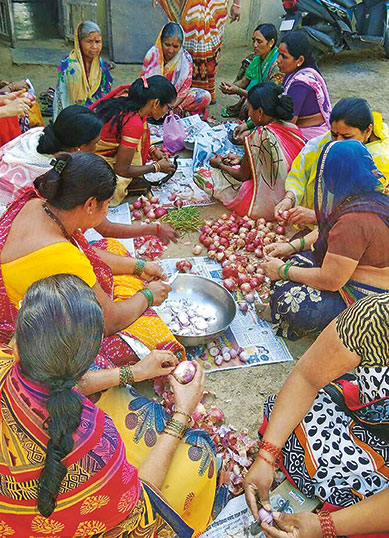 "Our grandmothers used to dry methi and brinjal to use when these were not available. Using solar dryers is more efficient than exposing vegetables directly to the sun," says Sathbhai.
Latha Sathish Pawar is from a farming family. She took three solar dryers to experiment with drying onions. In three months, the Pawars produced about 200 kg of dried onion. About 12 to 15 kg of fresh onion are required to make one kg of dried onion. The SSSSG paid her Rs 120 per kg. Pawar now plans to take a bank loan of Rs 1 lakh to buy a 200-kg solar dryer.
Suresh Shinde and Ganapath Shinde have had a 200-kg solar dryer for two years. They don't use it on a regular basis. Only when prices decline drastically do they leap into action. Every year they make around two quintals of dried vegetables. "This strategy is increasing our income," they say.
Nashik district used to be completely rainfed a few decades ago. Now water from a canal is available. Sathbhai and Kulkarni were the first to start a water users association and spread awareness about water conservation. Once ample water was available, vegetable cultivation increased. But in summer, when there is a shortage of water, vegetable production comes to a standstill.
Sandip Dilip Bachhao, the block level technical officer of the Maharashtra Agricultural Competitiveness Project, is most impressed by the enterprising spirit of the farmers. "They didn't know anything about solar dryers or the dehydration process. But they learnt. Now three-star and five-star hotels are buying dehydrated vegetables. The big advantage is that these vegetables come in handy during the off-season," says Bachhao.
It's true that the SSSSG has started getting large orders. But, currently, the farmers don't have the manpower or capacity to cater to very high demand. "This means there is latent demand and there is room for more farmer producer groups to get into the dehydration business," says Bachhao.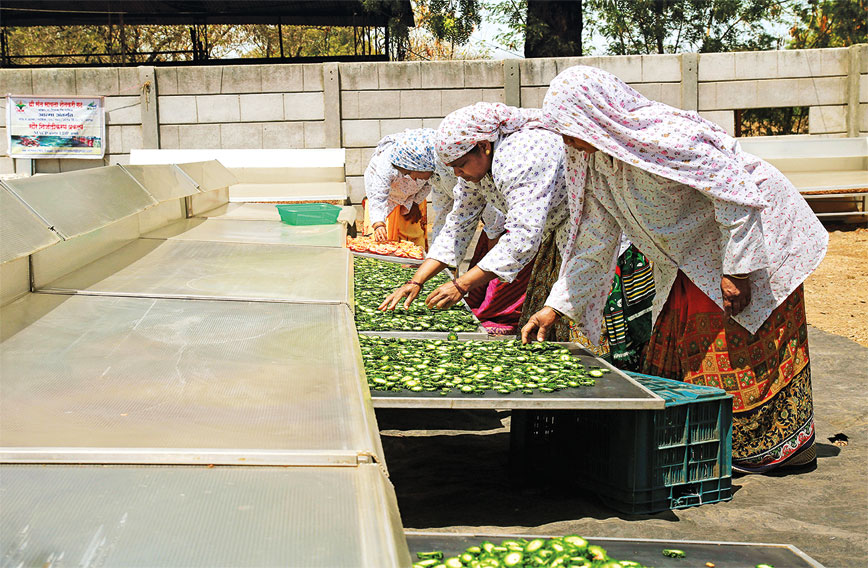 Women dry bitter gourd with solar dryers

Dryers and meters

Expansion is in SSSSG's plans, but it is held back by the high cost of solar dryers, expensive moisture meters and marketing.
"It was our organisation that helped create an identity for S4S dryers. The company sent many people to meet us and showcased our success story. Now the price of their solar dryers has increased steeply," says Kulkarni. "So, I am afraid we won't be able to afford them anymore. You need to invest around Rs 2,000 to dehydrate one kg of fresh vegetables in their dryer. Unless this sum is reduced to Rs 500, it will be tough to dehydrate vegetables and make a profit."
He says solar dryers should be as ubiquitous as tractors. A solar dryer with 10 kg capacity should cost Rs 5,000. Moisture meters should cost no more than Rs 5,000 to Rs 10,000.
The SSSSG is keen to build its own low-cost solar dryers. The farmers have approached Dapoli and Rahuri Universities for help. "The universities have agreed to design inexpensive dryers for us. We can then get our dryers made by any fabricator," says Kulkarni. Areca nut farmers along the Karnataka coastline are also thinking along similar lines.
Another technical problem, says Kulkarni, is non-availability of inexpensive moisture meters. "Consequently, we have to rely on visual judgment. In this context our women are better judges," he says with a big smile.
Solar dryers don't have any recurring expenditure since they don't need fuel or electricity. One major limitation is that they won't function during the monsoon months. In winter, solar dryers take longer to work. So SSSSG avoids dehydrating in winter.
After deducting the three monsoon months, winter and holidays, solar dryers are actually operative for only seven months. On average, 2.4 tonnes of dehydrated products are produced in about 200 to 210 days.


Reaching consumers

For Indian consumers, buying dehydrated vegetables is a new concept. How does SSSSG, a rural industry, hope to create a robust market?
Initially, the farmers managed to identify a few distribution companies that supply dehydrated products to Pune, Mumbai and to ships that travel long distances. Till recently, 80 percent of SSSSG's products were sold to two companies on a prefixed uniform rate, leaving it with just a thin margin of profit. "The agencies got the bigger slice of cake. In March, we ended our deal with them," says Kulkarni.
The farmers now market their products directly to consumers through the SSSSG. They say they have been preparing themselves for this eventuality by taking part in exhibitions and seminars to be better known.
"We have been able to create a niche for ourselves. We get repeat orders and that makes us happy. However, we may be compelled to reduce production till we put in place a marketing plan. No regrets, though, because we hope to get higher margins by selling directly," says Kulkarni. He has his eye on the military's requirement for dehydrated vegetables and hopes the government will buy directly from them.
Their biggest market is Mumbai. All kinds of buyers exist such as students who travel abroad for higher education. They take packets of dehydrated vegetables with them.
SSSSG has also trained more than 80 groups from Gujarat, Rajasthan, Himachal Pradesh, Kashmir, and even from distant Sri Lanka and Afghanistan in dehydration. Kulkarni keeps abreast of latest developments in dehydration and shares his knowledge willingly with fellow farmers.
Contact:
Shri Sant Savta Shetkari Gut
Govardhan Kulkarni
98906 61901 / 95795 38377
gokul.connect@gmail.com