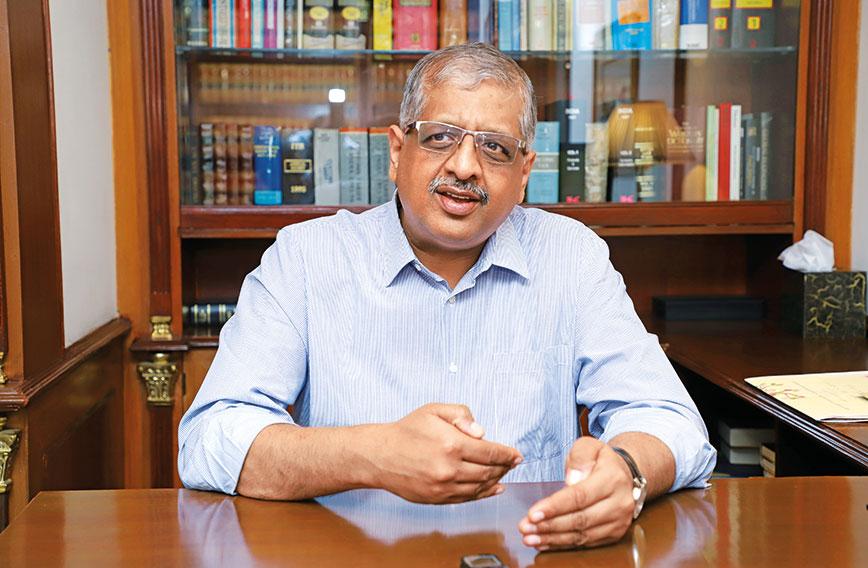 Himanshu Jain: 'I actually gurantee employment to all the people we train.' | Photograph by Shrey Gupta
Hygiene technicians, not just cleaners
Rwit Ghosh, New Delhi
Published: Jul. 01, 2019
Updated: Jul. 22, 2019
Diversey has made cleaners into hygiene technicians to give back to society through an initiative called Garima.
A global company whose business is indoor cleaning and hygiene, Diversey's supplies the chemicals and equipment needed to get the job done in thousands of establishments. Typical customers are big — like four- or five-star hotels, shopping malls, hospitals and restaurant chains such as McDonald's and KFC.
Working with a client also means training the client's staff to be scientific about cleanliness. A whole transformation gets underway with multiple checks to know what's working and what isn't. Diversey's people will turn up in the laundry of a hotel with a whiteness meter. Cleanliness is measured with gizmos used by microbiologists. Litmus strips will reveal whether there is fat or starch on plates. The temperature of the dish washing machine will be checked to know if the crockery in general is being sanitised.
So, when Diversey decided it wanted to give back to the Indian market by way of a social contribution it felt it was brsest suited to propagate cleanliness. It began by collecting leftover pieces of soap from hotels and turning them back into proper cakes of soap in slums.
The company also saw an opportunity in changing the lowly status of cleaners in establishments. They play an important role in preventing disease, but aren't recognised for it. With training, they could be seen instead as hygiene technicians. The inspiration came from Japan.
Diversey was anyway training the staff of its customers. If the company could train others as well and help them find employment with self-respect, it would be a worthwhile contribution.
It has teamed up with Doctors For You (DFY), an NGO of public-spirited physicians, and over the past few years helped thousands find jobs.
Civil Society spoke to Himanshu Jain, Diversey's President, Asia-Pacific, who has been the driving force behind the training programme, to find out more.
Your CSR seems closely aligned to your business.
No one has an ambition of becoming a cleaner in their life. Normally it is the last resort or the first step for the uneducated, illiterate guy who gets into this profession. We're about touching base with them.
When I look at society, we are dirty and not clean enough. What does it need? It needs the right products, the right methods, the right tools and the right people doing it. I am supplying these four to our customers. How do I get the right people? Then I see there is so much unemployment and I see customers are struggling because they don't get the people.
I thought, why don't I create something that addresses that. It was an idea that took a long time to form and get going. We struggled for two years when we kept on spending money and got practically nothing in return. We engaged a recruitment agency to get us people who were unemployed, who were willing to be trained and take up a job. We paid the agency Rs 6,000 per person, just to get them to us. Now our current costs are much lower. We struggled for two years. The first day there would be 20 people, the next day 10, and by the third day I'd have three people sitting and listening to me and none of them was keen on joining any of our partners. I said, wait, I'm not interested in people just coming because they had been somehow forced to come on day one and then vanish.
I'm only interested in them if they are needy, because they don't have a job or because they have no means of livelihood or there is something about it that they are comfortable with. Unless they take up a job, I'm not completing my CSR.
We go to an obnoxious length. We note down all the details of the people we train. We can track every one of them across the country. We have their Aadhaar numbers, we have their ration cards, addresses, everything. What does that mean? It means that if there is a need tomorrow and you want to go and check if this guy has been trained or not, there is evidence that, yes, he has been trained and this is what happened to him.
Our idea of the skilling programme, which we call Garima, is that we provide employment to an illiterate person. Help him find a job of his own free will. Number two, we teach them the right methods of cleaning, so their drudgery reduces and they get respect for being trained already.
Normally, when a janitorial company picks up these people, they have to put them through training. But it is we who train the trainers in these companies. Now, since we train the people these companies are hiring, it is bliss. They say, "You are saving me not only money, but a lot of effort."
So you're training the trainers as well as the people who find employment through Garima?
Of course, my customer relationship continues that way. That is my customer management process. This is CSR. Where I train my trainers periodically and they train all these people who get trained. And when they get trained and examined, they get a certificate which says, hygiene technician.
We have purposefully chosen 'hygiene technician', taking inspiration from Japan. We don't want to call them cleaners or workers. There is a purpose behind it. We want to bring a certain dignity to the role. My message to them is this, 'In many ways, you are greater than doctors. Doctors take care of you when you fall sick. You prevent people from getting sick.'
You had an agency bringing in people. Now you reach out directly. How does it work?
We have collaborated extensively with Doctors For You. Why? DFY runs community programmes where they provide medical services. They found that the ecosystem that we have built works very well where if they can provide people a means of livelihood, they can provide ways of staying cleaner by working within their community. It is what I call a 'synergistic programme' which complements the other elements.
The stickiness to DFY for them increases. We can't agree more. I find this whole thing fantastic. They're a very sincere NGO. I have not seen many NGOs that are this sincere. It's one of the reasons we've stuck with them for so long. We're only growing with them. They also do another programme for us called Soap for Hope. We recycle used soap with that programme. We must have easily done 15 tonnes across the country. That is a lot of soap.

Coming back to your hygiene technicians, which is a brilliant idea. When you say these people are getting employed, give us some picture of the employment that happens.
My expectation is that hundred percent of the people we train will be employed. I actually guarantee employment to all of them.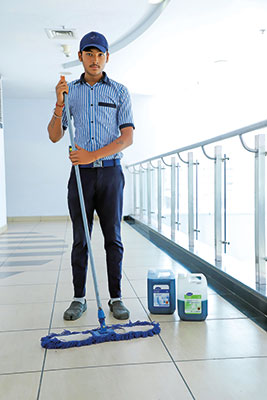 When you guarantee, what does that mean? That you are going to employ them?
No. What it means is that they will be employed with one of the customers of our company. We have a tie-up with them. Companies like ISS (also a facility and services management company) and Sodexo are international companies that we are doing this with.
Typically we go to respected companies which don't misuse people by paying something on paper and something else otherwise. We deal only with those companies which are very straight, very compliant and progressive in their outlook.
Second thing we've done, which we struggled with in the beginning, is that we don't ask people to relocate. If your home is in Meerut, then you'll find employment in Meerut. We don't want to send someone to Mumbai and then try to figure out where to make him live.
So the whole idea is to take the person to the site where it makes sense for him. If it doesn't make sense in that catchment area, we don't do our programme there. We have quite a few programmes around Chennai, many around Mumbai and even near Patna.
How old is your programme now?
From the concept, back from when we failed, it is five years at least. For two years we didn't succeed. You learn from your failures.
Then you connected with Doctors For You and that's how you succeeded?
Yes.
The kind of people that come to you, do they come from a zero education base?
Most of the people that come are either illiterate or with less than an eighth grade education and unable to find a job. Not all of them are young, interestingly. Quite a few women come and there is a reason behind that.
I remember a woman in Govandi who was nearly 50 years old when she came for this programme. She had lost her husband and didn't have any means of livelihood. For her it meant a job in Phoenix Mall in Kurla, Mumbai.
And in her state she might have ended up working as a maid in a house.
Absolutely. Or doing some kind of illegal activity. It's not that people like to do it, but they end up in that cycle because of their circumstances.
Here, instead, you get formal employment.
I tell you, whenever I interact with them, I come back humbled. The lady I was talking about, she was proud of being a cleaner. That is the kind of people we love to work with.
We have a programme for upgrading people, which is about to start. People who have learnt what we taught them and have the right attitude will after a couple of years be taught better skills. Some of them can be upgraded to housekeeping, others to food safety. But I am not an etiquette school. What I can do is help them by giving them technical skills. For example, a guy who we've trained knows that it is important to wash your hands. If he goes to a hotel with a food handler's certification, I am sure hotels won't say that they don't want him there.
Thankfully, after working for years in this space, we have a reputation which helps. When our trainees get certificates that say, 'Diversey trained', it carries weight. It carries enough weight to get them a job. It takes them a long way.
How many people have you trained?
So far, we've trained about 18,000 people.
So roughly 6,000 people a year. How many trainers do you have?
We have 12-13 trainers. They are supported by eight to10 mobilisers who go into the communities.
The average salary works out to be?
The minimum salary is Rs 7,500. It varies according to state laws.
So Rs 7,500 upwards?
Yes. What we're doing is encouraging our partners. I keep talking to their CEOs. I encourage them to pay these guys higher than the minimum wage but I have not made enough headway in that space. It is my self-imposed objective that the people who go with the Diversey certificate get about 20 percent more than the market rate. I still need to convince a few companies to do that. But I'm sure it'll happen. It is all about productivity. It is not about the number of heads you have.