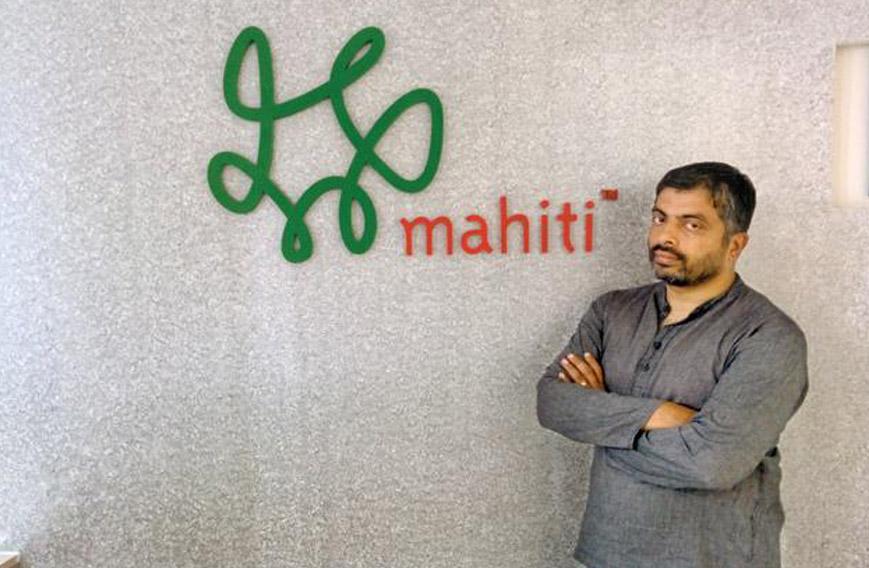 Mahiti helps innovators with technology for social good
Frederick Noronha, Bengaluru
Published: Oct. 01, 2015
Updated: May. 02, 2016
Like giant trees, impressive organisations have their beginnings in small seeds or little ideas. Mahiti.org, based in Bengaluru, started in 1998 merely as the IT support team of Samuha, a prominent NGO working in resource-poor areas of north Karnataka. College friends Sunil Abraham and Sreekanth S. Rameshaiah (Sree to friends and clients) were the initial members of the team.
"Samuha's T. Pradeep was very ambitious about using IT as a tool to enhance social impact and scale. We were encouraged to explore the use of IT beyond the traditional database management systems," recalls Sree.
After it was incubated by Samuha, Mahiti (which means information) got spun off as an independent entity and has since tried "all alternative forms of being a social initiative". They finally zeroed in on being a social enterprise and registered as a private limited company, under the leadership of Murray Culshaw, the septuagenarian Briton who has been working with NGOs in India for a quarter of a century, and who joined them as founding chairperson.
Says Sree proudly, "We are a frugal business. Our COO, Chethan Das, is extremely watchful of how money is spent. Since our inception in 2002, Mahiti has made moderate profits every year. We reinvest the profits further for our mission, 'Tech for Social Good'."
A NUMBER OF PRODUCTS
To do this, they've worked on a number of products. They've developed Management Information Systems (MIS) which are basically robust databases that can help NGOs crunch data and look for trends or baseline information, outcomes of services and review their work. It allows organisations to really see what impact they are creating, judge the outcomes of their services and find alternative ways to address a certain problem.
Mahiti has also created MIS tools such as OurCrop and OurBank that specifically cater to the needs of the agriculture and micro-finance sectors, respectively.
They develop mobile applications that help in field research, allowing an institution's staff to gather data and then almost automatically sync it to an MIS that will immediately start analysing it. This is being used by the National AIDS Control Organisation (NACO).
Mahiti also develops communication products such as websites and portals for the non-profit sector. They make sure these include design, navigation and features that cater to their audience — donors, partners and the public at large.
"Web portals look to house a lot of information on a cause or databases of organisations or services that can be accessed by any visitor," points out Trupti Chengalath, Mahiti's Head of Communication, who also holds a Master's degree in criminology.
BOLSTERING INCOME AND SUPPORT
Mahiti's services, by way of research and consultancy, help NGOs explore ways to raise support from the people and bolster income, thereby reducing dependency on grants and becoming more sustainable and accountable to the public.
"We also invest our energies in facilitating the use of technology for social good beyond the development of technological solutions through our initiatives in Technology for Communities. This typically looks at building the capacity of people that do not have access to learning the use of the said technology," adds Chengalath.
So, are they unique at a national level? Says Chengalath: "There are certainly firms doing some of the things we do and specifically for the NGO sector. But you will find that all these services under one roof would be harder to get."
But, as Chengalath puts it, there is a growing need to show impact and results of work done and not simply to have good intent while spending public or grant money. This has escalated especially with the introduction of CSR in a big way in India.
NGOs are also becoming more professional about the way they address a community's problem and want to ensure effectiveness and accountability which technology helps them provide.
"NGOs need to increasingly start raising public support to fund their work and cannot look for foreign income anymore to do so since the priorities of funding agencies have moved away from India," points out Chengalath.
PLATFORM FOR SOCIAL INNOVATORS
Mahiti ran their first fund-raising campaign on the Web in 1998. They used satellite imaging to scientifically plan watersheds.
"As we started more and more such projects, we realised we had created a specialised capacity which could be offered to other social initiatives too. In 2002, after extensive deliberations, we spun Mahiti off as an independent social enterprise. It was headed by Sunil then," says Sree.
The journey, Sree feels, has been a great learning experience. "We started as a three-member team in a 100-sq-foot office. Today, we have grown into a 60-plus member team. We have done more than 1,000 projects and have provided technology support to 300-plus NGOs both in India and elsewhere in the world. The team learns every day. No two interventions are of similar nature. We need to continuously adapt to the social context," he says.
Through their Convene workshops, they were able to engage with more than 3,000 non-profit leaders and civil society activists from India, Myanmar, Bangladesh, Sri Lanka and Central Asian countries. Mahiti.org believes technology can add value to social initiatives. "This network has enabled creation of many more partnerships and programmes since," adds Sree.
Convene is a platform for social innovators. The network promotes use of Free/Open Source Software (FOSS) to meet tech-based needs of social development organisations. Members can develop their ideas and projects online through a supportive and collaborative network of peers. Informal learning and local adaptation of initiatives are the focus. On the ground, through international workshops, Convene educates social groups, teachers, students, human rights bodies and civil rights groups about the value of FOSS.
Community adoption of their mobile phone-based interventions was particularly encouraging for the group. The programmes were aimed at the poorest of the poor and Mahiti saw "very successful adoption".
These projects include MySMENews (a micro-economy news feed through SMS) for micro-entrepreneurs in Kolkata; ArogyaSrini, a community-based PHC monitoring system Mahiti built for the SVYM (Swami Vivekananda Youth Movement); and Namagagi Nave, a mobile-based self-evaluation system for garment factory workers in partnership with the BMST (Bengaluru Medical Services Trust).
Vijay Rasquinha leads Mahiti's technology innovation efforts. His goal is to specialise in the optimal use of technology in solving problems of impact, reach and scale. Rasquinha graduated in computer science, began his start-up and merged with Mahiti in 2007.
WORK SHOULD BE CHALLENGING
"Our challenges are no different from any other similar entity. Internally, we have to ensure that the staff always finds the work challenging and emotionally satisfying. Externally, our offerings are weighed in comparison to big IT enterprises by those NGOs/iNGOs who have the budget. Emerging initiatives want us to provide solutions at a very lean price point! It's a challenge," elaborates Sree.
Chengalath points to other factors: "There are the same challenges that are typically found in any tech sector where salaries offered can be very competitive, there is attrition, and the 'social sector' team staff would rather work in an NGO than work in a company that works for NGOs."
Do young techies look forward to taking on such assignments, or do they see it as not hardcore enough and more 'social work'? Chengalath says, "Not at all. The solutions we build are in no way lesser than what a 'hardcore tech' firm would create. What we do find is that technical staff find it interesting to think of the problem given to us more creatively than to simply follow a document that tells them what needs to be done. Our staff learn to think outside the box because of the sector we work in."