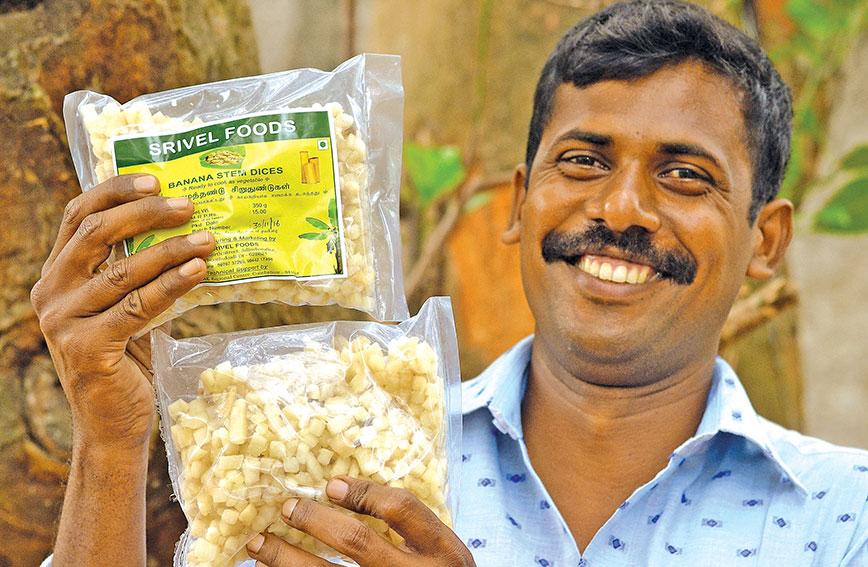 V. Muthukumar with his company's diced banana stem pack
Banana stem on path to fame with new takers
Shree Padre, Coimbatore
Published: Mar. 23, 2017
Updated: Jun. 15, 2017
The banana is not just valued for its fruit. Its stem too is becoming a popular food in Tamil Nadu. At least half-a-dozen small agro-industries have sprouted in the state that process, package and sell 'banana stem dices'. In fact, the stems are selling in tonnes.
Banana stem has always been cooked and eaten as a vegetable in villages. The outer layer of the stem is dried and used as a rope. After peeling several layers, what remains is a cylindrical white tube, a 'tube light'. This is the inner stem that is diced and cooked.
Why is the obscure stem of a banana becoming popular? The reason is that this stem is believed to have medicinal properties. It is said to dissolve kidney stones and its high fibre content prevents constipation.
Some rural markets in Kerala, Karnataka and Tamil Nadu sell 'banana tube lights' small-scale, without shredding the stem. In Chennai, you will find women sitting on the roadside selling freshly cut and diced banana stems.
Srivel Foods of Tuticorin and V.S. Natural Foods of Coimbatore have been selling one tonne of this product every day. Owned by V. Muthukumar and his brother, V. Arumugam, Srivel Foods was started six years ago. Tiny, ready-to-cook cubes of banana pseudo stems are their sole product.
Arumugam was working in Dubai as an electrician. After a few years he wanted to return home and start his own venture. He decided that diced banana stems could be a viable enterprise. Along with his elder brother, he began a small unit. Initially, the stems were processed manually, packaged and sold to hotels and shops. At that time they sold around 200 kg per day.
Their marketing network widened and demand started growing. The brothers realised their method of manually processing banana stems was a ...