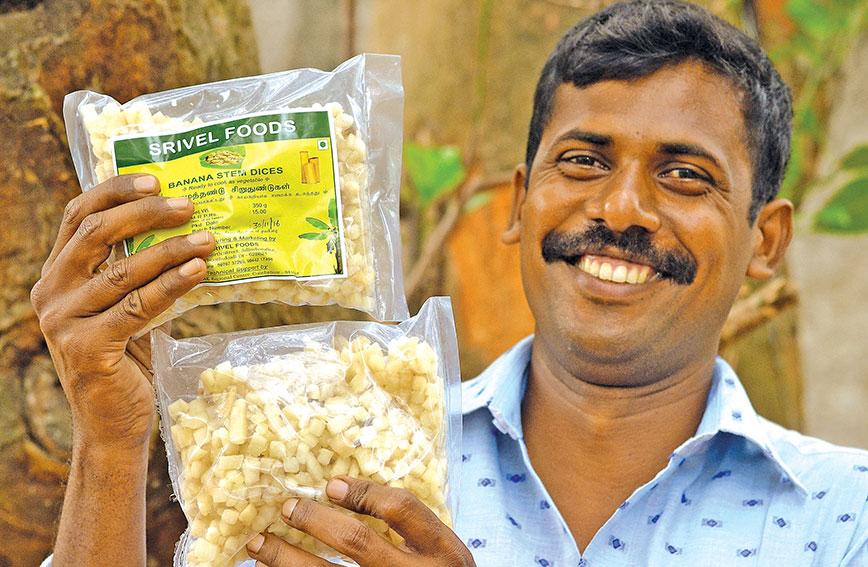 V. Muthukumar with his company's diced banana stem pack
Banana stem on path to fame with new takers
Shree Padre, Coimbatore
Published: Mar. 23, 2017
Updated: Jun. 15, 2017
The banana is not just valued for its fruit. Its stem too is becoming a popular food in Tamil Nadu. At least half-a-dozen small agro-industries have sprouted in the state that process, package and sell 'banana stem dices'. In fact, the stems are selling in tonnes.
Banana stem has always been cooked and eaten as a vegetable in villages. The outer layer of the stem is dried and used as a rope. After peeling several layers, what remains is a cylindrical white tube, a 'tube light'. This is the inner stem that is diced and cooked.
Why is the obscure stem of a banana becoming popular? The reason is that this stem is believed to have medicinal properties. It is said to dissolve kidney stones and its high fibre content prevents constipation.
Some rural markets in Kerala, Karnataka and Tamil Nadu sell 'banana tube lights' small-scale, without shredding the stem. In Chennai, you will find women sitting on the roadside selling freshly cut and diced banana stems.
Srivel Foods of Tuticorin and V.S. Natural Foods of Coimbatore have been selling one tonne of this product every day. Owned by V. Muthukumar and his brother, V. Arumugam, Srivel Foods was started six years ago. Tiny, ready-to-cook cubes of banana pseudo stems are their sole product.
Arumugam was working in Dubai as an electrician. After a few years he wanted to return home and start his own venture. He decided that diced banana stems could be a viable enterprise. Along with his elder brother, he began a small unit. Initially, the stems were processed manually, packaged and sold to hotels and shops. At that time they sold around 200 kg per day.
Their marketing network widened and demand started growing. The brothers realised their method of manually processing banana stems was a bottleneck. It was slow and cumbersome.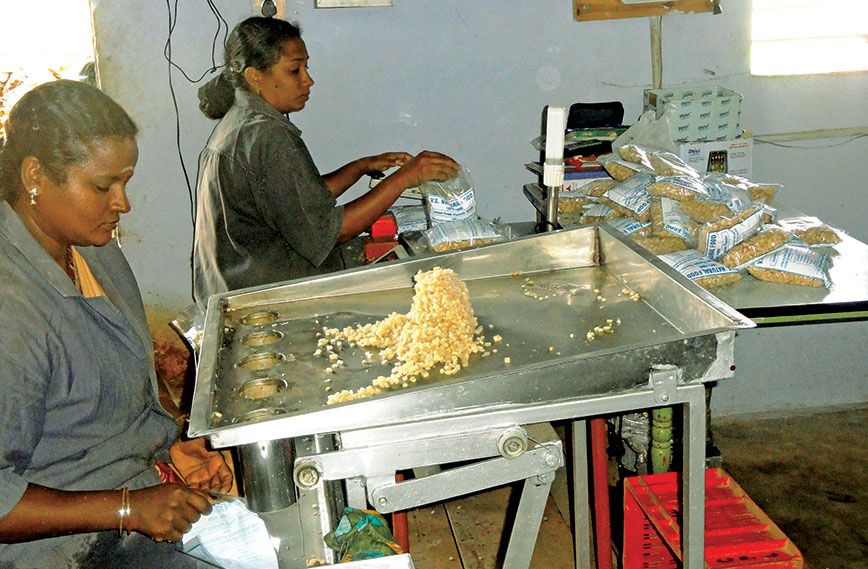 Diced banana being packed at V.S. Natural Foods
The Central Institute of Agriculture Engineering (CIAE) in Coimbatore came to their help. The institute designed four machines to mechanise production of banana pseudo stems. The CIAE doesn't manufacture machines for sale. Its mandate is to develop machines for agriculture and for agro-industries. So it provides a design that can be used by several industries that make machines in Coimbatore.
"Four to five machines are required for the minimal processing of banana pseudo stems," explains Dr Ravindra Naik, Principal Scientist, CIAE. "The first machine shaves off the outer layers of the banana stem, the second cuts the pseudo stems horizontally and removes the fibre and the third slices the pseudo stems into small cubes. A fifth machine removes excessive moisture from the diced banana stem."
Thanks to mechanisation Srivel Foods is producing banana stems in two packs: a 350-gm pack, priced at Rs 15, for domestic use and a 10-kg bulk pack costing Rs 200 for hotels, their main clients.
Apart from Aryas Hotel at Madhurai, Janakiram Hotel and Lakshmi Gayathri Hotel in Thirunelveli, they cater to hotels in Chennai, 500 km away. Banana stems can be kept for three days if refrigerated. Hotels make it into a stir-fry (poriyal).
Srivel Foods buys its raw banana stems from neighbouring farmers for Rs 15 apiece. It employs 15 people.
V.S. Natural Foods is another micro industry that produces shredded pseudo banana stems. Started six years ago, it has a staff of eight and caters to both the domestic sector and the hotel industry. The company calls its product 'instant fresh plantain stem'.
"We are supplying mainly to Coimbatore city. Hotels and vegetable shops are our main clientele. About 100 shops sell our product," says V.S. Sundaram, proprietor of V.S. Natural Foods. About 1,000 packets of 300 gm are sold every day. In addition, 500 bulk packets of 15 kg are supplied to hotels and hostels. The price is Rs 20 per kg. "Poriyal and kootu are two curries generally made from diced banana stem. It is widely believed that this melts kidney stones,"
says Sundaram.
Since banana stems are fibrous, vegetable cutting machines can't dice them. Sundaram got five machines custom-made for his unit. They worked well and five entrepreneurs requested Sundaram for similar machines.
Accordingly, the machines were made and supplied to banana stem units in Nagarakovil, Thirunelveli, Chennai and Erode. Of course, industries that buy such machines need to have a very good volume of sales.
Another byproduct that is picking up is banana stem juice. It is also regarded as medicinal. Small vendors manually juice the stems and sell at a fixed spot. M. R. Foods, started by M. R. Natarajan, is the first producer and seller of bottled banana stem juice.
Natarajan's Ponmani Industries is well-known as a manufacturer of food processing machines in Tamil Nadu. The CIAE helped him with technology to start his juice business. A 200-ml bottle of banana stem juice is priced at Rs 20.
Natarajan says reaping profits is not his motive. The banana stems are sourced from his farm. A batch of juice is kept for sale at his factory gate. Around 20-25 bottles are sold every day. Once the stock is exhausted, he produces the next batch. The bottled juice has a shelf life of 45 days.
"We started six months ago. Since then at least 20 people have told me that their kidney stones disappeared after drinking this juice. One guy had a stone measuring 7.3 mm. He was to have surgery. Because of financial constraints, he left the hospital and started drinking this juice. In a fortnight, a scan confirmed that his stone had melted. He used to drink two to three bottles of juice a day," says Natarajan happily.
However, though banana pseudo stem, a natural product, is gaining recognition as a medicinal beverage, there are certain apprehensions. Residues of chemical pesticides used in commercial banana cultivation will invariably be present in the stems. The banana stems have to be organically grown.
Contact: V. Muthukumar: 99442 17494; V. S. Sundaram: 9629550097; M.R. Foods, Customer Care: 97904 25533; CIAE: (0422) 2434276