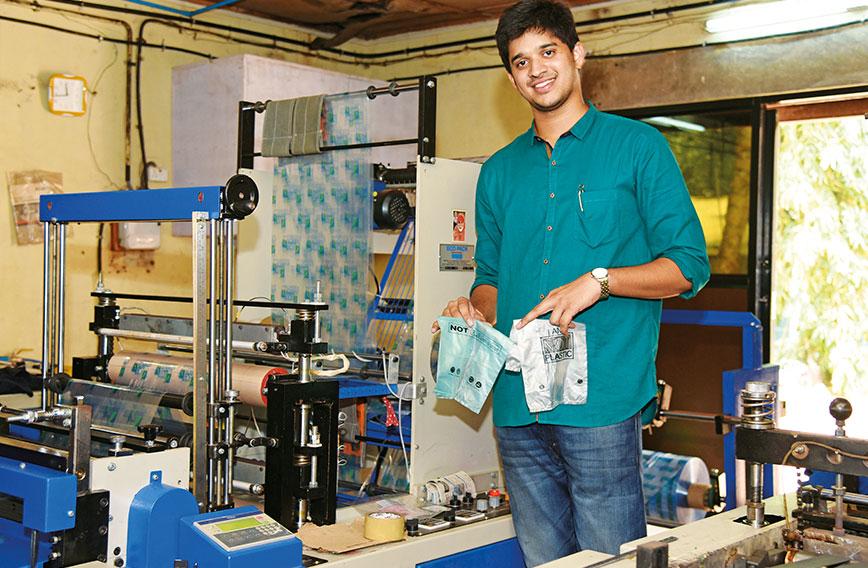 Omkar Kamat of Kemplastic Systems in his factory
In Goa, a bag to beat the new plastic ban
Derek Almeida, Panaji
Published: May. 08, 2018
Updated: Mar. 29, 2019
Measures for protecting the environment throw up alternative business opportunities as well. The banning of plastic bags in Goa from 30 May, for instance, could have knocked Kemplastic Systems out of the market, but instead the company has begun making bags from biodegradable plastic and corn starch.
Kemplastic Systems, launched in 2005 and based in Old Goa, had been manufacturing 80,000 plastic bags per month. The ban put its entire business in jeopardy, but the company have now tied up with Luibeg Environmental Technologies in the United Kingdom to go biodegradable.
Omkar Kamat, who runs Kemplastic Systems, says: "I used to regularly attend industry exhibitions where I met international players from China who were producing biodegradable bags and I thought, why not give it a try?"
The basic raw material for turning plastic into biodegradable plastic is d2w which hastens degradation and, more importantly, breaks down the chemical composition of plastic by a process of oxidation.
"In order to start manufacturing biodegradable bags we had to invest Rs 4 lakh," says Kamat. "While the main bag making machine remains the same, a mixer to mix the d2w additive and a change in the heating arrangement are necessary to produce biodegradable bags."
Biodegradable bags cost about 15 percent more to make, but that increase can easily be passed on to the consumer or the vendor.
A bigger challenge is to get the government to exempt biodegradable bags from the ban and for the Goa State Pollution Control Board (GSPCB) to invest in testing equipment.
The d2w bags were pushed into the market on 25 March and were made available at various outlets around the state from 1 April.
Kemplastic has also started manufacturing corn starch-based bags. "These are naturally bio-degradable and the strength is good enough to carry daily shopping weights," says Kamat, who has a background in accounts but did an internship with a plastic unit in Mysore before getting into the business himself.
The basic ingredient for corn starch is a polymer called starch-based PLA, which is imported from FKUR, Germany, and it is almost four times more expensive than the normal plastic.
"While the cost of raw material for plastic bags is around Rs 120 per kg, it is 200 for d2w bags and 400 for corn starch," says Kamat.
Kemplastic is also manufacturing d2w bags for garbage disposal. "These bags are colour coded with green for wet garbage and black for dry waste," said Kamat, who cautions that there is a class of bags which look and feel like cloth, but they are pure plastic. They are made with polypropylene non-woven fabric.
However, irrespective of what material the bags are made of, degradation will not take place if they are scattered along the road. "Micro-organisms are required to start the process," explained Kamat who was of the view that collection of bags by either panchayats or municipalities was still the best way of getting rid of them. The good news is that corn starch bags can be recycled by existing treatment plants and separation is not required.
Like most manufacturers, Kamat also does not have faith in the government to implement a ban.
"We have been complying with every rule of the government. We have stopped producing bags with less than 50 micron thickness. In 2014 we started printing our name and address on the bags. These processes increase the cost of bags and we are made to compete with thinner illegal bags which pour into the market from Karnataka and Maharashtra," laments Kamat.
Role of panchayats
On 12 March the Rumdamoll-Davorlim panchayat, located just outside Margao city in Goa, became the first to ban plastic carry bags in its vicinity. The panchayat has started distributing cloth bags to households and has instituted fines ranging from Rs 100 to Rs 500 for those using plastic bags and Rs 2,000 for shopkeepers and vendors providing such bags to customers.
Announcing the ban, Vinayak Volvoikar, a panchayat member, said, "The village of Rumdamol-Davorlim has seen the ill-effects of plastic bags. These bags are scattered all over the village and consumed by stray cattle. In order to put an end to the plastic menace, the panchayat adopted a resolution in the body meeting on 28 February to ban plastic bags."
The decision of the panchayat is in line with that of the state government to ban all plastic carry bags.
On 19 December last year, which is also Liberation Day, Chief Minister Manohar Parrikar announced at the official state function: "From 30 May all plastic carry bags will be banned. We are making the announcement in advance so that all those who have made it their economic activity should not complain at the last minute."
The announcement naturally rattled local plastic bag manufacturers who feel they are being unfairly targeted. They blame the Goa State Pollution Control Board, panchayats and municipalities for failing to implement an existing ban on carry bags below 50 micron thickness.
"If the ban is implemented, around 800 to 1,000 persons employed in over 15 units that are manufacturing plastic carry bags in the state could lose their jobs," said Sudesh Rane who has a manufacturing unit at the Kakoda Industrial Estate and heads the plastic wing of the Goa Small Scale Industries Association.
Plastic bag manufacturers, who met Parrikar to apprise him of the impact of the ban on industry, were told to switch to starch-based bags. Said Rane, "Starch-based bags are not viable because the cost of input ingredients is around Rs 400 per kg, whereas HDPE which is used to make plastic bags, costs around Rs 140 per kg. Besides, there are issues of shelf life, strength and modification of machinery which have to be looked into."
However, the larger problem is the inability of the government and local bodies to weed out thin plastic carry bags which are openly distributed by vendors and shopkeepers without fear of fines or punitive action.
Explained Rane, "When the government banned bags below 40 micron thickness, manufacturers in Goa complied. Then we were asked to print the name of the manufacturer on the bag and we agreed. Then the central government banned bags below 50 micron thickness and once again we fell in line. But this did not end use of thin plastic bags because the government did nothing to stop their free distribution."
Rane also claimed that when names of manufacturers and retailers distributing thin blue plastic bags were submitted to local bodies and the government, they were tipped off before conducting raids. "Now we are being made to pay the price for the failure of panchayats, municipalities and the government," lamented Rane. "If the earlier bans had been strictly implemented, we would never have reached a stage where a total ban is required."
Not implemented
There is some merit in the accusations made by Rane. On 1 July 2002, Goa banned all plastic carry bags of less than 40 micron thickness. In December 2001, the Department of Science Technology and Environment issued a notification empowering chief officers, municipal engineers, sanitary inspectors and municipal inspectors of all the municipal councils and the secretaries of panchayats located in the urbanised talukas of Bardez, Tiswadi and Salcete to implement the ban on thin bags.
In March 2002 all panchayat secretaries, collectors, deputy collectors, excise inspectors and police sub-inspectors were also empowered to take action under the Goa Non-Biodegradable Garbage (Control) Act, 1996. Then, in September 2002, two committees — one for North Goa district and the other for South Goa — were constituted to implement the 40-micron rule. In October 2004, two flying squads were set up for the same purpose. Sadly, till date the 40-micron rule has not been implemented in letter or spirit.
So the government, in November 2005, formed a committee to study the feasibility of a total ban on plastic carry bags or any other strategy to combat littering of plastic bags. But nothing came of it.
In 2016, the central government notified the Plastic Waste Management Rules. According to Rule 14, every retailer or street vendor who sells or distributes commodities in plastic bags which are not labelled or marked is liable to pay a fine specified under the bylaws of local bodies.
Rule 15 further says that shopkeepers and street vendors who wish to provide plastic bags should pay a plastic waste management fee of Rs 48,000 annually or Rs 4,000 per month to the local body.
None of these rules are being implemented by either municipalities or panchayats.
At a recent meeting of the state-level monitoring committee headed by the secretary, urban development, the director, municipal administration, was instructed to weed out retailers and vendors selling thin bags. Rane, who also attended the meeting, said, "If the municipalities do their job, around 70 percent of the problem will go away."
Although Goa is the smallest state in India, it has the highest urban population. According to the 2011 census, around 62 percent of the state's 1.4 million population lives in urban areas — making municipalities primarily responsible for implementation of plastic waste management rules.
Goa also plays host to around six million tourists each year which puts enormous pressure on coastal villages which are struggling to segregate and clear garbage.
According to Richard Dias, supervisor at the Saligao waste management plant, of the 100 tonnes of garbage that arrives every day, plastic constitutes 10 tonnes. Between January and May this year an average of 300 tonnes was transported each month to the Vasavadatta Cement plant at Sedam, Karnataka, for co-incineration.
What no one really knows is the quantum of plastic carry bags in the 10 tonnes of plastic received at the garbage plant at Saligao and whether Rane's claim that it is only four to five percent is true.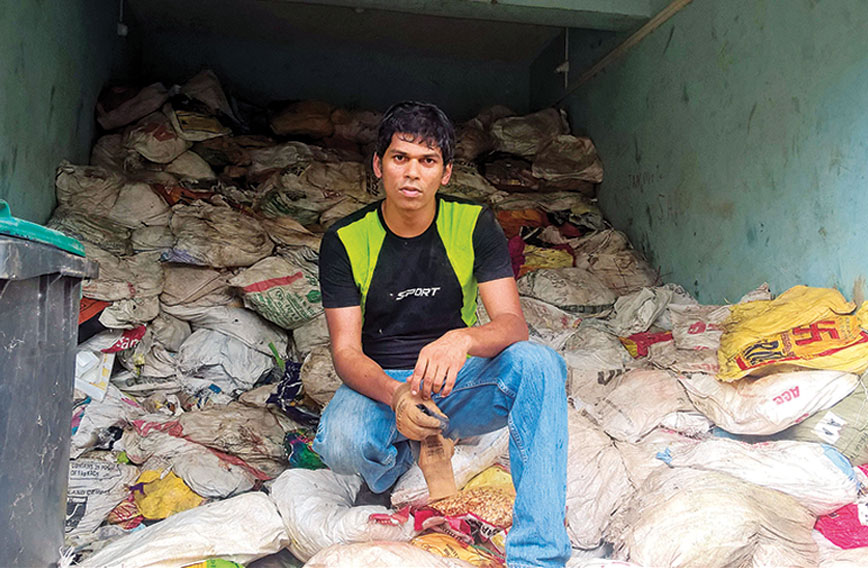 Clinton Vaz of Recycle Waste Management Services which recycles plastic waste
Not bags alone
While environmentalists welcome the move of the government to ban carry bags, waste management entrepreneur Clinton Vaz is not enthused. "It's a good move for publicity, but does not solve the problem," he candidly said. Vaz runs Recycle Waste Management Services and has been actively involved in recycling plastic waste for over a decade. Vaz was also involved in setting up over 100 waste composting sites around Panaji.
"There is already a ban on carry bags below 50 micron thickness, but it is not being implemented," argued Vaz. "Go to any part of India and you will find bags below 50 micron thickness being freely distributed by vendors and shopkeepers."
Echoing Rane, Vaz said, "Enforcement agencies never target manufacturers and when information is shared with municipalities, retailers and vendors are tipped off about impending raids." He is convinced that manufacturers, vendors and retailers will find a way around the ban.
Vaz is one of the few who does not see merit in a ban on plastic. "We shouldn't be against plastic," he explained, "because that would put pressure on cloth and paper, which is a highly polluting industry. The emphasis should be on collection and recycling."
He also pointed out that extensive use of multilayered packets, especially for chips, are a bigger threat. "Any plastic with a silvery foil is not recyclable. So, how are you going to solve this problem? Bans are easy but where is the political will to implement."
He said grocery bags are not such a big problem as they are recyclable, but collection is an issue. "The bag has to be clean for it to be recycled and even a little curry can undermine the process. Also, bags have to be sorted and the incentive of Rs 30 for 10 kg of used plastic bags is not viable because it takes a lot of plastic by volume to make up 10 kg."
"This is one of the reasons we are trying to create awareness among hoteliers to use plastic tubs or aluminium foil because they are recyclable."
Levinson Martins, member-secretary of the Goa State Pollution Control Board (GSPCB), took a more circumspect view. "Almost everything is packaged in plastic these days," he said. "We need to take a holistic look at the packaging industry. The larger problem lies with non-recyclable material used for packing small quantities of shampoos, coffee, etc. This sort of packaging has made expensive products available to the common man, but collecting and disposing of these packets is a logistical problem."
The GSPCB is generating awareness about plastic waste with the help of NGOs, but nothing much will be accomplished if those authorised to implement the 50-micron rule shirk their responsibilities. The state-level monitoring committee headed by the secretary of urban development has had two meetings with government department heads, industry and waste management experts but no headway appears to have been made on what type of carry bags to ban or how to help industry make the shift to biodegradable bags.
As the 30 May deadline approaches, the government will have to get its act together if it wants to catch up with states like Delhi, Himachal Pradesh (below 70 microns) and Uttar Pradesh which have banned the plastic bag.