Raj Kumar:'You need good places to put waste and they should be available round the clock'
Zonta's way: A dump can become a drop box
Umesh Anand, Bengaluru
Published: May. 02, 2017
Updated: Jun. 15, 2017
It takes more than civic sense to get a city into shape. The best of intentions won't make garbage disappear. But when technology, entrepreneurship, governance and citizen participation coalesce, the impossible begins
to happen.
Zonta Infratech, a company specialising in disposal of urban wastes, was launched three years ago. Its timing could not have been better. Now, as city administrations in India compete with one another in cleaning up, the company is well poised to offer advice, systems and technologies which make their task easier and sustainable.
A good example of what Zonta Infratech can do is available at Bengaluru's Victoria Layout, where it has converted an open dump into two partly submerged bins, which it calls drop boxes, for wet and dry garbage. The garbage now no longer lies around but goes into the bins and is collected regularly by Zonta Infratech by mechanically lifting the bins and emptying them into a truck or compactor. A splash of street art completes
the picture.
Drop boxes are of two types — either partly or fully buried. Garbage that doesn't get picked up from homes and establishments, which could be as much as 20 percent of a city's garbage, goes into the bins and is out of sight.
There are other examples at locations as diverse as Dharamsala, Paonta Sahib, Jabalpur, Chennai and Tirunelveli. Jabalpur is a particularly big success thanks to a visionary commissioner in
the municipality.
Zonta Infratech offers a complete solution beginning with the drop boxes and ending with conversion of waste into energy. It has the advantage of focus and superior technology from a German partnership. Its founder and managing director, Raj Kumar, is also passionate about the business. A corporate lawyer till recently, he became an entrepreneur because of his fascination with changing social equations and the urban opportunities they present.
Civil Society spoke to Raj Kumar at Zonta Infratech's corporate office in Bengaluru.
You have found the need for creating large-sized bins. Most cities are moving away from bins. But you think they work. How?
For us these are not bins at all. They are waste drop boxes which are available to the public. At the administrative level in cities there are different thoughts on bins. Some think we can create a bin-less city. But the concept of a bin-less city involves a different kind of mindset. In our country, the bin- less concept exists because there is low-cost labour always available to pick up garbage.
We expect there is somebody out there to carry our waste. It's like you expect somebody to carry your bag outside the airport. That parochial mindset needs to be changed.
We feel that when the economy of the country and the city move forward, this parochial way of thinking will completely change. Today you can afford to get your servant to carry your garbage. Tomorrow it may not be the case.
So, you need good places where you can put waste and segregate waste — and they should be available round the clock. That is the mechanism we are creating through these drop boxes.
Are these both dry bins and wet bins?
In Bengaluru and Chennai we have created dry bins, wet bins and hazardous household bins. Invariably, in projects where we are involved we insist these two dry a bit.
What happens after that? Are the bins of the same size? Is there a size you have found which is a useful size?
Yes. There are different models of bin size and bin types. We look at what the city needs. In most cities, we find that wet waste is more and needs to be emptied every day or every second day. We have kept a 1.5-cubic-metre bin for that. But in the case of dry waste you can keep it for two days. The drop box size can be bigger, 2.5 cubic metres. The volume of the bin for dry waste can be more and you need not empty it every day.
The bins can be partly underground or fully underground. The city of Dharamsala in Himachal Pradesh has bins fully underground because those bins look ergonomically very good. The city is a tourist hotspot so they were looking for bins with a large volume and fully underground. We have
got the facility to manufacture the bins and we supply them.
To empty bins we use a crane fitted on a truck. The bin is picked up, emptied into a compactor and then put back in the same pit.
Transporting the garbage is also part of your operations?
Yes, in most cities they would like us to do the collection because they feel that it reduces the burden on the city and we are ready to take the responsibility.
In Bengaluru you had black spots where garbage gets thrown and you have placed these bins there. What has been the impact?
We find that in some areas of the city where these so-called black spots had been in existence for 15 to 20 years, when we put the drop boxes there, the change in that vicinity or in the nearby captive area was significant. People had been suffering there for years. For example, in Victoria Terrace.
What is happening here in terms of a system is that you would anyways have segregation in the household.
Yes.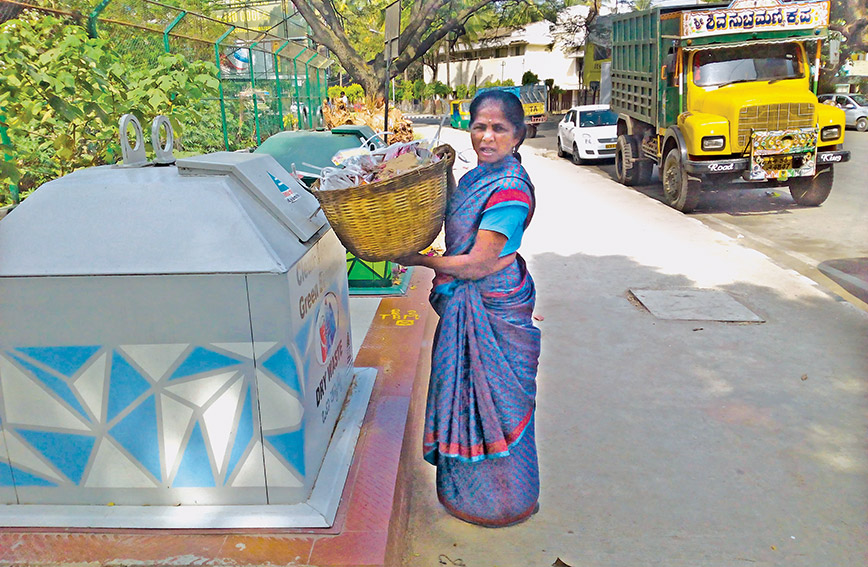 A woman empties her garbage into a drop box
So your drop boxes are meant for those people whose garbage does not move from the house because they are late in having it picked up?
In Bengaluru we have some sort of door-to-door collection happening. The city is very fast-moving. Family members might all be working. If you are not able to achieve 100 percent door-to-door collection and you leave, say, five, 10 or 20 percent uncollected, then you are going back to square one. Twenty percent of the waste can be very visible litter in your city.
Theoretically, you should do 100 percent collection. No one can achieve that unless it is something you are going to do round the clock. So, with that perception in place, this kind of variation can make your system collapse.
Our drop boxes, even in cities where door-to-door collection is happening, add one step above your current practices. You are not leaving any stone unturned. Your commercial and residential areas have this as an add-on even if you have a collection system in place.
One of the big challenges in the Indian urban context is to get rid of the landfill. It is an outdated concept. This drop box concept reinforces the landfill. Am I right?
No. As far as the waste cycle is concerned, collection is the first step. After collection, what do you do? That is where processing comes in. In our organisation we have a solution for processing. The landfill is the last stop in the chain. If you are not able to process the waste, then you put it in a landfill or dumping ground.
Jabalpur, for instance, is probably one, or perhaps the only, city in India which has taken care of all three stages. Four years ago, when we first engaged with that city, there wasn't much of a system in place. Fortunately, the commissioner, a very dynamic person, listened to us and was open to many ideas. We find today that the city has a robust collection system. It has got door-to-door collection, underground bins, semi-underground bins for commercial and residential areas, plus it has got a very good waste processing plant, a one of its kind in India. It's got a landfill where only residual waste from the waste-to-energy plant is placed. In that way, Jabalpur is a model.
The waste is suitable for generating energy?
Yes. Basically, the rationale for waste-to-energy in our company technically and logically is to burn everything other than metal, stone or sand. Technically, if you have more calorific value, you get more energy.
But what about air pollution from waste-to-energy plants?
You need to have investment for the flue gas treatment. In a typical waste-to-energy plant we also supply, erect and commission 30 to 35 percent of the project cost goes into flue gas treatment. There are established norms. You really need to outfit your system to make it capable of treating the dangerous gases.
The key is in the design?
In the design and cleaning of the flue gas.
Does the setting up of a waste-to-energy plant in India entail higher investment?
In fact, Indian waste-to-energy plants cost the lowest. If you want the same kind of plant that has been put in Jabalpur, or which we are building in Chennai, for example, if you want to do it in any other geography, the cost will be much higher. Being a new and emerging area, companies like ours at least in the initial new projects are willing to absorb even a loss to pick up projects to showcase. Compared to India, China came late to the waste-to-energy market. We had a waste-to- energy plant in Timarpur in the 1990s but we failed because of the way the project was structured and the technology. This is now the norm in China. Chinese waste is not very different from Indian waste.
The production of electricity is an add-on. It is possible for it to be a viable business model. Large companies are now willing to invest in such projects and the government is promoting them under the Swachh Bharat Mission.
When you went to Jabalpur, nothing much was happening?
When we went there it was like any other city. I should praise the commissioner there. A strong officer can make a big difference to a city. Singlehandedly, in Jabalpur, the commissioner has made a big change. We have seen real change and also in other segments like water and roads.
Can you explain the waste management model that Jabalpur is following?
We have semi-underground bins, then there is the waste-to- energy plant built by a Japanese company with investment from Essel Infrastructure. Then there is the landfill where only residue from the plant goes, the bottom ash, and for that too efforts are being made to utilise it.
How much waste is Jabalpur generating?
About 420 tonnes per day and they are getting waste from nearby towns like Khatni and Narsingpur. They are using the old dump site which is behind the plant. That waste is also being put into the plant.
What is the capacity of the plant?
About 11.5 MW.
How much waste can it handle?
About 580 tonnes daily.
So if Jabalpur grows a little more, you will need another plant?
Not for the next 10 to 20 years.
What did it cost the Jabalpur municipality to put this system in place?
It depends on the number of bins the city wants. In phase one they took 50 bins and in phase two 200 bins. The waste-to-energy plant initiative has come from my company.
But municipalities don't have the money.
Jabalpur is a good example where investment has come from the private sector. Waste-to-energy is from the private sector and the city is investing only in bins and collection. Cities are increasingly going to invest in modernising their collection system because that is where cities see an immediate requirement. Everybody wants to see streets clean.
The company investing in the plant probably has a model for selling the power.
Yes.
If the municipality is investing, what does it have to get together to clean a city like Jabalpur compared to what they were spending earlier in a less efficient manner?
We see that the operation cost for a collection system like our system is less than what they were spending under a crude system. The reason being that you are creating large drop boxes and you are emptying every second day or third day. Your daily collection cost comes down. This is a USP for introducing our products in most of the cities.
Out of our 10 clients we find most are under the Smart City programme. They have a requirement to do smart collection. They have funding for that. We manufacture under the Make in India initiative. Earlier, we were importing waste-to-energy plants.
How much does an average bin cost?
It depends on the volume and whether it's fully underground or semi-underground. In Bengaluru we started with a pilot project under CSR funding from Embassy Office Parks. The city has now floated a tender for a larger number of bins.