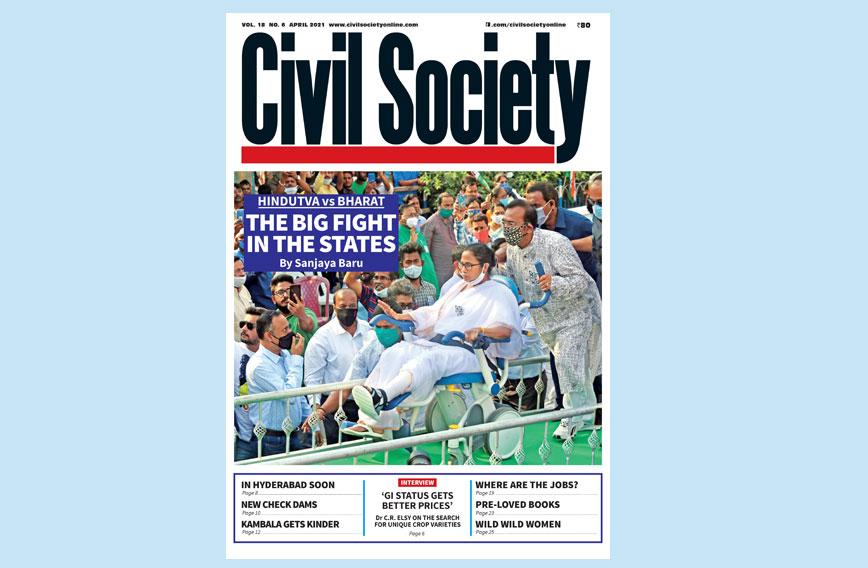 Why we cover politics and why we don't
Published: Mar. 26, 2021
Updated: Feb. 26, 2022
OUR readers tell us that they don't want us to cover politics and politicians. They would much rather we put our energies into stories that they don't get anywhere else. We heartily agree, but when it comes to an important election, we do think it is required for Civil Society to do its bit.
So, for this issue's cover story we have asked Sanjaya Baru to weigh in on the implications of the five states going to the polls and turn his regular column with us, Delhi Durbar, into the cover. Much is at stake in these elections and Baru, both as a journalist and someone who has been in government, has a keen sense of what is happening in the world of politics.
This is also not the first time that we have done a cover on elections or politicians. In fact, Narendra Modi has been featured twice as our cover story and we have tracked his journey in our own style. Earlier there were stories we did on Manmohan Singh, Sheila Dikshit and of course Arvind Kejriwal, among other politicians big and small.
Kejriwal was in fact our first cover story when we launched in September 2003. He was then an activist on leave from the income-tax department. We now continue to cover him in his political avatar.
The distance between activism and politics has also been narrowing. Social sector activists don't seem to hesitate in making their preferences known. It is becoming increasingly difficult to find the kind of activist who stays with a cause and has the capacity to deal with any party in power. Anupam Mishra, our late friend and board member, was one such activist in an old-fashioned way. He had his views but kept an even keel.
For us as journalists, there can be no question of taking sides. Staying tuned to politics and politicians in an impartial way has its dividends when tracking policy and government decision-making. We have the acquaintance of many politicians of different persuasions. Some can be counted as friends as in the case of the Deputy-Chairman of the Rajya Sabha, Harivansh, who is on our advisory board because that is where he was first before getting into politics.
It is always fun to revisit a story because you get to know what happened next. We interviewed Dr C.R. Elsy, the agricultural scientist, to catch up on her effort to get geographical indications for farm produce in Kerala. Any talk of improving the lot of farmers must really begin by working with them in their fields and empowering them in meaningful ways. Dr Elsy's contribution has been in enabling farmers to navigate the complex terrain of intellectual property rights. The fact that she has done so as a scientist is particularly interesting.
In our Living section we feature women making an entry into the Indian hip hop scene. Female rappers have their own stories to tell. We also explore the world of secondhand books. With everything going online and bookshops dying, the circulation of pre-loved books too has been disrupted.