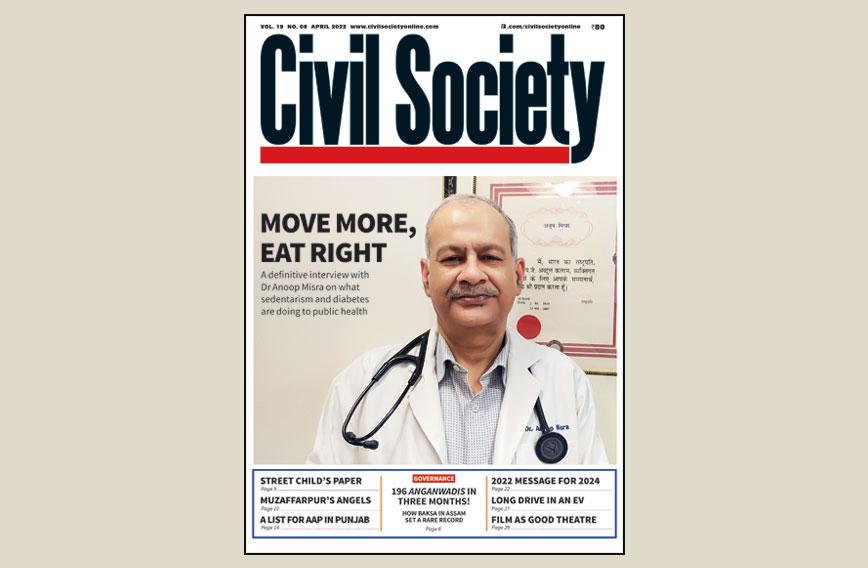 Frontline people we are proud to know
Published: Mar. 28, 2022
Updated: Apr. 29, 2022
BLESSED are the people who serve in remote areas. They are self-motivated and get little institutional encouragement. Those who benefit from their presence are plain lucky. We are fortunate to know several of these frontline people because we seek them out and spend time talking to them about their lives and work.
In this issue we are delighted to profile and connect our readers with the Deputy Commissioner of Baksa district in Assam and the doctors of the Homi Bhabha Cancer Hospital in Muzaffarpur in Bihar. Through their efforts, in diverse ways, they are helping to transform corners of the country that cry out for development.
The DC, Aayush Garg, is a chartered accountant by training who has worked with PwC and ITC. The cancer specialists come from different parts of India to live and work in Muzaffarpur. They have degrees with which they could be hired in hospitals in any big city.
Are they merely outliers in a shoddy system or will their efforts result in solid change? It is difficult to tell. Good people come and go. But while they do what they do, they are deserving of our attention.
Coverage of politics and elections has always thrown us into a dilemma. We have no real interest in the give and take of politics and we don't want to waste time and energy keeping pace with newspapers and TV. We are, however, interested in the issues of development, which actually cut across party lines. We also realize the value of analysis and we are very fortunate to have with us knowledgeable columnists. In this issue Sanjaya Baru and Nilanjan Mukhopadhyay put the recent Assembly election results in perspective and look ahead to 2024. Is it a done deal or not? Take a look at our Insight section. Also check out columns by Kiran Karnik and Arun Maira who have a following of their own in our pages.
Like so many of us you have probably toyed with the idea of buying an electric vehicle and held back. Till infrastructure is put in place, it is a difficult choice to make, especially if you only have money enough to own one car. Our advice to you is to be brave and take the plunge. You won't regret it. In our Living section, our colleague, Surmayi Khatana, has done a wonderful piece on her cousin and the Nexon he bought. Newly married, he and his young wife took off to Mussoorie in it. This is as good as it gets. EVs are well on their way to becoming the widely preferred personal transport that they should be. In Civil Society we have been tracking EVs for a very long time. We had Chetan Maini and his outstanding Reva car on our cover a decade ago. Maini was clearly ahead of his time and for that matter so were we. But that hardly matters: it is more important to be part of the future before it arrives. We found Chetan very interesting and the Reva really good fun to drive. So did many other countries, but India took its time waking up.
In our Living section also take a look at Saibal Chatterjee's review of Mahishasur Marddini (A Night to Remember), which pieces together stories of gender discrimination and sexual violence.