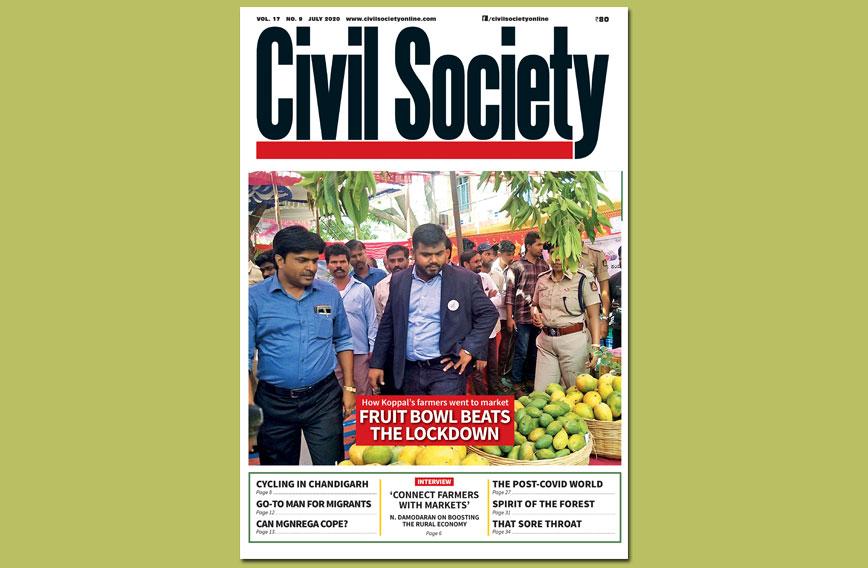 July 2020
Published: Jun. 29, 2020
Updated: Sep. 12, 2020
Lockdown stories around us are invariably of the hard-luck variety. It has been a punishing time for everyone, especially so for those whose cheap labour fuels economic growth. They have been trapped in inhospitable situations for a long time, but what they have now experienced was unimaginable.
Yet, if the general picture is one of gloom and doom, of joblessness and broken dreams, there have also been instances of people beating back the lockdown with extraordinary resilience and inventiveness.
Our cover story this month is on farmers in a corner in Karnataka who succeeded in getting their fruits and vegetables to buyers despite the heavy odds stacked against them. They were greatly helped, even inspired, by energetic district officials. It is an example of how an administration can come to the assistance of people through creative collaborations. If local officials hadn't been so accessible and supportive, the farmers almost certainly wouldn't have been able to rise above their circumstances. They needed both encouragement and advice to build beneficial linkages and extract at least some value from their produce. Fruits being perishable there was a need to act quickly and decisively and set aside red tape.
Recent policy changes pertaining to agriculture have been widely hailed as reforms which will give farmers scope to sell what they produce at a better price. But policies without action in reaching out to farmers, understanding their needs and handholding them through new arrangements could well amount to little.
In our opening interview, Narendranath Damodaran of PRADAN makes the point that farmers need predictable linkages with markets. To engage in this way to their advantage they also need help from NGOs, government officials, banks and entrepreneurs. PRADAN has worked in some of the poorest districts in the country and has considerable learning on the predicament of people in rural areas.
Nikhil Dey of the MKSS discusses the newfound status of MGNREGA in the initiatives of the present government, which till very recently regarded it as an unwanted legacy of the UPA government. With people rushing back to their villages in large numbers, will MGNREGA be the solution that the government has cracked it up to be? Will there be enough jobs? Is the Union government's allocation of funds enough?
To get an idea of how MGNREGA is doing in a village and what migrant workers who return are experiencing, we spoke to Sanjay Sahni, a campaigner for MGNREGA in Ratnauli village in the district of Muzaffarpur in Bihar. Civil Society featured Sahni on our cover in September 2011 and he found a place in the Civil Society Hall of Fame.
We have been profiling NGOs and their work during the lockdown. Often they have been the only support for people in distress. In this issue we feature the Pardada Pardadi Educational Society, an NGO we have come to have high regard for. As could be expected, it has been making a significant contribution in these troubled times.