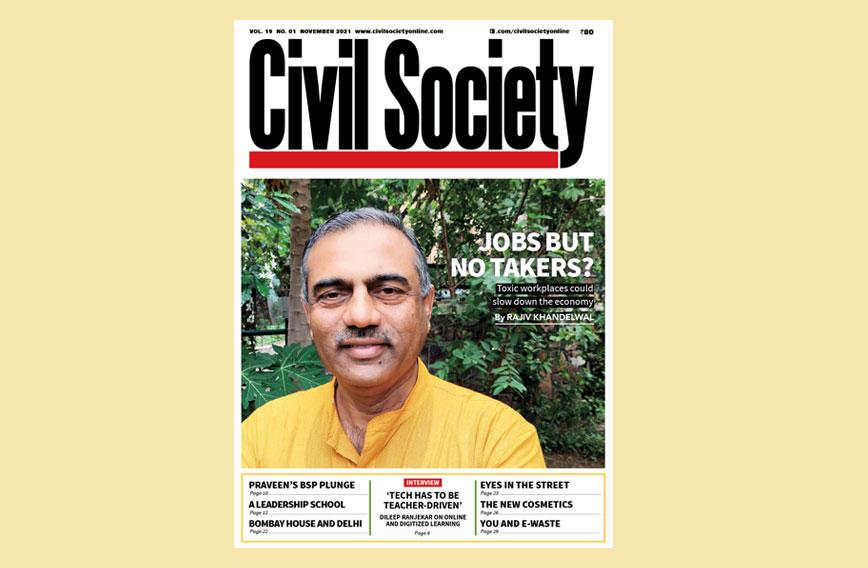 The whole problem with standards
Published: Oct. 29, 2021
Updated: Feb. 26, 2022
WE can't stop talking about what a great future the Indian economy has. But how quickly we arrive in the future will depend on the route we take. Lousy infrastructure, crumbling cities, toxic workplaces and a privileged elite are going to be speedbreakers we could do without. Respecting people's rights and helping the weak and poor come up are important whether in government or running a company. We need empowered and healthy people. Not wretched and exploited masses. Better standards for everyone should be a national goal. Maybe it already is but in that case we should stop paying lip service to it and get on with the real work of providing equal opportunities and access.
Our cover story and opening interview this month are about our inadequate efforts to achieve real growth and development. Rajiv Khandelwal, co-founder of the Aajeevika Bureau, takes us inside workplaces to show us what is really going on with employment. The Aajeevika Bureau has done seminal work in understanding and helping the Indian working class, especially the vast numbers of people in the unorganized sector. We have known the Aajeevika Bureau for some years now and we have done many stories on their work. But this article is written by Rajiv especially on our invitation and is part of a series we have been running in which outstanding civil society leaders take us deeper into their work and the issues of the day.
In our interview with Dileep Ranjekar we take a close look at the recent craze for online learning and explore whether digitized lessons and tutorials can have wide application across the entire school system — as is being conceived by some. Our association with Dileep goes back several years. He has been a tireless observer of education in government-run schools and has been travelling to corners of the country as part of the Azim Premji Foundation's efforts to train teachers and improve the quality of learning for children in general and not just for those whose parents can afford expensive private schools. In this role, Dileep's concern has been for the last child. You cannot build a modern economy without education for all.
On the question of online learning and the use of technology, he says it has to begin with empowering the teacher, who is pivotal to the learning process. Technology can't be expected to replace the teacher. It is also important that the vast majority of schools in the country have better infrastructure, computers and internet connectivity. A national vision for education is needed for a country as economically and culturally diverse as India and just business entities pursuing commercial goals aren't the answer.
We have received an enthusiastic response to our Living section which seeks to introduce to our readers good products and better lifestyle choices. When we recommend red rice noodles or an ice-cream or a coffee, we would like you to know that we do so after consuming them ourselves for a while. We also look out for companies that have a strong social purpose. They should be encouraged.