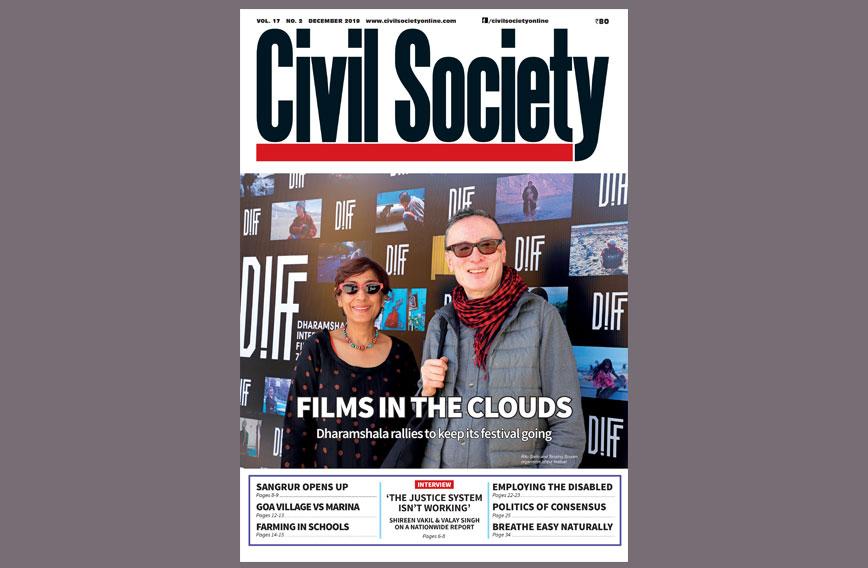 December 2019
Published: Nov. 29, 2019
Updated: Mar. 25, 2020
You might ask why we chose to go to Dharamshala to cover a film festival and that too as our cover story. Well, it is our experience in this magazine that the interesting things we discover invariably happen to be at a good distance from the big cities. The problem is that they don't get reported on and talked about. When it comes to film festivals and literary festivals, they have become the monopoly of a few. Corporate funding completes the circle of influence that decides what we will see and hear and read. It is not just elitist, but boring as well and disrespectful of the wonderful diversity that exists in India. The film festival at Dharamshala is one such small and intrepid effort which deserves a place on our cultural map. In fact this year it might just not have been held for want of sponsorships. Spirited local organisations and individuals didn't let it die. We hope our story will encourage the organisers to keep going and those among our readers who enjoy a trip into the mountains to turn up in Dharamshala next year.
There is much concern these days about the lack of jobs in the Indian economy and it is true that there isn't enough employment for a growing number of young people. An economic slowdown brings long-term problems. But what can we do till the bigger solutions fall into place? If an example of successful action is needed one should turn to Meera Shenoy and Youth4Jobs, the organisation she founded seven years ago. She and her team manage to put 10 disabled young people into jobs every day. Over seven years 18,500 have found employment. How has this been made possible and that too with disabled young people from economically weak families in rural areas?
Meera has got many things right. She and her team are driven by passion and perpetually in mission mode. They are also unabashedly market oriented with the result that they succeed in bringing potential employers and disabled young people together. The training given to disabled young people is intense and practical so that meaningful transformations are made. Someone learning to use computers and acquiring life skills begins to immediately feel empowered. Much more becomes possible after that. Finally, skills imparted are customised to suit the jobs available. Employment programmes work well when driven by demand. Meera has also shown that it won't do to duck challenges. She has chosen to work with disabled young people in villages. It doesn't get tougher than that.
A national report on India's justice system is out and we have an interview with Shireen Vakil and Valay Singh, who anchored the process in the Tata Trusts. Several other organisations came together for the first time to make the report possible. We now have baseline information on the access to justice in all the states of the country. It is a sorry picture that emerges, which was already evident, but now the numbers are available. Will it lead to improvements and how soon, is now the question.