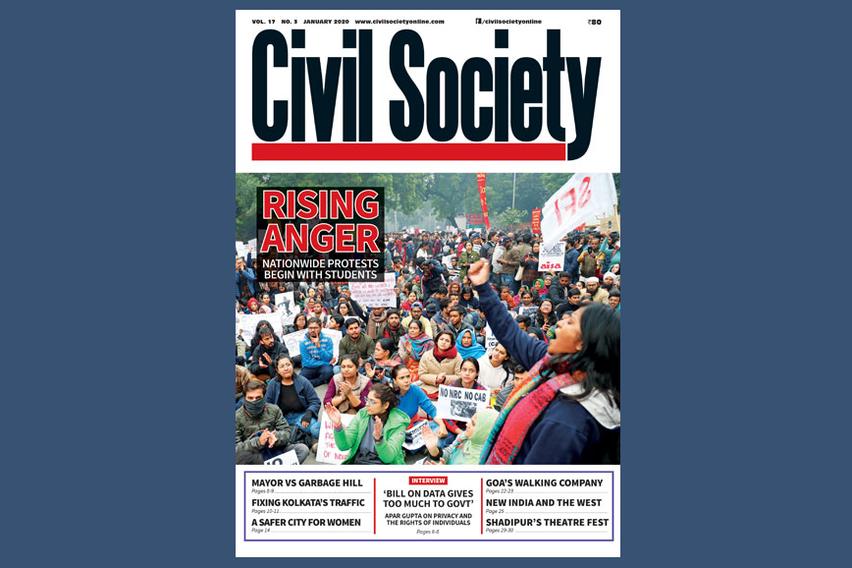 January 2020
Published: Dec. 24, 2019
Updated: Mar. 25, 2020
Widespread opposition to the Citizenship Amendment Act (CAA) and plans for a proposed National Register of Citizens (NRC) is reason enough not to implement them. The government would do well to withdraw the CAA and drop the idea of an NRC.
Neither can work without popular support and if they are imposed in the manner now being considered, we risk throwing the entire country into a long and distressing period of turmoil. To thrust them on states would not work and would also weaken the very spirit of federalism on which the country's governance is based.
As we go to press with this issue of the magazine, there have been five days of protests of the kind that we haven't witnessed for some years since the India Against Corruption movement. The people coming out range from ordinary folk to film stars — all of whom are clearly distressed over the possibility of India losing its secular identity. In addition, scientists, scholars, writers and so on have signed petitions opposing the CAA and NRC.
The CAA is an example of how laws don't necessarily reflect what people want even when passed by majorities in both houses of parliament. The fact that the CAA and NRC were in the BJP's manifesto in the last elections, in which it got a whopping majority, hardly matters as we can see from the anger and anguish over what could be the implications of implementing both.
The recent developments also show that we need to allow greater freedoms on our campuses. The tendency to clamp down on students is counterproductive. The brutal assault on Jamia Millia Islamia's students in their library and toilets has shocked the nation.
Apar Gupta of the Internet Freedom Foundation tells us what is wrong with the draft Data Protection Bill that has been presented by the government. How our personal data is accessed and used should be a matter of concern to us all. Gupta is a lawyer and an activist in the digital space. He is concerned that the draft bill does little to empower people and gives too much to the State. It is an imbalance we should not accept.
Cities interest this magazine hugely. Stories abound in issues of everyday governance. In Kolkata we learn how its traffic problem was sorted out and in Chandigarh the mayor tells us about his determination to get rid of a garbage hill.
Our Business section features a company making biodegradable plates and cutlery, an enormously useful business given the urban problem of dealing with waste. All kinds of new-age businesses make our lives better and more interesting and we take a keen interest in them wherever we find them. So it is in Goa we have come across a young company which has turned walks into an enterprise thereby offering visitors and locals alike new insights into Goa's heritage and way of life.