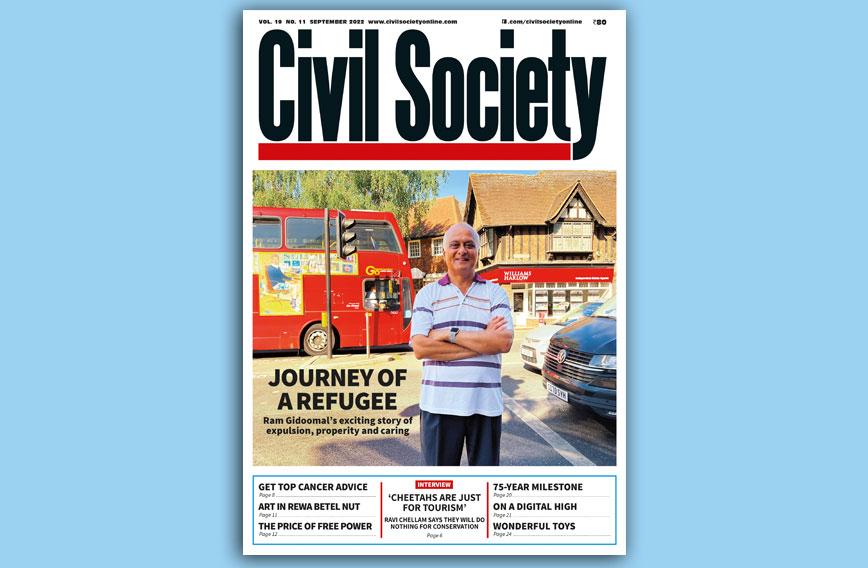 Living for others, cheetahs, free power, cancer
Published: Aug. 29, 2022
Updated: Sep. 28, 2022
WE met Ram Gidoomal in the early years of our magazine and so it has been a long time since we have known him. Back then, we had opened a stall to showcase Civil Society at an event at the Habitat Centre in New Delhi and among the many people who noticed us was Ram.
That he should have been drawn to a magazine called Civil Society speaks for his values and concerns. He is a successful businessman and every bit an entrepreneurial Sindhi, but his heart beats for the poor and excluded. He knows what it is like to be a refugee, having become one in childhood after his wealthy family was evicted from Mombasa and lost all their wealth overnight.
His autobiographical book My Silk Road comes at an interesting time in British politics. The extract we have chosen is about Ram contesting twice for the post of Mayor of London, raising issues that had other candidates scrambling to catch up and bringing him more votes than anyone had expected.
Do we need cheetahs from Africa to bring back grasslands and save the Great Indian Bustard? No matter what the answer, the cheetahs are on their way and are to be settled in the Kuno National Park in Madhya Pradesh. Fenced enclosures are being created with elaborate plans for providing them prey. What does this say for wildlife policy in India? To get a professional and well-informed perspective, we spoke to Ravi Chellam, a leading wildlife expert. Chellam is not just concerned that the cheetahs are diverting attention from the much more pressing task of settling lions into Kuno, he is also worried about the whimsical way in which key wildlife decisions are being taken and court orders ignored.
Political freebies have also been the subject of much controversy. Subsidies given to power consumers are particularly worrisome with state governments not paying distribution companies and they, in turn, delaying the payments of power producers. What long-term effect does this have on the power sector and where does it leave the process of reforms? Prayas is an NGO which has looked closely at these issues and we bring you a detailed story based on our interview with Ann Josey and Shantanu Dixit of Prayas' Energy Group. Their message: greater reforms and competition.
Even when it is completely curable, cancer becomes a death sentence of sorts. Treatment facilities are lacking. Patients also need counselling and attention. Often, when a second opinion is needed on a diagnosis there is really nowhere to go with ease and dignity. As the number of cases keeps rising, the challenges get yet more difficult. In this issue we connect you with Navya, an outfit based in the US which, among other services, helps get a credible opinion and treatment plan quickly from a network of the right physicians.