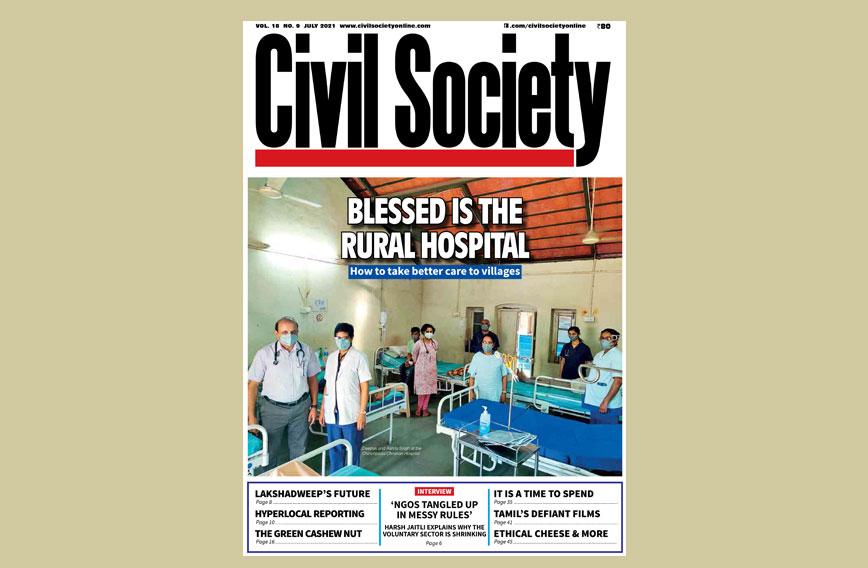 Putting out our magazine in the shadow of the virus
Published: Jun. 18, 2021
Updated: Feb. 26, 2022
IT has been more than a year and the pandemic continues to serve up surprises. Losing friends and worrying about those who are unwell has been unsettling. Multiple lockdowns and severely restricted mobility have made it difficult to function.
Keeping our magazine going has meant summoning hidden reserves of commitment and inventiveness. Like birds in a storm, we have been sheltering in nooks and taking each gust as it comes.
We are, therefore, more than a little relieved and proud of ourselves that we can bring you this issue of Civil Society just as the lockdown eases and printing and distribution become possible.
With extra pages of coverage, this issue combines May and June with July. So, it is three months in one. It is the best we could do under the circumstances.
We are particularly happy to have put together a cover story on rural doctors and hospitals. It is in villages that the virus' impact is largely unknown. We have taken a close look and we hope our story will give our readers a fresh perspective on public healthcare and the real needs of the country.
Healthcare in India has for long awaited a better vision — among policy-makers as well as medical professionals. The message of the virus is that it is time to go back to basics.
In Civil Society's view the healthcare system should be imbued with the values that open it up to people of all classes and make it truly accessible, affordable and effective in a localized way.
The virus will perhaps turn healthcare into a political issue, which is what can make a difference to the urgency with which changes take place. But before that happens there should be wide agreement that rich and poor must get the same standards of expertise.
More investments are needed, but in many years of covering health in this magazine we have found just pouring in money won't do. It is equally important to put medical and managerial talent into government-run healthcare and reset the standards of the system.
As journalists, we have found that healthcare works best when doctors are driven by the original values of their profession and take on leadership roles in search of solutions. The system tends to fail when it is weighed down by the greed for fees and corporate profits.
Apart from our ground reports, we have an interview with Harsh Jaitli of VANI on the problems of NGOs and we go to Lakshadweep for an analysis of the travails of the islands.
In this issue we bring you again a special Cinema section. You have an opportunity here to get to know pathbreaking Tamil filmmakers whose work is receiving attention globally. The Books and Authors section provides a selection of titles worth looking at. And in Living you can discover ethical cheese and nut milk.