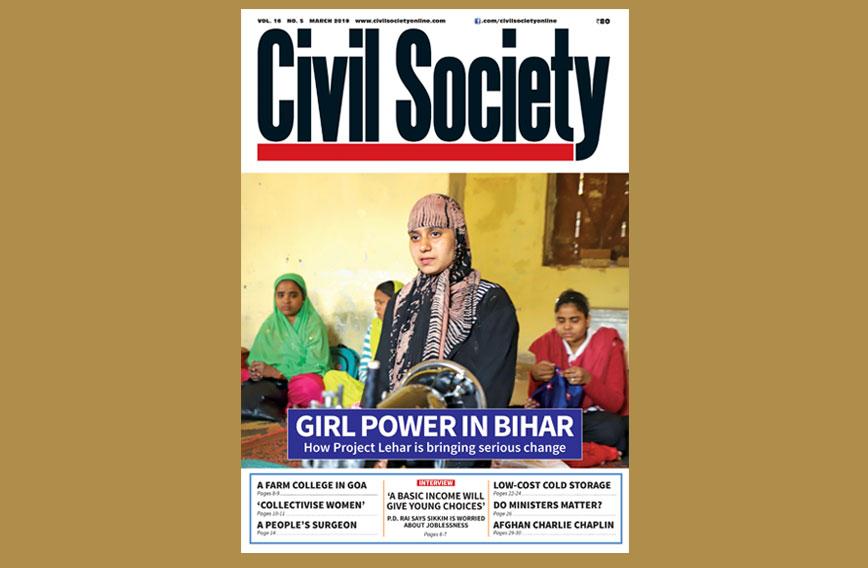 March 2019
Published: Mar. 26, 2019
Updated: Nov. 23, 2020
An economy on the move needs to invest in social change. The problem is that it is not something that money can buy. Jobs, infrastructure, technology and policy all help people to live better and come up. But they are not enough. To disrupt age-old equations takes time. Governments and corporations aren't good at doing it. It needs activists who know how to go deep. And the slower and longer the churn, the more lasting and worthwhile the results.
Our cover story this month presents the Aga Khan Foundation's work with adolescent girls in Patna. The foundation has been empowering them to study and earn. More significantly, in ways that can't be readily measured, the foundation's initiatives have helped these girls assert themselves in their everyday lives. It hasn't happened in an instant, which is good. Rapid fire transformations should be more a reason for concern than celebration. In fact, what is truly appealing about the Aga Khan Foundation's approach is that it is low-key and calibrated for the long term.
It has become trendy to talk of impact. But how should impact be measured in a Patna slum? As journalists we are not so sure that reviews and annual reports add up to much — necessary as they might be. However, pictures and conversations do tell us a lot and take us much beyond mere numbers. In our way, we have tried to put the Aga Khan Foundation's work in perspective. The girls' faces and intense accounts of their individual journeys are indisputable testimony of just how much good work has been done. It is not easy to say no to early marriage or go back to take a school exam, having failed once. When such seemingly small steps begin to be taken it becomes evident that there is much more that will (and perhaps already has) become possible.
When it comes to improving farm incomes, we at Civil Society have always felt that great opportunities are being missed. Long before it became fashionable to do so, we interviewed Dr M.S. Swaminathan whose important report on the farm sector was gathering dust under the UPA regime. Now many of those concerns and suggestions are the current flavour. Our take remains that the farm sector cries out for a pragmatism that will set farmers free to choose their markets and an inventiveness that will address their specific needs. We have done a great many stories to this effect over the years. Another one appears in our business section in this issue. A few young entrepreneurs have devised a cold storage which can be easily located in a village and which can run on electricity or solar power. The capacity to store vegetables and fruits is key to getting a fair price for them.
With all the talk about assured basic incomes, we bring you an interview with P.D. Rai, the Lok Sabha MP from Sikkim, the state which has said it will have a universal basic income for everyone. It is interesting that a state as well-off as Sikkim should want to go down the UBI road.