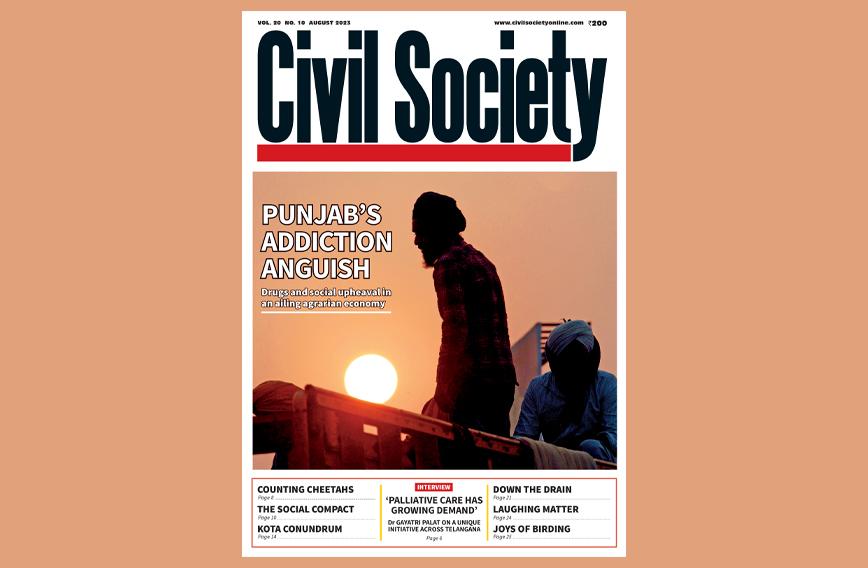 Drugs, addiction and the Green Revolution
Published: Jul. 29, 2023
Updated: Aug. 29, 2023
Punjab's problems have been in plain sight for a long time and it should be a reason for serious concern that precious little has been done to understand them, let alone make a meaningful effort to fix them.
Drugs and addiction top a long list of problems that have their roots in a neglected economy and a disintegrating social fabric. The promise of the Green Revolution has long ago given way to its deleterious effects.
Politicians of all denominations are of course culpable. But what about others? Journalists, professionals and academicians can't be said to have done enough.
Dr Anirudh Kala, a psychiatrist based in Chandigarh, has shown how it is possible to speak up with conviction and facts. He has done a book on addiction and by placing it on the canvas of Punjab done a great service by the troubled state.
Drawing on his practice of many years, Dr Kala delves deep into the reasons for the spread of drugs in Punjab and the hopelessness of the young. An important aspect of the book is why moralistic positions and policing don't serve to curb drug use. It is the deeper reasons that have to be addressed.
So impressed were we with Most of What You Know About Addiction is Wrong and the integrity of Dr Kala's voice that we decided to offer the book to our readers as a lengthy extract for our cover story.
The interview of the month is on palliative care. Far from the headlines, Dr Gayatri Palat has been helming an initiative in Telangana which has resulted in palliative care centres being set up as part of the government's health system in each of the 33 districts in the state. There is a model here for others to follow.
The cheetahs brought from Africa have been in the news and we have a detailed story on the goings-on in the Kuno National Park where they were introduced in an ambitious effort which now, it appears, is falling apart.
It seems we have become inured to young students dying by suicide in Kota in Rajasthan where they go to prepare for competitive examinations. Are the examinations too tough or are the conditions in Kota mind-numbing and oppressive? We have put together a list of deaths in the past six months and the picture is alarming.
On a happier note we have bird walks for children and how you can get Alphonso mango pulp round the year right from Ratnagiri. Take a look at our Living section with these offerings.