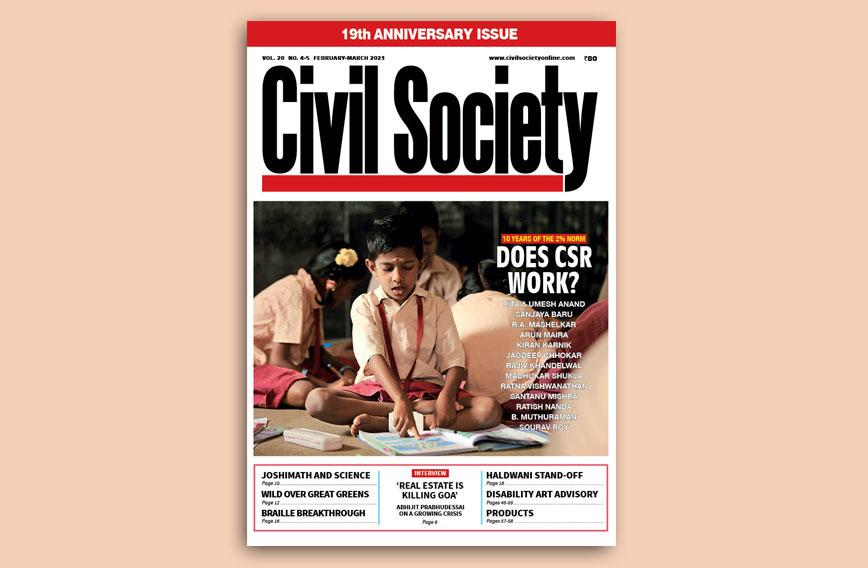 On turning 19 with all its joys and many challenges
Published: Feb. 17, 2023
Updated: Mar. 29, 2023
TO be able to go the distance is always a good feeling. Completing 19 years for us in Civil Society is something like that. In the best of times the publishing business calls for resolve of a high order. With the slowdown and then the pandemic that followed, the challenges have been even greater. But we have hung in and kept coming out. We have thinned down a bit by reducing pages, like everyone else, but despite the pressures we have stayed the course with the ideas with which we started out.
Civil Society continues to tell the stories that get overlooked. We bring you the voices of those who tend not to get heard. It remains our belief that India is a rich and diverse country and capturing this mosaic in all its intricacies should be the goal of good journalism. Oriented thus, we see great things in ordinary folk and their capacity for problem solving and getting ahead.
Journalism tends to get equated with power. We decided in the beginning that we would seek to be different. Vast masses of Indians don't have the privilege of being so predictably bracketed. In their free-falling lives are the stories that are not just interesting to tell but also a measure of India on the move.

Right from the beginning, when we launched Civil Society in 2003, we have used high-end mainstream skills to tell stories that wouldn't otherwise get noticed. We have used pictures, colour printing and design to be engaging. In doing so we believe that we have enhanced readability and, through it, awareness of issues that are otherwise relegated to being dull and dreary. We believe that we have been impactful in our coverage of agriculture, housing, healthcare, travel, education, urbanization, governance and a lot more. It makes us very happy when readers come back to us and say they always find something new to read in our pages.
An example of how we try to make a difference and change the narrative are our interviews with Abhijit Prabhudessai and Ravi Chopra. The former in Goa on the coast and the latter in the mountains in Uttarakhand. Both provide rare insights into the environmental crisis that is befalling India. It is important to let people speak and be heard without interruption. We remain committed to investing time in such conversations.
Our magazine has a rich haul of interviews. Our anniversary issue takes a stab at understanding corporate social responsibility. We believe that the time has come to critically look at what companies are doing because the private sector has an important role to play in taking the country forward. Are companies ducking their bigger and more consequential responsibilities in the guise of doing CSR? Read this issue and more on this theme in the coming months to find out.