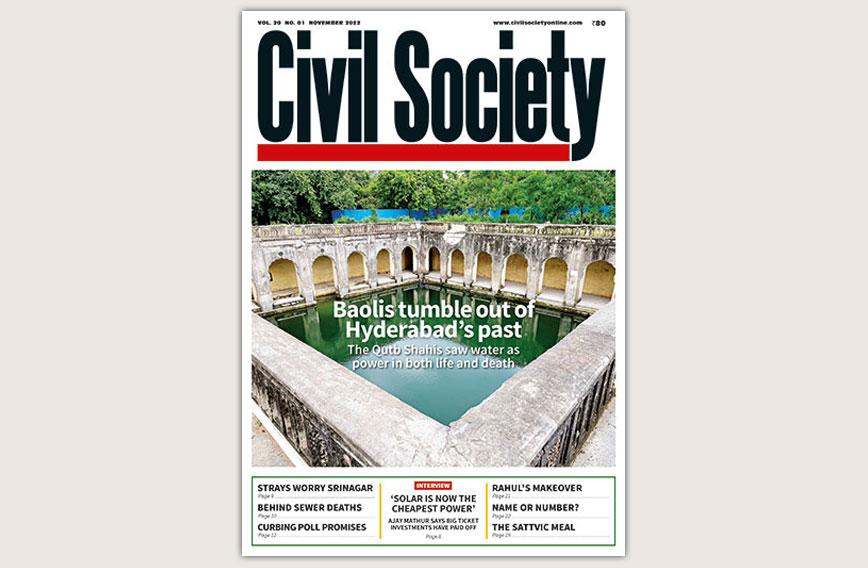 Past matters: Hyderabad an example for other cities
Published: Oct. 28, 2022
Updated: Nov. 28, 2022
CITIES make themselves noticeable in many ways. Heritage brought alive and made accessible is one of them. This month we bring you the story of the conservation efforts at the Qutb Shahi tombs in Hyderabad. On 100 acres there, architect Ratish Nanda and his team at the Aga Khan Trust for Culture have worked outstandingly to restore a necropolis that rulers of the Qutb Shahi dynasty created to serve as their last resting place.
Before the project, Hyderabad knew of a handful of tombs and monuments at the site, which was visited by local people but hardly the destination it is becoming. Now, close to 100 monuments, including tombs and baolis or stepwells, have been identified and worked on. The planting of thousands of trees has also brought back green cover. The necropolis is well on its way to being an iconic heritage site, perhaps the only one of its kind in the world. Hyderabad has reason to be proud of a civic effort that distinguishes it as a modern city eager to engage with its past.
It is important for Indian cities to aspire to be world class because they should be competing internationally to attract talent and investments. Most Indian cities don't make the cut. The Qutb Shahi tombs project in Hyderabad is a good example of how multidisciplinary teams with high standards are needed to transform the urban experience in India, not just in terms of heritage but also transportation, waste management, housing, air pollution and safety. India's position in the world will finally depend on how its cities are perceived. If they are syncretic, wholesome and forward looking, India will be regarded as a modern and progressive country worth betting on. A good heritage site is a small thing but it creates the kind of lasting impression that money can't buy.
If you have for the longest time heard of people dying in manholes while trying to clean them and wondered why machines can't be used instead, the answers are many. First, of course, is slipshod municipal administration in India. Municipal bodies are long due a makeover in terms of leadership and technical expertise. Odisha is succeeding in solving this problem, but the same cannot be said of other states. We spoke to Manvita Baradi and Meghna Malhotra of the Urban Management Centre to get a clearer picture.
Solar power in India is a great success story of which little is understood. Our main interview this month is with Ajay Mathur, CEO of the International Solar Alliance, from whom it is heartening to learn that big strides have been made in generating solar power in India and wheeling it through the grid at a price which is much below that of thermal power. Much, of course, remains to be done to take solar to domestic users and the agricultural sector, but such is the momentum that it is clear it will happen.