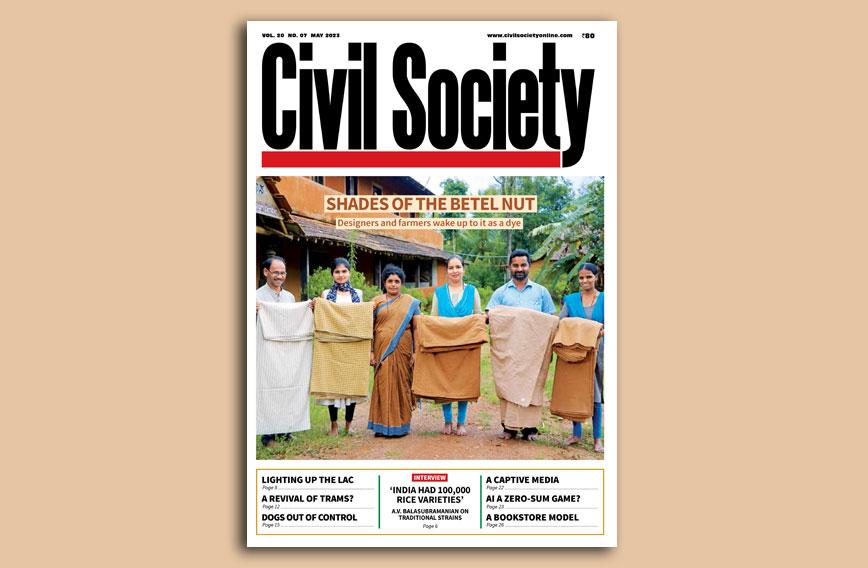 Farming plus: Much can be done for rural incomes
Published: Apr. 28, 2023
Updated: May. 29, 2023
A rethink on the farm sector is long overdue. The view that people will inevitably have to be taken off the land and herded into factories as workers has been running aground. There aren't the employment opportunities to absorb masses of people — that too without education and skilling keeping pace. The possibilities in manufacturing have also changed as the world has moved on. Labour-intensive agriculture remains a reality in the near term. Making it sustainable and remunerative is, therefore, important. Think agriculture-based industries for value addition. But also consider better positioning of produce.
Take the example of the betel nut or supari. A dye sourced from it becomes a fashionable and celebrated colour that designers call areca, which is our cover story this month. Farmers can't enter, let alone shape, markets on their own. They need an ecosystem that guides them. In the case of the betel nut, a government scientist extracted the dye. It was already known as a red liquid to farmers. But the science was important. Thereafter, commercial agents have stepped in — exporting the colour and using it for high-end fashion. But it has taken years for these benefits to accrue. A more alert system would have spotted the scope early.
Our interview of the month with A.V. Balasubramanian in Chennai reveals the enormous value in India's traditional rice strains. They have been edged out of mass consumption by market forces that favour polished long white grains. But the traditional varieties are more nutritious and don't give the spike in sugar that white rice does. Yet we ignore them. Balasubramanian is a man of modern science who has with great integrity pursued traditional knowledge in farming. His work is pathbreaking.
In Civil Society we like to look beyond the narratives that encircle us. The doctors' agitation in Rajasthan over a new law on public healthcare is an example. The agitation was all about emergency care. It was only the voice of some doctors, the better organized ones, that was heard. As a result, a forward-looking law which addresses the need for inclusive and government-run healthcare was lost in the din. Read our interview with Dr Pavitra Mohan, who has been working in community-based care that meets the needs of poor patients in remote rural areas in Rajasthan.
The harassment of girls on northern campuses is not new. But the recent incidents at the IP College for Women in Delhi were shameful beyond description. The girls have been protesting and we present their case. We also provide an update on gruesome street dog attacks. In public health terms has a statistical threshold been crossed? A solution is urgently needed.