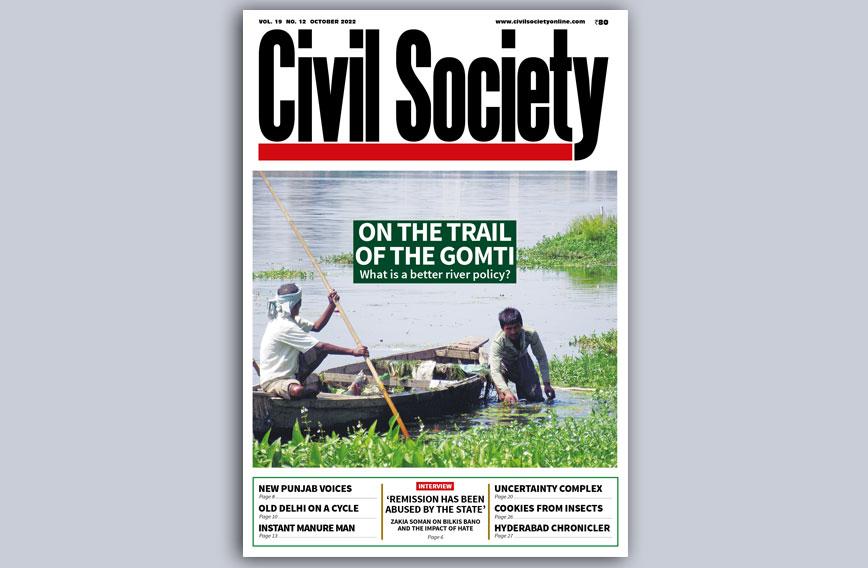 Reviving rivers, justice for Bilkis, cookies from insects
Published: Sep. 28, 2022
Updated: Oct. 28, 2022
HEALTHY rivers make for a healthy economy. But how does one bring ailing rivers back to health? With love and patience is the answer. It is a task complicated by the scars caused by systematic abuse over generations. Governments that think a few rounds of dredging and some sewage treatment plants can restore a river don't get it right. Much more is required beginning with recognition of a river's right to exist and respect for its ecology. A river belongs in the cultural and economic life of people. It is a delicate web of connections.
In this month's cover story, we set out to frame a model policy for rivers in India. No two rivers are the same, but are there some common principles that can be laid out? Venkatesh Dutta, who is a professor of environmental sciences but much more really, has looked closely at the Gomti in Uttar Pradesh. He has traversed the river's length with his students to understand its complexities.
The Gomti's story is really that of every other Indian river. Encroachments and dumping of wastes have been the most common forms of abuse across the country. A river, he reminds us, is much more than the water that flows in it. There are marshes and groundwater and zones into which it can flow freely when required.
As we learn from the Gomti we hope to be able to have a set of guiding principles which in a broad sense could be applicable to Indian rivers in general. From it we could hope to have a more effective national river policy. But more than a policy is needed. We need change leaders who will work to restore nature's balance even as we seek to grow and develop. Dutta, who writes a column in Civil Society, is one such thought leader who works at ground level.
The first time we interviewed Zakia Soman was in 2007 when the movement against triple talaq was at a nascent stage. The years have flown and, incredibly, the law against triple talaq, good or bad, has come under a BJP government. But what has changed for Muslim women? It is still a daily struggle to assert their rights. We have our opening interview with Soman, who is as lucid and full of steely resolve as ever. Apart from the monstrous remission of criminals in the Bilkis Bano case we have Soman on the hijab controversy. She also provides an update on the organization she and her colleagues founded to fight against triple talaq.
We take you to Punjab where we have been following citizens' groups that are seeking relief from pollution. These battles have been ongoing, but they have gathered momentum, since the elections. The AAP government, we are told by these groups, is more sensitive to the issues they are raising. There are already some successes, but it is a long and difficult road ahead. What is truly amazing is that ordinary people are coming forward and there is coordination among them.