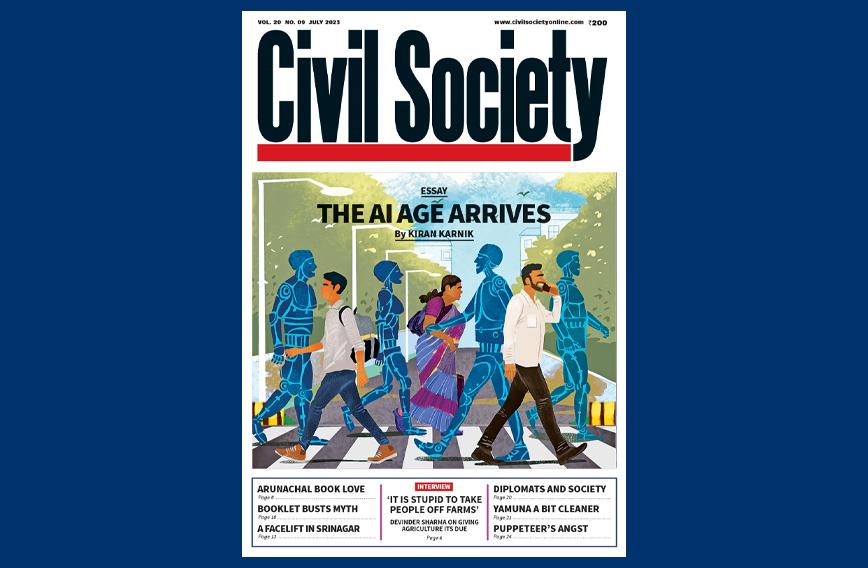 Essays are insightful and we bring them back
Published: Jun. 29, 2023
Updated: Jul. 29, 2023
WHEN we began our magazine in 2003, we used to publish an essay on the last editorial page — which is the one before the back cover. The essay in the first issue was by Aruna Roy on democracy. Essays by others followed, each unique and thought-provoking.
In this current issue we have revived the essay in Civil Society, but instead of it being back of the book, we have put it on the cover. We could think of no one better than Kiran Karnik, our regular columnist, to deal with the opportunities and concerns surrounding AI or artificial intelligence in a way that would be easily comprehensible.
Also, like us, Kiran is a firm believer in technology promoting inclusion instead of leaving people out or trampling on privacy and personal rights. We wanted to go beyond a technical explanation to the social implications of AI and particularly so in an unequal society such as ours.
It is absurd to think of stopping AI in its tracks. It has already made important inroads into our lives. It will take many forms as it goes along. The focus should be on keeping up with it, no matter how difficult, and harnessing it to empower people and diminish inequalities. In a sense, that is the eternal challenge in dealing with technology. The first step, of course, is to create awareness and that is what our essay attempts.
We all seem to have forgotten that there was an epic agitation by farmers to focus attention on Indian agriculture. Farmers camped at the entry points to Delhi for well over a year and that too during the trying days of the pandemic. Three hastily passed laws on agriculture were finally withdrawn by the Modi government. But nothing else has changed. For the interview of the month, we spoke to Devinder Sharma, journalist and researcher, on this incomplete story and what should be done. Reforms, of course, are needed but to what end? Sharma is of the view that the hands of farmers should be strengthened. Handing agriculture over to corporations in a country where 50 percent of the population lives on farms is folly. We agree.
We feel strongly about reviving libraries in the country. We grew up using libraries and while that meant borrowing books you sometimes never read, it also provided exposure to all kinds of books. The library network set up in Arunachal Pradesh by Uncle Moosa, creatively supported by the state government, is an example of how books should move around and be shared so as to discover the joy of reading. We revisit his story, having been to Arunachal some years ago, in the belief that this is a model for other states.