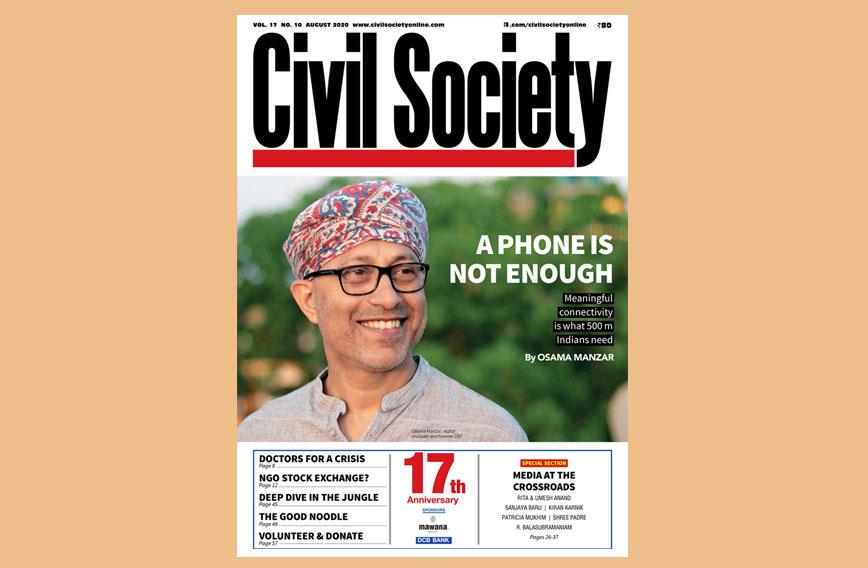 Stop worrying and keep going is our mantra
AUGUST 2020
Published: Sep. 12, 2020
Updated: Nov. 23, 2020
THE collapse of the economy and the oppressive nature of the pandemic leave us with few choices. One can either pack up or, like a long-distance runner, find the stamina to keep going.
Despite the lockdown, harsh and crippling as it was, we succeeded in bringing out Civil Society on time and printing it too in April, May, June and July. If we couldn't get these issues to every reader it was because the postal services were not working and couriers who took consignments didn't live up to expectations. We tried to make up with emailers and PDF versions of our issues.
With logistics in a complete mess and caught as we were in circumstances we couldn't control, we decided it was prudent to make the August issue our customary anniversary issue.
The postal services are accepting bulk bookings again and we expect that this Special Anniversary Issue of Civil Society will reach our readers in corners of the country where only the post goes.
We have a special section on the media in this issue. It has always been our position that the dominance of a few nameplates in the media is not doing anyone any good. Companies out to make money at all costs are losing credibility, corporate control is killing quality information and journalism as a profession is in decline.
Civil Society is our way of reversing these trends. More and more journalists should do their own thing in much the same way as we have. But for that to happen society at large will have to provide encouragement and support. Creating an independent media enterprise is fraught with such awesome risks that most journalists prefer to stay away from an initiative which has a high risk of failure. Society is poorer for such reluctance.
On our part we would like to worry less about the odds and keep going. We have readers and the stories we provide have a growing relevance to India's situation. We don't expect change to happen overnight or even in the near term. The fact that we are around and publishing and finding readers has an importance of its own.
We have separate sections on books and cinema in this issue and we hope that, going forward, they will stay. We also bring back a curated list of NGOs where our readers can donate and volunteer. We expect these lists will be useful in making a choice.
Our Living section will, from now on, devote space to organic choices and healthy living options together with plant remedies and traditional medicine. Travel within India interests us greatly and we are happy to show you where you could go.
Finally, we would like to say a big thank you to our subscribers who have become donors during this difficult phase just to keep us going. We are touched by their faith in us. We would also like to thank our advertisers for doing their best when they themselves are buffeted by problems.