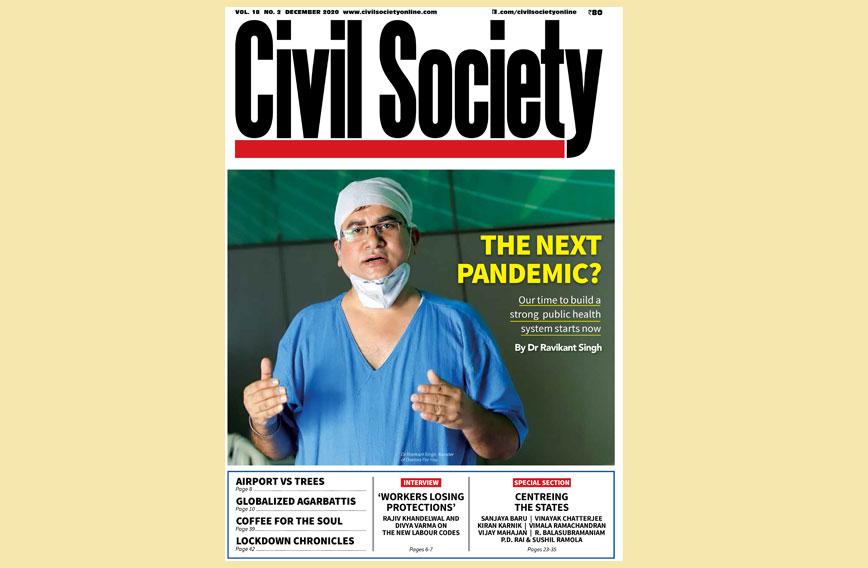 Put strong public healthcare system above all else
DECEMBER 2020
Published: Nov. 23, 2020
Updated: Mar. 26, 2021
A pandemic may not be the right time to judge healthcare systems. The best can collapse under the burden of unforeseen demand. The most poorly run may just rally round to deliver some kind of result. But for us in India, now seven months into dealing with the pandemic, this is the time to think about what the future holds if we can't fix public health facilities.
There should be little doubt anymore that for a system to be effective it should be able to provide equal access and quality. The novel coronavirus has shown us that diseases don't recognize boundaries between rich and poor. It is no secret that the system we have is skewed. Ministers might duck into AIIMS to recover, but the rest of us don't enjoy such facilities quite so easily. The rich can pay for hospital rooms but no amount of money can buy protection from an infection. There are real limits to secession by the elite.
The emphasis on the private sector has had a deleterious effect on the entire system. It has turned healthcare and hospitals into a blood business of sorts driven by quarterly results. At the same time, it is unrealistic to think that the private sector should have no role when the unmet demand for healthcare is as high as it is in India. It is the government's primary job to invest in a dependable state-run system and also devise regulation that keeps players, both public and private, moving in a direction that serves the national interest.
The coronavirus also teaches us that all we want to achieve as an economy begins with healthcare and it should be given importance above all else in the goals that governments set for themselves. Countries that have invested in healthcare wisely have benefitted. Their examples are well-documented. In India, however, the national standard is laughable and there is barely a state capable of laying claim to exceeding it.
The cover story this month is an attempt to show what we should be thinking about and what we can do. Dr Ravikant Singh is a public-spirited physician who started Doctors For You to bring a sense of service back into medical practice. He is certainly not alone in this mission. Civil Society has covered many examples of doctors going the extra mile to make a difference. India has the doctors, technologies, paramedical staff and administrators too, but not the system that can help them perform. Dr Singh brings this out well in his piece as he and his many colleagues do through their outstanding work when disasters strike or a virus goes on the prowl.
Centre-state relations have been the subject of much discussion. We have a special section in this issue to capture some of the give and take. Much of the angst in the states is currently over money since GST hasn't delivered on promises and state governments are pretty broke. The federal question, of course, goes beyond money and has to do with aspirations and identities. A country as large as India has to see itself in its many parts.