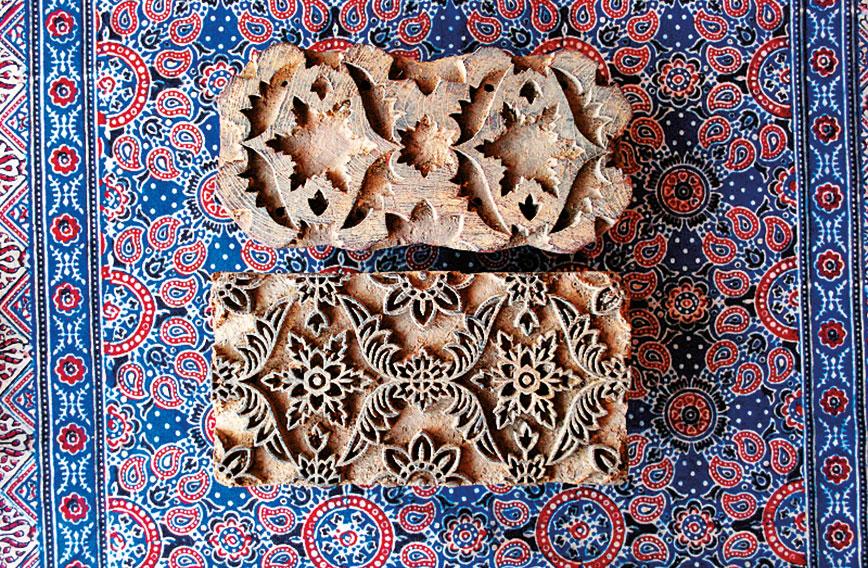 Published: Apr. 12, 2021
Updated: Apr. 12, 2021
It is said that the origins of ajrak, a block-printed textile with rich colours, can be traced to the Harappan civilization. This technique of printing on cloth has survived millennia because the designs are so attractive and timeless. Rafiq Khatri, an ajrak printer, sells sarees, dupattas and running fabric at Kisan Haat.
Khatri said that making a single saree or dupatta can take upto 15 days. White fabric is soaked in warm water overnight to soften it and then washed and dried. This is done twice.
The white fabric is embossed with intricate patterns using wooden blocks which come from Gandhinagar in Gujarat. Multiple blocks are required to make one composite pattern. A blue circle is embossed and the cloth is left to dry. Then a second print, say, a red flower, is embossed within the blue outline. The fabric has to be dried after each print. It is truly a work of patience.
Only natural dyes are used. Blue comes from indigo, yellow from turmeric, black from the rust on metal. Khatri, whose family has been in the business for 25 years, brings the fabric from Kutch district in Gujarat all the way to Delhi. Generation after generation of artisans are employed in the making of ajrak fabric.
Contact: To buy, call Rafiq Khatri: 7990327103