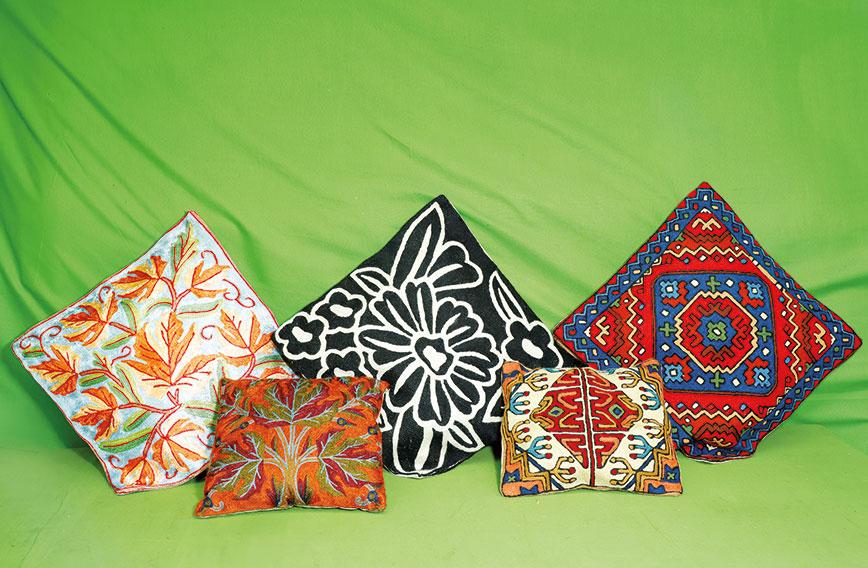 Published: Apr. 12, 2021
Updated: Apr. 12, 2021
Kashmir's beautiful Kashida embroidery is full of nature imagery and floral patterns. Abdul Rashid Dar's stall in Dastkaar's Nature Bazaar has pillow covers and table runners with Kashida embroidery.
Abdul Rashid has been a craftsman for 47 years and now works with about 70 karigars in Srinagar. His son, Nakib Shah, now manages the stall and the business. The family has been in the business for over four generations.
The artisans who work with them have been taught Kashida embroidery by their forefathers. They are skilled at their work — they are only told that floral designs are in demand and they think up the designs themselves. In recent times, Shah experimented with geometric designs in Kashida embroidery and they too have been well received by customers.
A pillow cover usually takes 10-15 days to complete, though a skilled artisan can complete it in five days. Pillow covers made with woollen thread are used in winter while those made with silk thread are used in summer. The embroidery is done with two-ply or three-ply wool or silk yarn.
Contact: Abdul Rashid
Visit Stall no. 37 at Dastkaar Nature Bazaar, Andheria Modh, New Delhi 110074 or call Nakib Shah at 8715006680