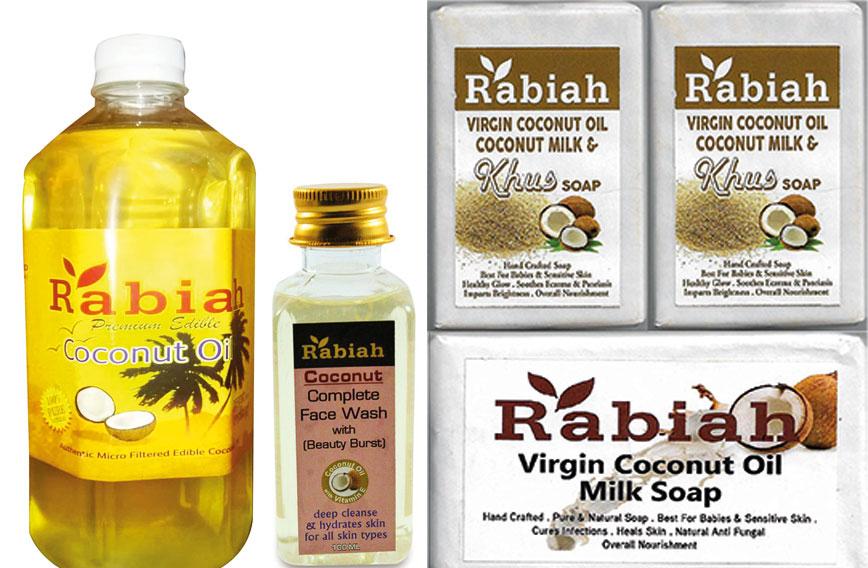 Published: Apr. 12, 2021
Updated: Apr. 12, 2021
Rabiah is an NGO which sells a range of coconut products. There is coconut milk, coconut powder, coconut pickle, coconut
hair mask, coconut honey, coconut soap, and more, all reasonably priced.
Rabiah also spreads information about the health benefits of using coconut. "I got interested in marketing coconut products because my thyroid problem vanished with coconut oil. We are also the only palm sugar brand in India. Palm sugar has a lot of therapeutic qualities," says Nitin Goyal, CEO and founder of Rabiah, handing over a bottle.
"And don't eat honey from bees, have our coconut honey instead." We try it and find it has a rich caramel taste.
Goyal says it is the Coconut Development Board which has been helping entrepreneurs set up enterprises involving coconut by providing machines and techniques. Altogether, the board has developed some 50 products from coconut by working with Farmer Producer Organizations (FPOs) in the southern states.
The Rabiah coconut range is also available on e-commerce sites, including Amazon. All the products are neatly and hygienically packed.
Contact:
Nitin Goyal: 9350276162; 8800758890
E-mail: nitinpawangoyal@yahoo.com
Website: www.ngoproducts.org