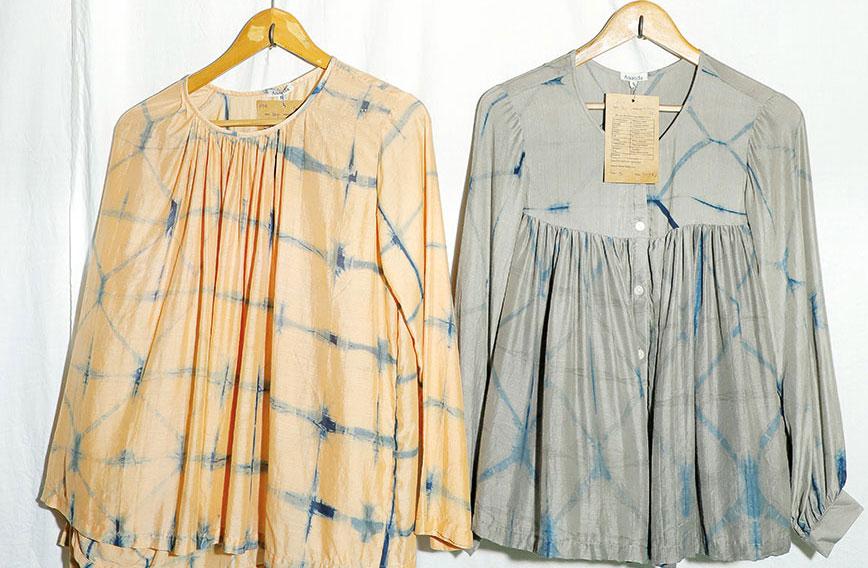 Published: Apr. 12, 2021
Updated: Apr. 12, 2021
Ananda makes dresses, blouses, sarees, dupattas and stoles using an exquisite Japanese dyeing technique called Shibori. The fabrics used are cotton, cotton silk and linen.
Shahin Akhtar started Ananda in 2012 after she came across outfits made with Shibori by a Bangladesh-based NGO in Dilli Haat. Akhtar is an experienced hand. She worked in the textile sector for 40 years. She read about the Shibori technique and taught herself. She then trained a team before she set up Ananda.
At Ananda's unit in Noida, some 10-15 artisans have become skilled at Shibori. The fabric is folded and bound in different ways and dyed to create patterns. In another method, the fabric is embroidered and then dyed. The embroidery is removed and the underlying area remains white, creating beautiful patterns. Shibori is mostly done with indigo dye.
Ananda uses only plant-based dyes. Akhtar says natural dyes are more aesthetic and eco-friendly. Their clothes come in different colours — green, lilac, pink, red and indigo.
Each product has information on the plants used to make the natural dyes. Pomegranates are used to make light yellow colour. For a green dye, light yellow and indigo are mixed. Shibori can be done on all fabrics.
Contact: Shahin Akhtar
Phone: 9810348448
Email: anandanaturalshibori@gmail.com
Website: www.blueananda.com