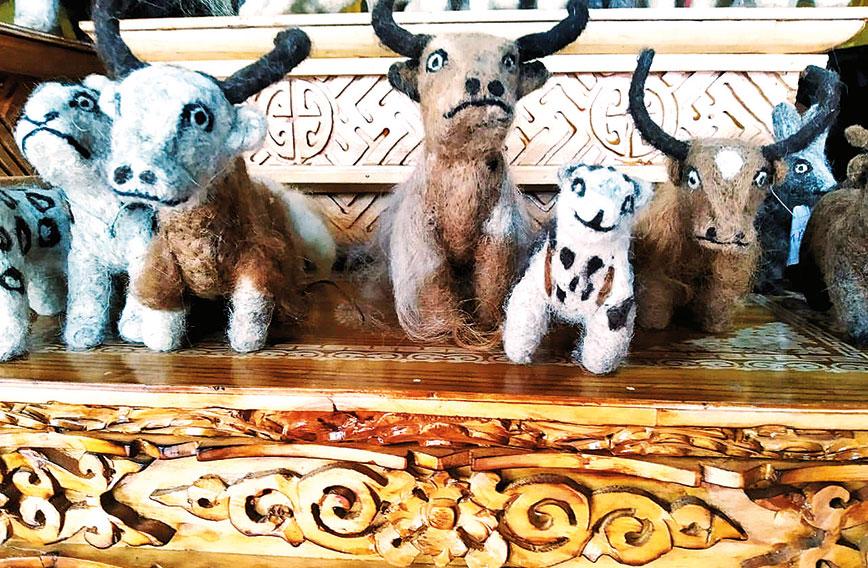 Published: Apr. 12, 2021
Updated: Apr. 12, 2021
Have you seen animals from snowy Ladakh in warm Delhi? Of course not. But you could catch a glimpse of small lifelike replicas of wildlife from icy Ladakh at the Ladakh Festival in March at Dilli Haat. There were blue sheep, snow leopards, yaks, marmots, mountain rabbits and more — all made of sheep wool, warm to touch and inexpensively priced.
These doll-like animals are made by a self-help group (SHG) of women in the picturesque village of Rumbak located in the high altitude Hemis National Park, 32 km from Leh.
"When our women aren't busy tending to their fields of barley, wheat and vegetables, they stitch these," explains Lobsang Namgiyal, their sales representative. The women were taught to make animal models by an international development agency. "Whatever they earn is put into their SHG corpus to spend on a group activity," says Stanzin Jigstal who runs a homestay.
The critically endangered snow leopard prowls around Rumbak village and the Hemis National Park in search of blue sheep, its natural prey. You can trek through the lovely park and if you are lucky catch a glimpse of the elusive snow leopard as well as the splendid black-necked crane. Rumbak has a number of homestays.
Contact: Lobsang Namgiyal – 9622994092
Address: Village Rumbak, District Leh – 194101