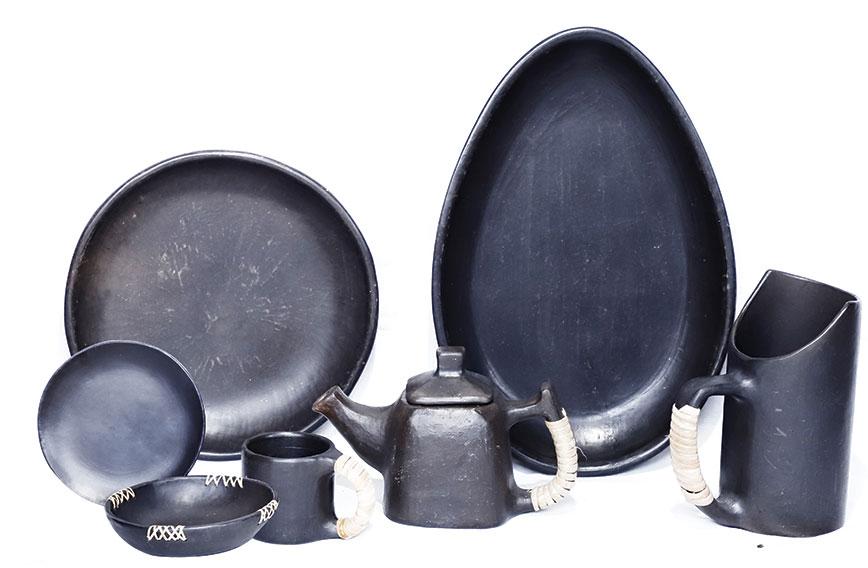 Published: Apr. 12, 2021
Updated: Apr. 12, 2021
Black stoneware from Manipur is attractive, hardy and reasonably priced. You can get earthy coffee mugs, water tumblers, kettles, plates, platters, small and large bowls, and vessels to cook in from Eastend Women and Child Development Organization.
The NGO was started by Sangita Keisham after she graduated from Ramjas College in 2006 and returned to Manipur, her home state.
Keisham was keen to revive handicrafts. Her grandfather was a trader of handicrafts during his heyday.
Eastend supports over 1,000 Manipuri women, who are employed in making black stone pottery, cane baskets and bags. Also available are colourful baskets made with recycled plastic.
Black stone pottery is native to Manipur. Weathered rock is crushed and mixed with water to derive a clay-like consistency. The clay is moulded into vessels, not on a potter's wheel but by hand. Once the shaped clay is dry and hard, it is cooked at
900o C. The greyish black pottery has a matte-like finish.
Black stone crockery can be used on the stove, put in the microwave or the oven. Some coffee mugs and bowls also have cane work on their handles and on the sides. These pieces should not be exposed to heat.
A small black stone coffee mug costs `200, a pen stand `500 and a medium-sized bowl `600. The baskets are priced from `300 upwards.
Contact: Sangita Keisham
Visit Stall no. 47 at Dastkaar Nature Bazaar or contact Sangita Keisham : 9871820795; sangita.keisham21@gmail.com