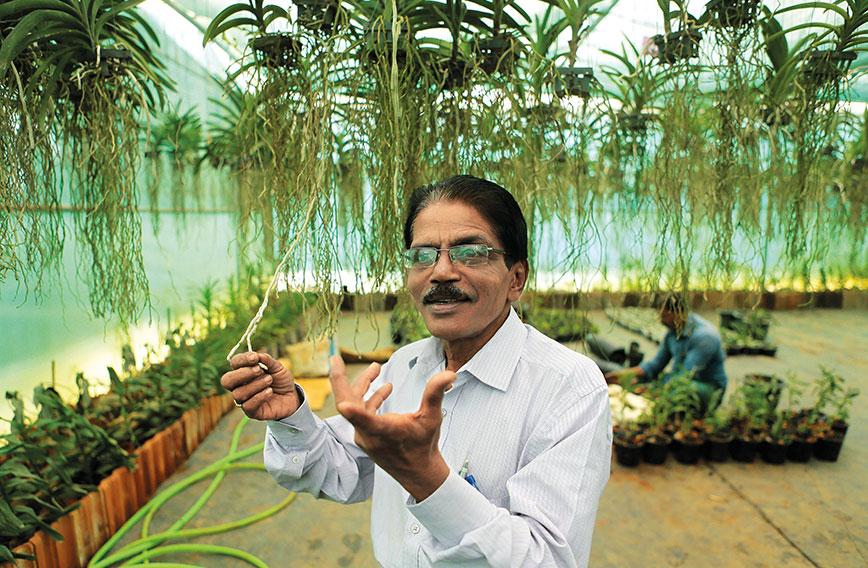 Dr Rajendran with his plants
Prasanna Rajendran
Published: Sep. 01, 2018
Updated: Sep. 24, 2019
Agricultural research stations of the government are normally so mired in neglect and sloth that no one bothers too much with them. With Dr Prasanna Rajendran it has been different. He has gone much beyond his calling as a scientist to turn two agricultural research stations in forgotten corners of Kerala into profit centres bustling with activity.
First was the Annakkayam Cashew Research Station in Kerala's Malappuram district. Then was the research station at Amalavayal in impoverished Wayanad district. It took 10 years, but both stations became profit centres and began reaching out to thousands of farmers. They also began generating jobs for the local people.
Below is a piece that appeared in Civil Society's September-October 2018 edition. Read on.
Ten years ago Dr Prasanna Rajendran, a senior scientist at the Kerala Agriculture University (KAU), was posted to Anakkayam Cashew Research Station in Malappuram district. The place was in such a dilapidated state that the general opinion was that it would be shut down soon.
The station had 25 acres with no water. Rain-fed cashew was grown, earning the station a measly Rs 4.9 lakh annually. Even drinking water was scarce. Scientists dodged being sent there. It was seen as a punishment posting. Local people ridiculed the station as a mere 'cashew factory'.
So in 2013 Dr Rajendran was given additional charge of another sinking ship, the Regional Agriculture Research Station (RARS) at Ambalavayal. Located 120 km away in Wayanad, a backward tribal district, the region was reeling under drought and totting up a list of farmer suicides. For two and a half years, Dr Rajendran, then Associate Director of Research, managed both stations — running from one to the next.Dr Rajendran knew what awaited him. Yet, in 10 years he turned around this derelict station and scripted an amazing success story. The station now provides services to thousands of farmers and livelihood opportunities to women and unemployed youth in its catchment area. By 2011-12, it was earning KAU Rs 2.5 crore.
RARS did no research and wasn't of any use to impoverished farmers. It had an expansive 265 fertile acres which earned a meagre Rs 60 lakh annually. Dr Rajendran introduced floriculture and began Poopoli, a spectacular flower show which boosted tourism and local livelihoods. RARS helped farmers offset water shortage and get good planting material. This year RARS earned Rs 5.2 crore.
Agricultural agencies run by the state in the districts aren't known to be saviours for farmers or for research. Earning profits for the state is considered unthinkable. But, working within the system, Dr Rajendran has accomplished both and earned the affection and trust of people.
What is Dr Rajendran's formula? "Teamwork," is his cryptic answer. He comes from a farming family in Malappuram district. After a brief stint at Kerala's agriculture department, he joined KAU in 1983. He was then posted to KCEAT (Kelappaji College of Agricultural Engineering and Technology) in Tavanur where he taught horticulture for 15 years.
After Dr Rajendran did his PhD in bio-technology from TNAU (Tamil Nadu Agriculture University), he went to work in Saudi Arabia for three years. "At King Faisal University, it was a totally different working experience," he recalls. "They had all facilities — a well-equipped lab, state-of-the-art research wing…everything. Whatever you wanted was provided in minutes. You could even get Rs 1 lakh in five minutes. Their only problem was human resources. They rewarded hard work. My stint there was a turning point for me, a great lesson and a firm foundation for my subsequent career."
In stark contrast, the Anakkayam Cashew Research Station was practically extinct. It had just 10 staff members and six workers. Soon after taking charge, Dr Rajendran added 30 farm workers and got 24 women from Self-Help Groups (SHGs) involved. "The idea of involving SHGs in full strength was started in Anakkayam to ensure a quality workforce," says Dr Rajendran.
There were other radical ideas that Dr Rajendran introduced. To put a team in place, he started a six-month Vocational Higher Secondary (VHS) course in agriculture during the holidays. Team members who wanted to work for the government registered and entered into a profit-sharing agreement with the station.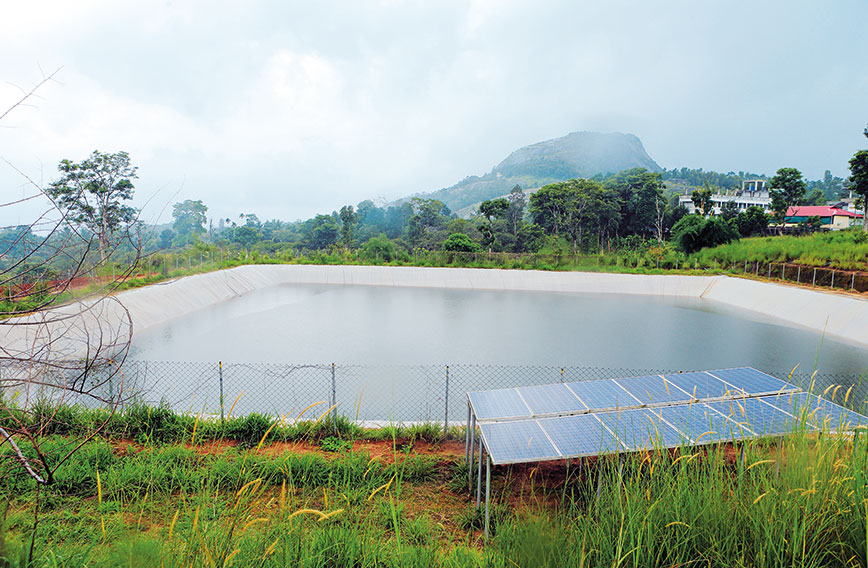 Large rainwater harvesting ponds were built
Another idea was to train a 'hi-tech army' which could carry out agricultural operations speedily using technology. They could take up farm operations on contract. Young people between 25 and 40 years old were taught grafting, tissue culture, precision farming, terrace gardening, value addition of vegetables, fruits and spices and the creation of rainwater harvesting structures for irrigation and fishing.
To combat water problems, Dr Rajendran implemented rainwater-harvesting techniques. A large pond was dug and lined with plastic. It collected nearly two crore litres of rainwater, sufficient for irrigating the nursery. Then another two ponds were dug. Nursery activities were speeded along with value addition of crops.
This station now has a tissue culture lab and a processing centre apart from a huge amount of vegetable seeds and planting material. The Anakkayam station started producing 500 tonnes of vermicompost every year and selling the excess. It also produces a remarkable variety of fruits, ornamental plants and vegetable seedlings. Even during the non-planting season, 50 farmers on an average visit it to buy planting material or seek expert advice.
In 2007 RARS' net income was Rs 4.9 lakh. In five years it rose to Rs 2.5 crore. ('Kerala's Wonder Farm', Civil Society, August 2013.)
Dr Rajendran encountered a different set of problems at RARS in Ambalavayal. Malappuram district, where Anakkayam is situated, has relatively better-off farmers. But Wayanad was reeling under poverty, hunger and drought and he felt his services were required there much more.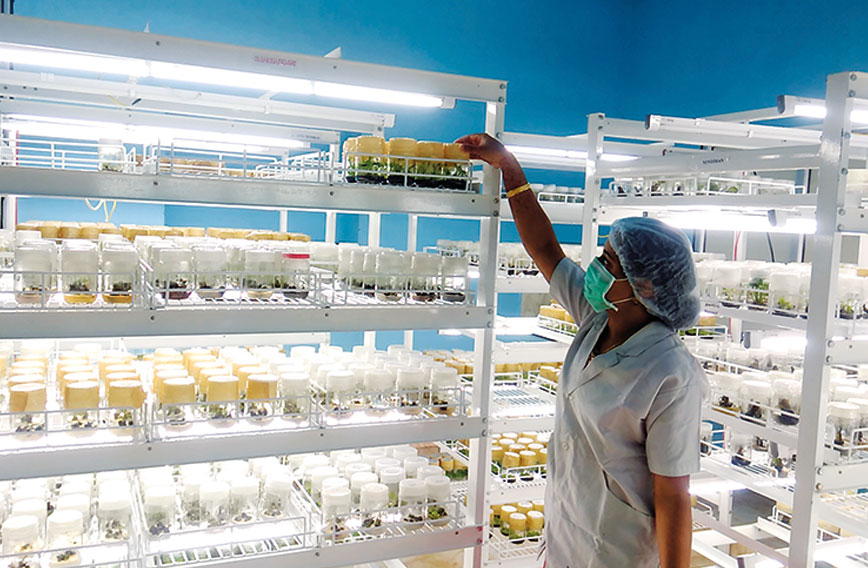 A tissue culture lab was set up in Anakkayam
"I never saw people starving till I was posted to Wayanad. Tribals comprise 70 percent of the population. At least 30 percent are deprived of one meal a day. Nobody discloses this, but it is a reality," he says. In the tribal hierarchy, the Paniyas were the most penurious. Neither education nor development had reached them, noted Dr Rajendran. These people didn't have any hopes of the defunct research station.
The station had 10 staff members and 80 labourers on its payroll. It earned only Rs 60 lakh from its 265 acres. This is really shameful, Dr Rajendran thought. Anakkayam was saddled with dryland yet it was earning Rs 2.5 crore. What moral right do we have to teach profitable farming if our own station's income is so dismal, he asked himself.
Dr Rajendran convened a meeting with his small staff and labour. He tried to boost their morale by speaking of Anakkayam's success and teamwork. Next, he met local farmers. "We will start a new chapter here," he assured the disbelieving farmers. "If we work together, we can improve the station and it can help you."
To combat unemployment Dr Rajendran met SHGs, unemployed youth and housewives. He suggested three employment avenues: value addition of local crops, nursery production and a hi-tech army.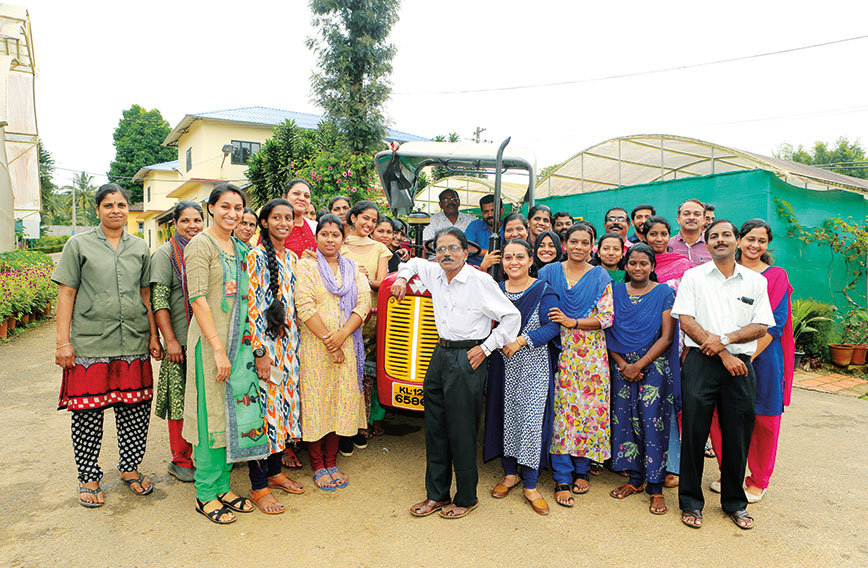 Dr Rajendran and his energetic team
"The hi-tech army became our biggest tool to fight unemployment. We offered unemployed youth a six-month training course in how to fabricate poly houses, set up a nursery, cultivate crops in poly houses, and floriculture. After that the station helped them to get work," says Dr Rajendran. The initial batch consisted of 50 men and 40 women. After training, they were given work in-house like setting up a garden, beautification of the flower show grounds, value addition of fruits and vegetables, propagation of plants, seed production and so on.
People Dr Rajendran had trained in Anakkayam were brought to Ambalavayal as master trainers."Some of them were very hardworking. They would work 24 hours if needed. Such candidates got assignments in Africa and were very successful there. In fact, the highlight of our success in Anakkayam was the visit of the king of Dubai to our campus by a chartered flight. That created real history," says Dr Rajendran.
The hi-tech army training course carried on for two years and trained 200 people. It came in handy for the Poopoli festival.
Dr Rajendran's first effort in both stations has been to increase the quantity of stored rainwater. "Wayanad gets less water than Malappuram but it is sufficient. The problem is the topography. Since the place is hilly, water escapes down the slope." RARS now has 15 ponds which store 300 crore litres of rainwater.
But digging ponds and lining them was an expensive exercise which local farmers would not be able to afford. So Dr Rajendran thought of cement- and jute-lined ponds. RARS has two or three such ponds which work well. These were cheaper to build and farmers could easily repair them.
The second issue people face is access to good planting material, says Dr Rajendran. Not only are plants from private nurseries expensive, their performance is also doubtful. "If you give farmers the best planting material, production and income increases. They used to go to Gudalur in Karnataka to get plants. Now they come to us, sometimes from faraway places," he says.
The third issue was that a considerable percentage of crops grown in RARS was wasted. Dr Rajendran intensified value-addition activities. Machinery of various types was bought and a building constructed. Value addition is now providing work to 50 women from two SHGs and training local people. Sales of value-added products earn RARS Rs 25 lakh a year. The women, too, earn an income. The most notable example was a young lady called Shiji who, with her husband, Shaji, opened India's first jackfruit restaurant in Manjeri city in Malappuram (Civil Society, July 2018).
Dr Rajendran is never complacent about his achievements. "Wayanad is the best place for research and trials," he says. "Keeping this in mind, we have planted many commercial horticulture crops grown globally. Often, research is not carried out because of lack of germplasm pool collection."
RARS now has an enviable germplasm collection — 30 accessions of avocado, 67 of jackfruit and six of passion fruit. Also available is germplasm of mango, banana, citrus, ginger, turmeric, chillies, tuber crops like tapioca, sweet potato, amorphophalus, colocasia and more.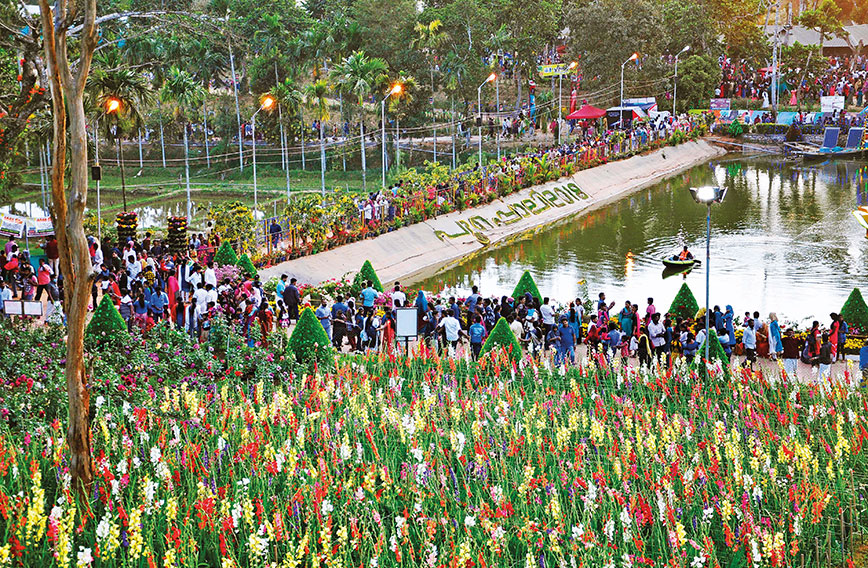 The Poopoli flower show has become a tourist attraction
Dr Rajendran's most eye-catching achievement is the Poopoli flower show which he started in 2014. It is becoming a landmark event for local people and for tourists.
This year the flower festival was spread across 12 acres. It attracted an estimated 500,000 visitors across Kerala. Poopoli watchers believe it has all the potential to become an international event. Revenue from entry tickets alone was Rs 94.2 lakh. The total income earned from rent of stalls, pay-and-use toilets, amusement park events, sales of processed food and so on came to Rs 1.75 crore.
"We have shown that a public sector organisation can hold an event of this magnitude. It is up to the people of Wayanad to take this festival forward," says Dr Rajendran. Just five years ago, the exhibition grounds of the flower fest were a wild forest.
The flower show is more than just recreation. By attracting tourists it is helping create livelihoods. For the past three years its wonderful display of flowers is encouraging farmers to take to floriculture.
Poopoli proved that flowers like roses, jerbera, and gladioli can flourish in Wayanad. Kerala Agriculture Minister V.S. Sunil Kumar has launched a spate of initiatives to promote floriculture. Last year, Wayanad was declared a 'Special Floriculture Zone'.
"After the first Poopoli, the people of Wayanad were eagerly awaiting the next one," says Dr Rajendran. "It was a livelihood opportunity. Poopoli is conducted with an eye on eco-tourism so that everyone, from taxi drivers to hawkers, benefits."
Farmer suicides have ceased in Wayanad. It isn't only because of RARS, says Dr Rajendran. The agriculture department has resurrected itself, the agriculture minister is very dynamic and several schemes have been launched, he emphasises.
RARS now gets thousands of visitors — farmers, students, researchers — every year. And technology is given free of cost.
Shree Padre travelled to Malappuram and Wayanad to meet Dr Rajendran. Lakshman Anand photographed the work in Wayanad