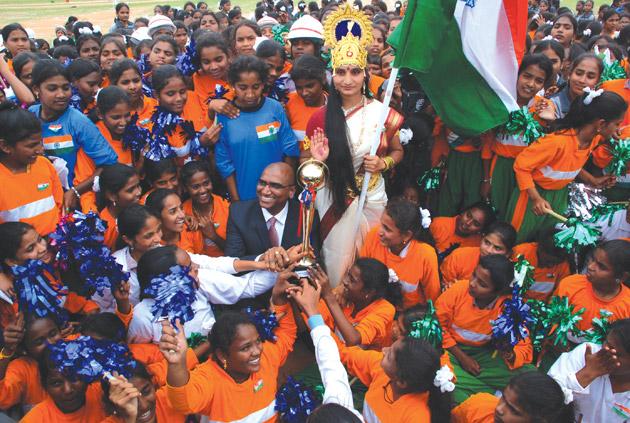 Praveen Kumar with his students
Praveen Kumar
Published: Aug. 29, 2019
Updated: Sep. 24, 2019
As secretary of Telangana's Social Welfare Residential Schools, Praveen Kumar is much loved and admired. A tall, lean man with a shaved head, Praveen radiates positive energy. He cuts an inspirational figure for children at the schools.
They particularly identify with him because he comes from grinding poverty like they do. Praveen's mother was a labourer. But he studied at a social welfare school, like the ones he now administers, and went on to become an Indian Police Service officer. He had a distinguished service record.
Now at the schools by choice, he strives to help children from poor homes realise their potential and compete in the world on equal terms.
It is important that they speak only English. Girls and boys get the same opportunities. They learn horse riding and public speaking.
Funded entirely by the Telangana government, the residential schools are drivers of massive social change.
To forget their marginalised past, the students call themselves Swaereos — social welfare plus aero or someone who can fly. Each morning they recite the 10 commandments of a Swaereo and at night before sleeping they say: 'I shall not give up'.
Their transformation shows up in multiple ways. It could be climbing Mount Everest or getting admission to Delhi University.
Below is a piece that appeared in Civil Society's September-October 2014 edition. Read on.
It is as though a beam of sunlight has penetrated the darkened assembly hall when RS Praveen Kumar, 46, walks in. The 500 girls waiting for him to address them clap rhythmically to welcome a man who has become their inspiration, their hero. Punctuating his long strides, he stops at almost every row to shake hands with the girls. He radiates energy and hope. The atmosphere is electric.
The school in Hyderabad's Mahendra Hills at which we witness this amazing scene is one of the government-run Social Welfare Residential Schools in Telengana. It could have been just another government institution – dull, drab and directionless. But in the three years that Praveen Kumar has been Secretary of 138 Social Welfare Residential Schools, he has turbocharged the lives of the students and teachers. Everyone calls him 'Secretary Sir', but the goals he sets require going much beyond the formality of his position. It is his passion that invites affection and awe.
FROM POOR FAMILIES
Tens of thousands of children from poor families in marginalised communities get accommodation and an education in these schools, which were started as part of a social transformation initiative conceived of by PV Narasimha Rao in 1972. NT Rama Rao took it forward.
Praveen's own beginnings were very humble. He came from a poor family in a backward caste. His mother was a coolie who was rescued and given an education. She went on to become a teacher. His father too was a teacher. Education changed things for the family.
Praveen learnt the value of education early in life from his parents. He studied veterinary science before being inspired to take the civil services examination and join the Indian Police Service (IPS) in 1995.
He was a decorated IPS officer and he had done a Masters in public administration under the Mason Programme at the Kennedy School in Harvard University when he opted to be Secretary of the schools.
EXPOSURE AND OPPORTUNITY
Praveen believes exposure, opportunity and attitude take people out of poverty. He ensures there is a surfeit of all three in the schools he leads – reaching out incessantly to the children with his own story.
The first step is to come out of the mindset of victimhood. "They should not connect to the traumatic past. They don't want to go back to the painful past. So we say in our schools here that we have disabled the reverse gear!''
The idea is to empower children to imagine what they can do. "Give wings to dreams. They have dreams, let us not kill those dreams," he says.
It is to this end that the children are exposed to dozens and dozens of people who have come from difficult circumstances and have not just escaped the trap of poverty but have gained recognition and affluence.
These interactions show the children what is possible. "There is a lot of hunger for information, to get the right information at the right time, about the right things and the right persons can make all the difference," he explains.
Interestingly, every student of the social welfare hostels will always suffix his or her name with a Swaereo. Asked what it means, a student explains: "SW is for social welfare and aereos means someone who can fly in the air and touch the skies."
A SENSE OF COMMUNITY
Praveen says the schools want to give the children a sense of community and a new identity that they can be proud of.
"We have banned the word Dalit in these schools. We don't want children to get that tag and walk into the world. Instead we chose Swaereo – meaning someone who will fly out into the sky and aim high.''
Just how high? Two of their students have recently scaled Mount Everest. At 6 am, on 25 May, Poorna, a tribal girl, all of 13 years and 10 months, became the youngest girl to scale Mount Everest. Along with her was Anand, an 18-year-old Dalit boy. Both have gone from the depths of deprivation to the heights of achievement and glory.
"How many of you want to do mountaineering? How many want to climb Mount Everest,'' Praveen asks the girls assembled in the auditorium of the Hyderabad school. Almost all the girls raise their hands and shout.
"All of them will be Poorna and Anand,'' he says smiling. "Opportunity is the difference between success and failure. We are trying to create that opportunity, creating an ecosystem, exposing them to role models, so they know what road they can take."
Praveen likes to call it a "constellation of factors and an enabling environment that will conspire to make it happen''.
CONFIDENCE MATTERS
While everyone may not be equipped to climb Everest, the children are encouraged to take up mountaineering, rowing, swimming, rifle-shooting and so on. It gives them the confidence they need for engaging with society. Of course it also keeps them physically fit.
Girls are encouraged to shed inhibitions – sing, dance and feel emancipated. So, while education is important, self-discovery comes from multiple journeys.
Children in these schools speak in English confidently because they have been told it is okay to make mistakes. The first step is to overcome fear and shyness. The concept of E-Clubs introduced last year has proved very useful and has brought about almost a dramatic change in English language skills.
Every evening after school, children have a session where they speak about a topic, freely with no inhibitions. If they make grammatical errors, they aren't corrected in the E-Club session but in the classroom the next day.
One of the first initiatives was to involve parents. In rural areas, the parents are either small farmers or farm labour, often not even literate. In the urban areas, the mother is usually a domestic help and the father an autorickshaw driver, painter, security guard or a watchman. Teachers were asked to visit the families in their homes, so they could understand the circumstances and environment from where the children come. "We were asked what dreams we had for our children. We were told about the progress our children are making. The teachers talk to us, treat us with respect. That is a big thing,'' says Yadaiah. He was quite overwhelmed that Praveen shook hands with him.
CONQUEST OF EVEREST
The conquest of Everest came as a bonus atop all these efforts. It was a big risk to take and Praveen says he was more than conscious of it. Poorna and Anand were both very young and inexperienced, having started mountaineering hardly eight months earlier. Even for the fittest and most experienced climbers, the conditions and turn of events on the peaks is unpredictable.
A month before they reached the top, 16 people had died in the worst-ever avalanche tragedy in the Himalayas. That closed the Nepal route and they made their attempt from the north, via China, a route that was even more difficult.
But the risk and the effort were worth it. The conquest of Everest as a singular event has fired the enthusiasm of hundreds of thousands of youngsters and adults who have now come to believe that anything is possible.
"We have reached the top of the world. We can no longer be called Dalit!'' an enthusiastic parent announced at a felicitation ceremony for the two young achievers.
Praveen knew the spinoffs a success like this would have, not just for Poorna and Anand but an entire community. "The risk was there but we took a lot of precautions. We trained and tested their endurance at various temperatures and altitudes. I won't say we have gone to that extent to push them to go to Everest. But it has to be seen in the context of the aspirations of these children. They have some innate desire to express themselves, to show they are not inferior, not just in mountaineering. Our effort was to try and support that dream to whatever extent possible. The world record was a sheer coincidence.''
As a police officer, Praveen's career has been full of exciting challenges. He has held sensitive positions. But perhaps his biggest achievement has once again been social by getting 100 Naxalites to surrender when he was District Superintendent of Police for Karimnagar. The surrender resulted in the liberation of 3,000 to 4,000 people caught between the extremists and the security forces.
Praveen is a firm believer in negotiation and constructive engagement. "Poverty is not an impediment in achieving any goal. Once opportunity is provided any goal is achievable. In our schools we are trying to give as much opportunity as possible. We are engaging the children in summer holidays. We are trying to increase hours of engagement with books and different activities. We are exposing them to people from different cultures and countries and trying to empower them to hold their own in a rapidly changing world.''