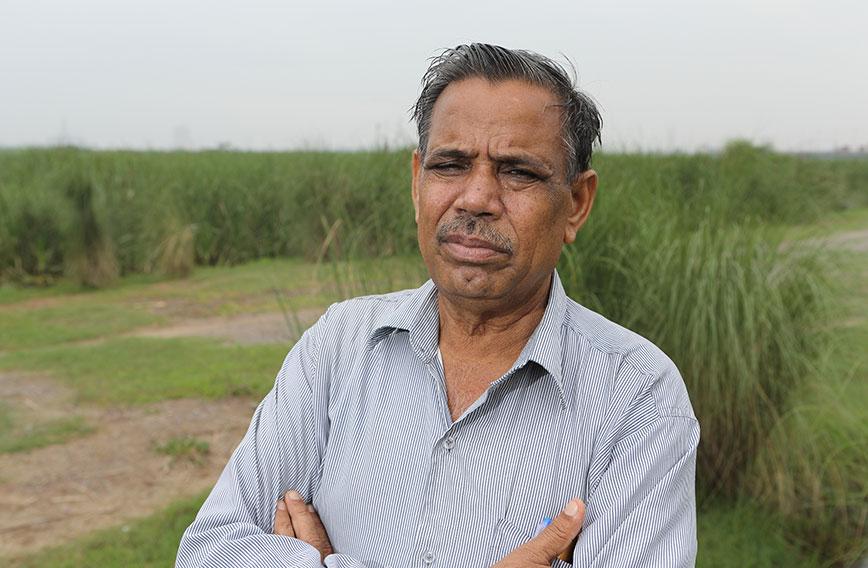 Published: Aug. 29, 2019
Updated: Sep. 24, 2019
Mangal Singh is no engineer, but one doesn't need to go to engineering college to create something. Singh is a bona fide inventor. In 1987 he came up with a low-cost turbine that could help irrigate agricultural land.
Singh is a small farmer from Bundelkhand in Uttar Pradesh. He noticed the farmer's dependency on rain and decided to find a solution to the problem. The region has many rivers and rivulets and Singh's turbine harvests this surface water.
The first model of the turbine was made with local material and the machine is easy to operate. The efficiency of the machine lies in its simplicity. It saves on electricity and diesel. His low-cost machine is a viable option for many small farmers who can't afford diesel pump sets to irrigate their fields.
When his machine was noticed by the government, he ran into many problems. Corrupt officials and disloyal people got in the way. But Mangal Singh has soldiered on with integrity and a sense of mission.
Below is a piece that appeared in Civil Society's September-October 2013 edition. Read on.
In 1987, Mangal Singh, a marginal farmer, invented a turbine that could lift water from a stream flowing through his village, Bhailonilodh in the Lalitpur district of Uttar Pradesh. Through a network of pipes the water was directed to farmers' fields ensuring they could irrigate their crops if the rains didn't turn up.
Mangal Singh's turbine is an amazing invention because it doesn't need a drop of diesel or a spark of electricity to run unlike conventional lift irrigation systems that depend on diesel pump sets.
Mangal Singh isn't an engineer. He is a simple farmer who saw a problem and decided to resolve it. Lalitpur in Bundelkhand is a drought-prone district and farmers like him face crop failure if it doesn't rain as scheduled. The region has plenty of rivers and rivulets. But farmers who want to tap this water have to spend money buying diesel pump sets. Such expenses hike their cost of production. Mangal Singh's turbine that can be rigged up with local material is the answer.
His turbine is a giant wheel mounted on a steel shaft. Two bearing blocks fixed on the ground support the turbine. The steel shaft has a gearbox that can increase or decrease the speed of the wheel. It also has a pulley and a centrifugal pump that can lift water. The machine is easy to operate. There is a valve made of wood or steel that can open or close the turbine. It can be made in different sizes.
The turbine has other uses too. It can crush sugarcane and wheat, besides doing threshing, winnowing and other agricultural tasks. By tweaking it, electricity for a small village can be generated, says Mangal Singh. But, in India, the land of small farmers, the true worth of the turbine, is in irrigation.
Mangal Singh named his turbine after himself. In 2004, he got a patent for his Mangal Turbine. Scientists and experts have examined the Mangal Turbine and found it truly inventive. Mangal Singh has been praised as a grassroots innovator.
Yet, today he is a heartbroken man. Mangal Singh's invention became the object of envy. Many tried to appropriate it for their own ends. He has been cheated and victimised. He produces a mountain of documents to illustrate his plight. Even his family land was auctioned. Yet Mangal Singh has continued to work, travelling to different states to install his turbine for the benefit of small farmers.
Water wheels: The Mangal Turbine is simple, easy to rig up and it harvests surface water from rivers and rivulets.
If water in the river is in full flow, the turbine turns smoothly and doesn't really require a check dam, though a dam would improve its efficiency by increasing the speed of the water. For small streams and rivulets, a check dam is needed to create enough force to turn the turbines.
"The Mangal Turbine saves on electricity or diesel and is ecologically completely benign," says B.K. Sinha, former chief secretary of Madhya Pradesh who went to examine it.
The Centre for Rural Development and Technology (CRDT) in IIT, Delhi, and the Vigyan Shikshan Kendra researched the potential of the Mangal Turbine. Their report identified 500 hydro sites where it could be installed. These sites could then generate up to 25 MW energy and irrigate 0.1 million hectares.
"Mangal Singh's device offers great promise. It can lift river water for irrigation, fisheries, forestry and drinking purposes," said Dr T.P. Ojha, former deputy director-general (engineering) of the Indian Council of Agricultural Research (ICAR) after he travelled to Lalitpur to inspect the turbine.
The Mangal Turbine can also reduce India's oil bill. If one unit of the Mangal Turbine runs for 11 hours a day, it saves 44 litres of diesel, if four litres of diesel are being used per hour by a 25 HP diesel pump. It also reduces greenhouse gas emissions, more so if it is used alongside for agricultural operations.
"Bundelkhand is a drought-prone area. Its main problem is lack of irrigation. Unfortunately our policy makers and planners prefer big and extravagant projects which allow pilferage," says Dr B.P. Maithani, former director of the National Institute of Rural Development.
FETED AND DUMPED: So what went wrong? Mangal Singh says he was at first praised and feted by government agencies and NGOs working in agriculture and watershed management. International NGOs invited him to five star hotels and said they wanted him to work with them. But they also wanted ownership of his invention and the right to advertise it in their brochures and publicity material. When Mangal Singh tried to protect his interests as an inventor they turned against him. Government agencies, on the other hand, wanted bribes or 'commissions' to release money sanctioned for him to install his turbines in Bundelkhand.
But Mangal Singh is not only a grassroots inventor. He is also an activist and a crusader against corruption. He began to openly complain about bribery and file right to information applications to expose officials.
Government officials in the Council for Advancement of People's Action and Rural Technology (CAPART) who couldn't get bribes out of him began to devote their time trying to find loopholes in the projects that had been sanctioned for him.
Mangal Singh is not an accountant. Neither did he have the means to appoint one. These officials tried to stop his funds so that his projects could not be completed. Eventually, the government auctioned Mangal Singh's family land to recover funds that had been released by CAPART.
Mangal Singh protested repeatedly against this injustice. Finally, the Department of Rural Development appointed Dr B.P. Maithani to prepare an evaluation report on what went wrong with Mangal Singh's CAPART projects.
Maithani's report states unambiguously that the allegations made against Mangal Singh were completely wrong. It was officials 'with their own selfish agenda' who ignored the directives of the Director-General of CAPART to 'inflict injustice after injustice' against this humble inventor, according to Maithani.
The story that emerges from Maithani's report is indeed a sordid one. An international NGO, CIMMYT (International Wheat and Maize Improvement Centre) with an office in India got Mangal Singh to be part of its R&D collaboration with IIT on his turbine. The International Fund for Agricultural Development (IFAD) was sponsoring the partnership.
Mangal Singh found that he had serious differences with the way CIMMYT India was doing its research. He wanted R&D work done in his workshop and the turbine tested on site in the rivers of Bundelkhand. Instead his turbine was being taken to Haryana for testing its efficiency in a drain there. So Mangal Singh walked out of the collaboration.
CIMMYT India then lured Lal Singh, Mangal Singh's assistant, to work with them. At the NGO's behest, Lal Singh began installing his own turbine at Dhanu Ghat, just half a kilometre downstream of Kanji Ghat where Mangal Singh had installed six turbines financed by CAPART a year earlier in 2002.
Mangal Singh objected. He pointed out that installing a turbine downstream would affect his turbine upstream. Besides Lal Singh did not have the requisite permission from the administration for installing his turbine. But Lal Singh allegedly went ahead egged on by CIMMYT and with the support of the local administration. The net result was that Mangal Singh's turbines got submerged and Capart's investment at Kanji Ghat became infructuous.
B.P. Maithani and S.M. Singh, a technical expert, visited Lalitpur in February 2011. This is what they saw: "When we reached the site at Kanji Ghat on the Sajnam river we found that (Mangal Singh's) project was inoperative. Six water wheels had been installed at the site but, unfortunately, the huge check dam and the turbines installed in a row were submerged in the backwaters due to the construction of another check dam and installation of a turbine just about half a km downstream of the same river." It was Lal Singh's wrongly placed turbine that had destroyed Mangal Singh's entire effort. Maithani repeatedly said that it wasn't Mangal Singh's fault at all.
He said the submergence problem being faced by the six Mangal turbines could be resolved by relocating Lal Singh's turbine just below the CAPART project. CAPART should request the district administration to remove or relocate Lal Singh's turbine, said Maithani.
Mangal Singh's CAPART-financed project had the potential of irrigating about 100 hectares in semi-arid Bundelkhand. In contrast, Lal Singh's turbine would barely irrigate 20 hectares, pointed out Maithani. "Mangal Singh was harassed and harmed while trying to implement the project," Maithani remarked. "This has happened not only in connection with this project but with all projects sanctioned by CAPART to Mangal Singh earlier too."
Mangal Singh had installed turbines in around six sites in Bundelkhand. All of them were functioning at one point of time. Dignitaries and experts had visited those places. "But the turbines were destroyed by vested interests with the help of anti-social elements who did not like his innovation, especially his low-cost construction of check dams. The comparison was exposing their misdeeds," states Maithani's report. He said if the turbines were restored they would be of immense help to farmers who were spending huge sums buying diesel pump sets.
Maithani says that apart from CIMMYT India, several NGOs like NEDA, Development Alternatives, and District Rural Development Agencies joined the Mangal Turbine bandwagon. "However, another round of deception, desertion and depreciation started soon all aimed at subverting the rising popularity of Mangal Singh...."
He said that there was no case against Mangal Singh at all. In fact, he needed to be compensated for the damage inflicted on him by officials in CAPART simply because he did not 'please' them.
Maithani said the UP government must withdraw all false cases against Mangal Singh, defreeze his bank account and restore his land through an out-of-court settlement. "Mangal Singh needs to be suitably rewarded for his invention and contribution to society," said Maithani.
Meanwhile, Mangal Singh soldiers on. Apart from Lalitpur, he has installed his turbines in Uttarakhand, Jammu and Kashmir, Madhya Pradesh, Gujarat and UP. "I am not a capitalist. I work according to my principles," says Mangal Singh, whose invention has found its way into a science school textbook.
Bharat Dogra tracked Mangal Singh for this piece