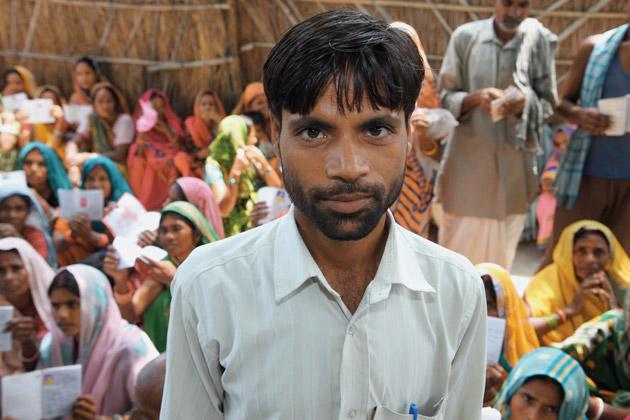 Published: Aug. 29, 2019
Updated: Sep. 24, 2019
When Sanjay Sahni used a computer for the first time in August 2011, he didn't know that he would be at the helm of a people's movement in Bihar. In a cyber café in Delhi's Janakpuri, he typed 'NREGA Bihar' into Google and found that the payment records for his village, Ratnauli, in Muzaffarpur district were fabricated. He had heard people in Ratnauli complaining that they didn't get work under MGNREGA or were not paid for the work they had done. What he had on the computer now was proof of this wrongdoing.
"I had heard that if you went on the internet and asked Google anything you would find the answer," he says.
That is exactly what happened. Armed with printouts, he returned to Ratnauli to confront the local authorities. "People are now aware of their rights and have learnt to ask for them," he says.
Sahni is a Class 7 dropout. But he is a natural leader and a self-taught campaigner. He leads the Samaj Parivartan Shakti Sangathan in Bihar and works to spread awareness about MGNREGA and the public distribution system among the poor. It is not as easy as it sounds of course. His efforts to ensure 100 days of work to every villager have meant surviving many a violent confrontation.
Below is a piece that appeared in Civil Society's September-October 2012 edition. Read on.
At 27, Sanjay Sahni is an unlikely messiah, but that is what he has become to hundreds of villagers in the Kurhani block in the district of Muzaffarpur in Bihar. It has all happened in the short span of a year, beginning with a chance search on Google for rural work entitlements promised by the government.
Thanks to Sanjay's gutsy initiative, the villagers of Ratnauli now get the 100 days work they have been promised by the government. More importantly, they also get paid – even if the money arrives in their post office savings accounts a few weeks late.
The villagers have job cards and have learnt to ask for their money when earlier they would be given a pittance and turned away by contractors.
Like so many young men in Muzaffarpur, Sanjay migrated to the big cities to earn a living. He went to Jaipur and learnt to be an electrician. He ended up opening a stall on a pavement in Janakpuri in west Delhi.
On his trips back home to Muzaffarpur he would hear people complain that they didn't get work under the National Rural Employment Guarantee Act (NREGA). Some were given work, but were not paid their dues.
Sanjay would listen to these complaints and return to the life he had moved on to in Delhi. Then one day in August 2011 he sat at a computer in a cyber cafe opposite his stall and typed 'NREGA Bihar' into Google.
It was one of those crazy things done on an impulse. Sanjay dropped out of school in Class 7 and knows very little English. Before that day in August 2011, he hadn't used a computer. But someone had told him, "Google se poocho aur sub kuch pata chal jata hai. (Ask about anything in Google and you will find all the information you want)."
So, for the heck of it, Sanjay typed in 'NREGA Bihar' and the search engine sent him to the government's official NREGA website. There he found his district, Muzaffarpur, his block, Kurhani and his village, Ratnauli.
He next clicked on 'Job cards in registration' and out came the official list of villagers who were supposedly getting 100 days work under NREGA and even being paid for it. Amidst 1,200 names he chanced upon the name of Mahendra Paswan, his neighbour in the village.
It was amazing that such records existed and could be accessed. But what was shocking was the information was fabricated. Sanjay knew the truth: the villagers had mostly not got work and those who had been given work hadn't been adequately paid. Clearly the money had been siphoned off.
"I used to keep my electrician's tools in the cyber cafe overnight because I only had a stall on the pavement. The owner, Jaspal Singh, knew me. But this was the first time that I sat down at a computer and began using it. Jaspal Singh kept shouting out to me to get up, saying I would spoil the machine. But it was all so fast on the Internet that once I was in I kept clicking and looking for more on the NREGA site," says Sanjay.
Sanjay took printouts of the NREGA records and returned to his home at Ratnauli to show them to fellow villagers, who at first couldn't believe what they were seeing.
Ratnauli is steeped in poverty. The majority of people here are scheduled caste Paswans. There is no electricity supply, just the odd TV set, no roads to speak of. People are barely literate and they haven't been near a computer. Let alone accessing the Internet, they can't even imagine what the Internet is and how it works.
NREGA work here mostly involves digging up earth and expanding narrow village roads. It is physical labour of a very basic kind and that is all the villagers are capable of.
The young mostly migrate to cities and towns. Some of them take up jobs in nearby urban areas. It is the ageing villagers who get left behind and have little to fall back on. NREGA is a lifeline for them.
So, when Sanjay showed up armed with his lists, it was difficult for them to comprehend how he could have got hold of the government's records.
Around 1,200 names were listed as recipients of NREGA money. In reality just a couple of hundred had job cards and they too had been given a few days of work and chased away by contractors.
The money was collected and shared among the contractors, the village mukhia or headman and petty functionaries of the government.
The village mukhia did his best to cast doubt on Sanjay's motives and spread the word that he was bluffing people for his own ends.
Taking on a mukhia in the Bihar countryside is not easy. A mukhia reigns through a combination of factors such as caste, money power and influence among government functionaries.
Sanjay belonged to the dominant Sahni caste of the village. The mukhia was also a Sahni. So, in some senses, given age-old equations in the village they were on the same side. It wasn't like a Paswan challenging a Sahni.
But to question the mukhia and ask for accountability was to shake up the established order. A power centre was being threatened and there was also substantial money involved.
However, several older men with nothing to lose egged Sanjay on and soon he had a following.
"At first many people did not believe me. The mukhia was successful in misleading them. But when they saw others getting their rights, things began to change," says Sanjay.
These days, people turn up in hundreds in support of Sanjay, They hold up their job cards. The walls of the community centre and panchayat bhavan have names, card numbers and dues painted on them.
"Do you know your rights now? Will you tamely hand your job cards over to people you don't know? Will you allow contractors to chase you away like they used to?" Sanjay asks a large gathering consisting mostly of women. "No," they reply in chorus.
"Many of these people didn't believe me in the beginning. They thought I was misleading them. But look at them now. It is very heartening," he says.
The role of a leader doesn't come easily to Sanjay. He has programmed himself to talk to a crowd, but he is clearly new to taking up a cause and rallying people around him.
At Mahant Manyari, a neighbouring village and the stronghold of the mukhia, he has lately found support. When we get there the mukhia's people heckle him. It gets loud and noisy. The numbers swell and amid the jostling and pushing. Sanjay's claims are questioned. But the men and women holding up their job cards are in majority. It is they who have seen hope in Sanjay's accidental crusade. Their job cards are everything for them.
At gathering after gathering, people affirm that they now get NREGA work and the daily wage of `144 only because Sanjay has spoken up for them. But they now demand more of their rights. For instance, they want to know why they don't get food supplies in the ration shops.
"You will have to ask for your rights like you have asked for NREGA employment and got it. You will have to stand up for yourself," Sanjay tells them.
Later, speaking to us at his home in the village, Sanjay says: " I don't know what made me take up this cause. I also don't know what to do next. An injustice was being done and I felt I needed to act. But now I don't know. My wife says we should go back to Delhi. I make up to `15,000 a month there as an electrician. My daughter can go to school."
Asked what he thinks has changed, he says, "Nothing has changed. It is the same administration, the same system. The only difference is that people are now aware of their rights and have learnt to ask for them."
On the day Sanjay strayed on to the NREGA website in the cyber cafe in Janakpuri, he also found the mobile number of a certain Sanjay Sharma. "I can't remember which key I hit, but this number and name came on the screen. I called him and asked him if he could help me. He asked me to call Nikhil Dey and gave me his number. It took several weeks to get through to Nikhil and then meet him."
Nikhil belongs to the Mazdoor Kisan Shakti Sangathan (MKSS), which is closely involved in monitoring the implementation of NREGA and helping people get their rights.
Nikhil put Sanjay in touch with Ashish Ranjan, an activist and a teacher of computer science at a college in Patna. He also put him in touch with Santosh Mathew, a senior IAS officer heading the rural development department in the Bihar government.
Both proved to be crucial in Sanjay's campaign. From Mathew instructions went down the line that NREGA had to be properly implemented in Muzaffarpur. Once that message went out it became possible to demand work and money. Records also went public with names and muster rolls written on the walls of the community centre and panchayat building.
From Ashish, Sanjay learnt how to mobilise people. " Sanjay is a simple person. He had no experience in running a campaign and rallying people together," says Ashish. "He would speak to me on the phone and want to know how to hold a meeting. Would it be illegal? What should the slogans be? He wanted to know what to do if there were disturbances."
Ashish says: "Sanjay had confidence and curiosity. He had that sense of what is right and wrong."
Sanjay comes from the dominant Sahni caste, but he has spoken up for weaker castes in the village. "Caste has transcended caste," says Ashish. "NREGA has this potential to bring in radical change."