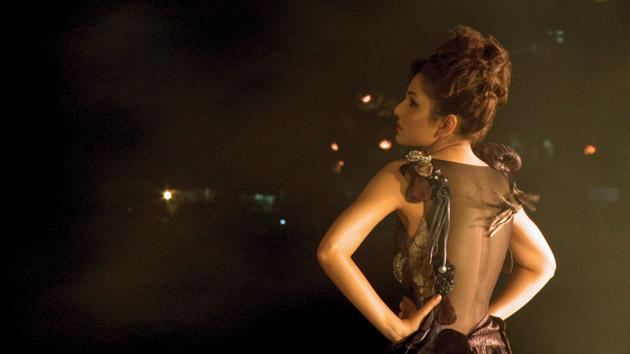 Saibal Chatterjee, New Delhi
Published: Oct. 13, 2015
Updated: Apr. 21, 2017
A much-hyped annual beauty pageant and a secretive Hindu extremist women's training camp are worlds so far apart from each other that they could well be on separate planets.
But have a closer look, as Indian-Canadian filmmaker Nisha Pahuja's remarkable documentary The World Before Her does, and a startling connection emerges from behind a wall of fascinating contrasts.
The compulsions that drive the two sets of girls may on the face of it be completely dissimilar, but both groups are bound by a strong obsession with finding their feet in a rapidly changing India.
Pahuja's thought-provoking film juxtaposes the two highly regimented, fiercely guarded spaces with a clear purpose: to grasp the meaning of women's empowerment in a nation where the levers of social control are firmly in the hands of men.
The film homes in on the divergent worlds of 19-year-old Miss India contestant Ruhi Singh and feisty Durga Vahini camp leader Prachi Trivedi in order to capture the collision of contradictory impulses playing out against the backdrop of a never ending tradition-versus-modernity conflict.
The World Before Her creates compelling portraits of women caught in a flux that is not in their control and yet fighting against all odds to be heard and heeded.
Pahuja strings together different voices in a manner that is completely non-judgmental and refreshingly clear-headed. The audience is free to draw its own conclusions.
"There is," says the director, "no wrong or right answer in this case. One thing I have realised over the course of making films is this: ultimately the work, once it is finished, does not belong to the maker. Rather, it has a life of its own and people will and should engage with it as they feel."
Diction expert Sabira Merchant, the most prominent voice of the beauty pageant in the film, likens the rigorous Miss India bootcamp to a manufacturing unit where girls are polished like diamonds.
The film constantly underscores the grey areas in the debate. Hindu right-wing outfits see the Miss India pageant as an overt and culturally corrupt celebration of Westernization.
One Miss India aspirant asserts that she will always be an Indian at heart no matter what she wears and how she talks. The girl also hails the opportunity the contest has given her to turn "from a person to a personality".
Says Pahuja: "We can argue that in a fundamental way that young girl is being exploited, but we also have to recognise that for her it's an experience that in the immediate gives her a tremendous amount of confidence and pride."
At the very outset, the film points out that the beauty industry is one of the few domains in India in which women have parity with men here. But it also amplifies voices that protest, if only faintly, the indignities that inevitably accompany the market-driven objectification of women.
The most important question that The World Before Her poses is: are these women that are seeking to break free from imposed gender roles only ending up embracing new shackles devised by militant patriarchy on the one hand and narrow corporate interests on the other?
For Jaipur girl Ruhi and others of her ilk, the Miss India tiara is an obvious symbol of liberation, a ticket to a whole new world of opportunities. She has supportive parents who want her to get ahead in life. But can becoming Miss India give Ruhi everything that her heart desires or is she walking into another trap?
"I learned not to belittle or minimise the significance of the (Miss India contestants') feelings in spite of the bigger picture or my own biases," says Pahuja. "I think for me there was a mental shift and I began to see pageants and women's rights in general in a much broader context."
For Prachi, daughter of a Hindu supremacist, the "movement" spearheaded by the Vishwa Hindu Parishad is a much-needed means to counter all perceived threats to her religion and culture.
But it is obvious that this unapologetic 'Durga', too, is a victim of the very system she so stoutly defends.
Both beliefs – one serves an exploitative beauty industry, the other upholds a false notion of cultural purity – are obviously and deeply flawed. They are probably more enervating than empowering.
The World Before Her emphasises that but without seeking to serve up anything as the absolute truth. In fact, Pahuja says of Prachi: "She is extraordinary, and in part it is because of what she teaches us about human nature on so many levels – not just the immediate and familial."
The World Before Her was four years in the making. "Getting inside the camp took nearly two years," Pahuja records in her production notes.
She adds: "They had never before given a camera crew access. Somehow, through luck and chance and Prachi's guidance, I made the right connections, went through the right doors, and perhaps most importantly avoided the right people!"
Despite the tightrope walk that the filming was, the troubles have clearly been worth it. The depiction of real women driven solely by hate and fear fanned by intense indoctrination is as stark and scary as it is timely.
One articulate girl at the training camp claims she has no qualms about not having "Muslim friends". The nonchalance with which she makes that statement is chilling.
The World Before Her was initially meant to focus only on the beauty pageant as an interesting way to look at the new India. During the research, two crucial stories emerged and changed the script.
One was about Pooja Chopra, winner of the 2009 Miss India title who would have been killed at birth had her mother not resisted her husband's diabolical move and walked out on him.
The other centred on Prachi's complex life. "After I met them I knew we had to try and do justice to the complexity of their lives," says Pahuja.
Merchant says, "There are two Indias." For Pahuja, there are "many Indias" and "they are doing battle with each other now, just as they always have".
In the past year and a half, The World Before Her has travelled to film festivals around the world, scooping up awards and accolades.
Pahuja has now launched a kickstarter funding campaign to take the film across India. "This is not a commercial project," she says. "The idea is to engage with people around the country."
The film will open in multiplexes in five or six major Indian cities on 6 June, but that is only one small part of the distribution strategy. "We are working with women's groups to take The World Before Her across India," says the filmmaker.
Says Pahuja: "Most documentary filmmakers have one goal – that by sharing their films they can effect some kind of change. Every now and then we get lucky. We find a story that captures the zeitgeist and has potential to become a lightning rod for discussion, introspection and real change. That's what we have with The World Before Her."
Even as women from different backgrounds stake their claim in a modern India grappling with dramatic social and economic transformations, the pressures on them appear to be getting increasingly pernicious.
"In some ways what hangs in the balance is not just the future of women in this country but the very future of the country itself – for how can democracy flourish in a place so obsessed with sons that it aborts 750,000 girls every year?"
The World Before Her may appear dark and distressing, but it isn't entirely without hope. "Profound change can only happen slowly and it is futile to hate or judge," says Pahuja.
Beauty queen-turned-actress Pooja Chopra would have fallen prey to female infanticide but for her mother, Neera. The two women will be travelling with the film and interacting with audiences as The World Before Her reaches out across India with its cautionary message.