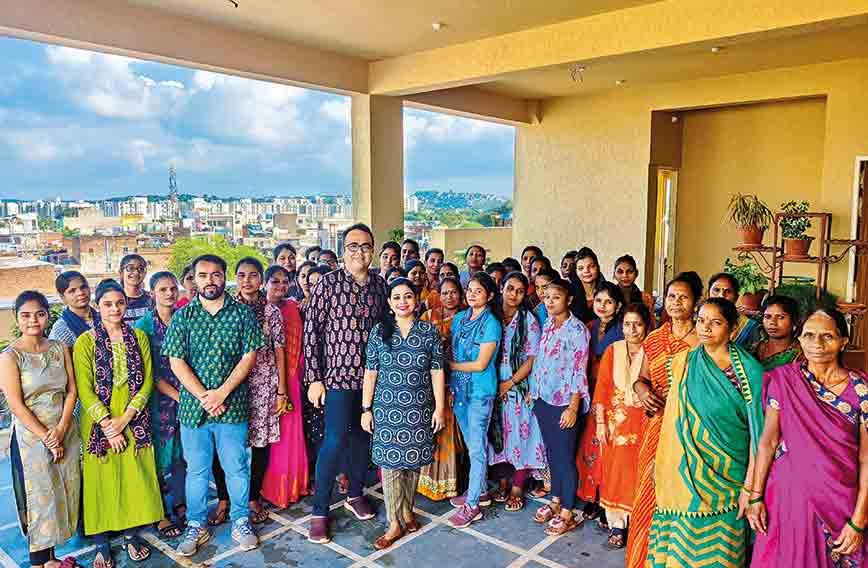 Jia and Nitin Pamnani (centre) with the iTokri team: 'We put up 200 to 300 products every day'
iTokri is in a sweet spot with crafts from across India
Surmayi Khatana
Published: Mar. 04, 2022
Updated: May. 27, 2022
IN 2012, when Jia and Nitin Pamnani moved back to Gwalior from New Delhi, they wondered what work they could do in their hometown. They loved the beauty and artistry of Indian craft and many of their friends were working with craft communities. So, they decided to set up iTokri, an online craft store. They pooled all their money, got friends and family to invest and took over Nitin's father's rice factory, converting it into a warehouse. Nitin jokes about how his father, probably sceptical of his venture, called iTokri another of his 'new ideas'.
Before he moved to Gwalior, Nitin was a documentary filmmaker, doing films on culture and politics. His documentary, I am your poet, on Ramashankar Vidrohi, JNU's campus poet, won an international award. Jia, a microbiologist, worked extensively with People Tree, a store that sells quirky T-shirts, art and offbeat books.
iTokri now works with over 10,000 artisans. It offers a vast array of sarees, fabrics, dupattas, stoles, and non-textile products like wooden and metallic jewellery, paintings, and home décor on its website.
"We are the only website that puts up 200 to 300 products every day," says Nitin. "While engaging with a craft community, we try to add all the crafts that their members make to our catalogue."
They have recently also started a 'Save the Craft' campaign to save 12 dying craft forms.
Travels across India, visits to craft festivals, melas, craft communities, and conversations with people working with these communities is what built their large network. COVID restricted travel, but word of mouth and an eight-year relationship with artisan communities has kept the business going and now iTokri finds people approaching them with their craftwork.
The products are divided according to their craft names and categories. They offer a range of sarees, including hand-painted, embroidered, woven and tie-dyed sarees. Their handloom sarees include Kantha, Tangliya and Ajrakh, priced from Rs 1,800 to Rs 15,000. The silk-weave sarees have Shibori and Ikat art forms ranging from Rs 4,500 to Rs 15,000. Dupattas in Phulkari and Kalamkari are listed in many colours and styles. iTokri offers silver, metallic and wooden jewellery along with stationery and paintings.
Also available are fabrics from Rs 200 per metre, in a variety of materials from cotton to wool. You can choose from Ikat fabrics, block-printed fabrics and naturally dyed fabrics, among others. And, if you want to be creative, you can buy hand-carved wooden blocks used for printing.
In home decor, there are pillow covers, bedsheets and bedcovers. Also in their catalogue are hand-painted coasters, wind chimes, tableware, utensils and decor items. A set of four coasters is priced at Rs 850.
Beeswax solid perfumes and lip balms with uniquely painted lids can be bought at prices from Rs 80 to Rs 250. You can also find the perfect gift set of natural incense packed in wooden painted boxes, priced at Rs 1,270.
During the COVID-19 pandemic, iTokri produced a range of pretty cloth masks which helped them tide over an especially bleak period.
GREEN BOX
When you buy a product from iTokri it arrives in eco-friendly packaging with a handwritten note on recycled paper. The packaging has its own story. In their search for ways to set themselves apart, Nitin and Jia came across box-makers in Gwalior who used to make cardboard boxes for local sweet shops. The sweet shops began buying factory-made laminated boxes, so the box-makers found themselves out of work. iTokri hired them to make hand-made boxes for their products which were unique and eco-friendly.
Each product lists which craft community or artisan made it and details its process, story and history. For some artisans, you can click on their name and find all the products they offer.
"A product becomes just a product when you don't know the people who made it and the labour that went into it," says Nitin. Connecting buyers to the process of production is important and this connection is being lost in big stores and malls, he points out. "When you know how communities get together to make some handicraft or the hours an individual has put in, usme jaan aa jaati hai (there is life in the product)."
Sufiyan Ismail Khatri is an artisan who makes aesthetically pleasing Ajrakh stoles in Kutch. You can find out all about his life and expertise by clicking on his name on the website. Sufiyan is a tenth-generation artisan whose family has been involved in the art of Ajrakh printing since the 15th century. He became an apprentice at the age of 14. The website also details the process of production. Sufiyan's Ajrakh, for instance, is made through a 16-step process.
iTokri works on an inventory-based model where they purchase directly from artisans before selling. "We work on a procurement model. The artisan does not have to worry about sales and stock, they can relax and be secure because their sale has taken place," explains Nitin. The artisans set their own prices for the products and iTokri buys from them.
CRAFT CAMPAIGN
iTokri's 'Save the Craft' has shortlisted 12 dying craft forms from across India they want to support and revive. Each month, one craft will be the focus —starting with Ajrakh in February, followed by Sabai Grass from West Bengal, Chikankari from Uttar Pradesh, Kalamkari from Andhra Pradesh, Kasuti embroidery from Karnataka, Patachitra from Odisha, and six more handloom and craft styles.
"Our goal is to preserve the legacy of all-natural handlooms and handicrafts that are dying and promote it at all possible levels. We aim to sustain the practice and prevent it from becoming extinct amidst fast fashion trends," says Nitin.
The idea struck them when they noticed an inflow of first-time customers who were new to the craft ecosystem. iTokri wanted to connect them to craft by providing information and seek their help in reviving dying crafts.
"At iTokri, we have a policy of selling the products in the name of the artisans, giving them due credit and recognition," says Nitin. "With this campaign, we hope that people will take notice of these artisans, support and encourage them to keep their efforts going." The campaign will include stories of artisans, live shows and collections.
The campaign is also a platform for deeper engagement with iTokri's long-term customers. iTokri has managed to create a loyal base of enthusiastic craft lovers. "Craft is a community-oriented product, so we are proud to have a consumer base which is also a close-knit family-like community," says Nitin. The consumers engage with the website through reviews and discuss the crafts in comments.
While adding stitched clothing to the catalogue was something iTokri wanted to offer for some time, the nudge from customers' requests and feedback helped get things into motion. They now offer kaftans, dresses, pants, kurtas and T-shirts, among other clothing, priced from Rs 400 to Rs 2,500.
Most consumers are women and a lot of them are repeat customers. "People come back for our products, packaging or just the experience. We have had some people buy from us 50 times over a period of time!" Nitin exclaims. They rely on word of mouth from their happy customers and do some online advertising on social media.
iTokri also ships globally and 20 percent of their sales come from outside India. While iTokri sells mostly to customers directly, they also sell to small businesses and small stores, boutiques across India and internationally. The idea of a brick-and-mortar store in the future excites the Pamnanis.
https://www.itokri.com/