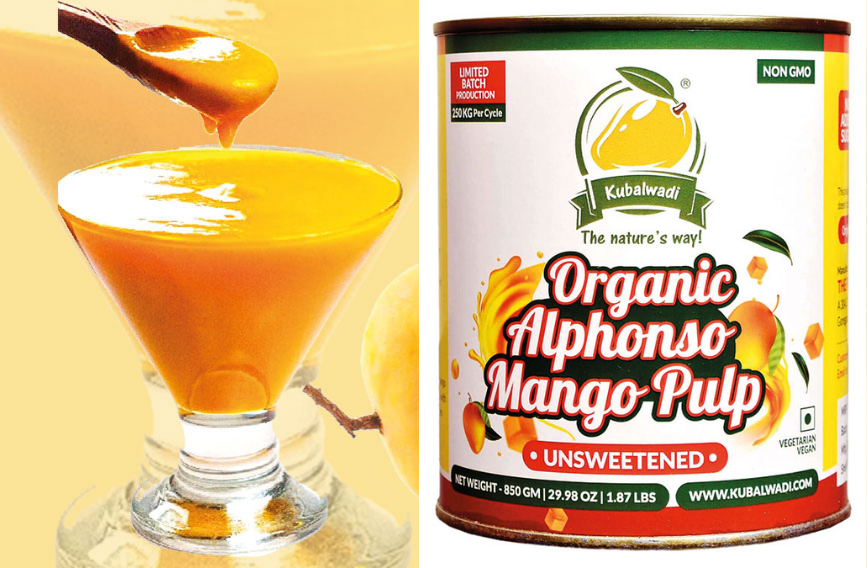 This winter get your mango fix from Ratnagiri
Surmayi Khatana
Published: Dec. 25, 2021
Updated: Jan. 07, 2022
THE big problem for fruit-growers is what to do with their perishable produce if they can't find buyers during the season. One way out is to turn the remainder of the crop into pulp, and bottle and tin it. This way it can be sold all over the country year-round.
As winter rapidly approaches, one way to hold on to the flavour of summer is to get your hands on some Alphonso mango pulp cultivated and packed in Ratnagiri, in the Western Ghats of Maharashtra.
This way, even when it is out of season and not available as a whole fruit, the pulp of the mango, extracted and preserved, can be used to make milkshakes, lassi, custards, cakes and aamras, which is a puree. You can also just tuck into the pulp a little bit at a time whenever you feel like it.
Mango pulp sellers are a lifeline. You can get sweetened as well as unsweetened varieties. The sellers pride themselves on having products free of preservatives or added sugar.
One such outfit making the mango available year-round is Kubalwadi. Set up by Yogesh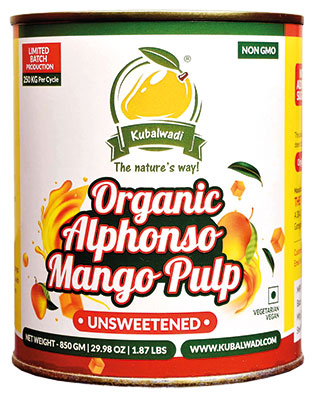 Chakre, former head of human resources and management at a real estate company, Kubalwadi gets you 'ghar-cha hapus', or homegrown Alphonso and aims to bridge the gap between farmers and consumers. With farms where they grow mangoes without pesticides or chemicals, giving special attention and care, Kubalwadi produces Ratnagiri and Devagad mangoes.
Ratnagiri and Devagad are districts where the best quality Alphonso mangoes are grown. They might vary in colour, but the mangoes here are unique.
One can log onto Kubalwadi's website, or place the order via WhatsApp and get an 850-gm tin delivered in Delhi for `560. The pulp needs refrigeration in a glass or plastic container after opening of the tin.
Kubalwadi also works to help drought-affected farmers in the Vidarbha region of Maharashtra as part of their collaboration with Dilasa Sanstha, an NGO in the area.
After a bumper crop in their orchards, the Applied Environmental Research Foundation (AERF) packed their Ratnagiri Alphonso pulp into glass bottles to sell, using the proceeds for their ongoing efforts for forest conservation in the Western Ghats. The AERF protects private forests by creating financial incentives for communities to preserve forests and prevent felling of trees.
AERF took up value addition of mangoes when use of chemical fertilisers in the area led to an eventual decline in the production of mangoes and a loss of pollinators like bees.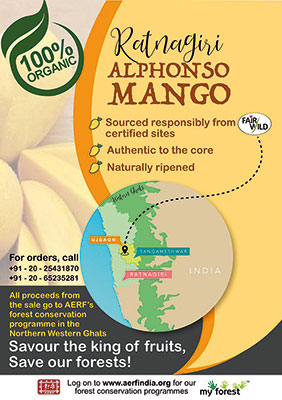 The mango economy of the region was suffering. Farmers were abandoning farms, converting and cutting forests. AERF decided to step in with a programme for sustainable orchards.
The mango pulp was the result of a pilot project in Sangameshwar block of Ratnagiri district for sustainable farming of mangoes by using jeevamrut, a natural fertilizer made of cow urine and dung. They set up a system for production of jeevamrut at Ujgaon village and collaborated with local communities.
"We thought the mango pulp would help us take forward the conversation on sustainable food production in a large way to a variety of people," says Suchitra Naidu of AERF.
The pulp helped them initiate conversations about forest conservation and sustainable food production with customers ranging from small-town fruit vendors to corporate executives in cities.
You can also buy yourself a kilo of mango pulp at `1,650 from Two Brothers, an organic farm set up by brothers Satyajit Hange and Ajinkya Hange.
On their website, they describe the process of turning mango fruit into pulp. The pulp is extracted using a pulp extractor, after which it is cooked at 90 to 100 degrees for an hour and stirred continuously for a thick consistency. The cooked pulp is then packed into sterile food-grade foil packs and then shipped out.

Contact: www. kubalwadi .com/WhatsApp: 9920465252 www. twobrothersindiashop .com For AERF mango pulp: Suchitra Naidu – 9823872015