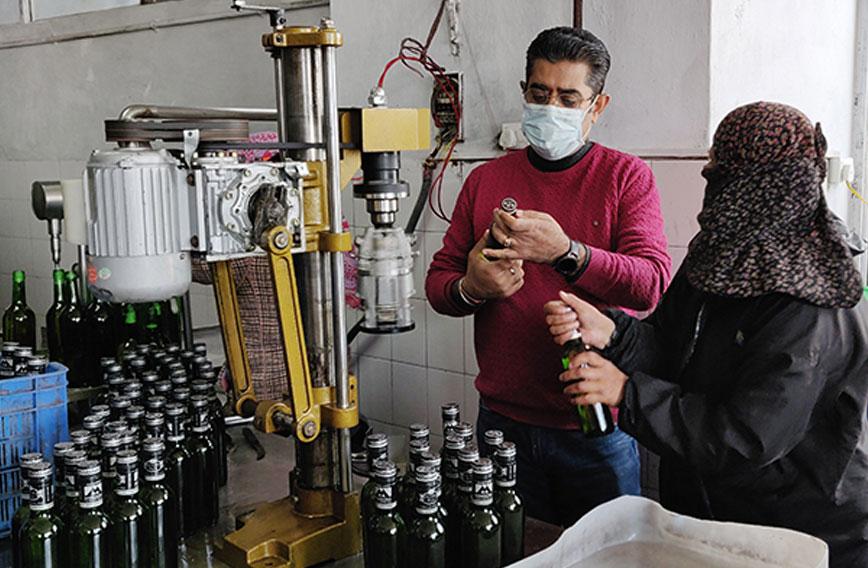 Personal touch: Girish Minocha supervises production
Great fruit wine with those Himachali roots
Raj Machhan, Himachal Pradesh
Published: Feb. 25, 2021
Updated: Apr. 03, 2021
FRUIT wines have their own charm, especially if they come from Himachal Pradesh and are made from the wonderful fruits grown in the upper reaches of the mountains there. Even better if the traditional ways of making wine in Himachali homes are followed.
So, if you come across a brand called Wonder Whyne we suggest you try it. It is a family initiative which comes from Minchy's, a company well-known in Chandigarh and other markets in the north but perhaps not all over the country.
Apple cider and apple wine and wines from grapes, strawberries, apricots, plums and peaches are some of Minchy's popular products. The apple cider comes with a fizz and is named Cidekick. Its popularity has been growing.
Himachal has a strong tradition of producing alcoholic beverages from fruits. Fruit-based alcoholic beverages are served to guests and at community gatherings. These include angoori (from grapes), ghanti (from apples), and chulli (from apricots).
"Traditionally wines are made in homes, but notwithstanding that our Wonder Wyne brand is very popular in the market," says Girish Minocha, Minchy's CEO and founder.
Minchy's Food Products, which is the company's full name, has been exceptionally successful in making use of Himachal's abundant agricultural and horticultural produce plus its exotic wild fruits to produce a range of foodstuff.
"The idea is to maintain a sustainable link between entrepreneurship, nature, and society," says Minchy's CEO, Girish Minocha. The company is one of the few food-processing units in the state to evolve a successful business model.
Minchy's makes fruit juices, fruit drinks, pickles, squashes, crushes and jams among others. It has introduced therapeutic food products such as apple cider vinegar, wild apricot kernel oil, raw turmeric pickle, sea buckthorn oil and bitter gourd pickle.
"Nature has its own way of curing ailments. We provide you nature's bounty in a bottle so that you can get easy access," says Minocha. Some of its lesser-known raw produce like seabuckthorn, brahmi and hazelnut are sourced from the tribal areas of Pangi, Kinnaur and Spiti.
Many products are organic and, apart from honey, all others are vegan and gluten free (except the sauces).
"We procure apples from organic growers in Himachal and Uttarakhand. We get white honey, acacia honey and multiflora honey from different regions of the Himalayas such as Kinnaur and the low-lying Shivalik hills. No animal product is used at any stage," says Minocha.
What is the secret of their success?
"We have succeeded by overcoming the laidback attitude that an average entrepreneur in Himachal adopts after the initial run of success. A lot of food processing companies in Himachal have started well, made good progress and then somehow floundered along the way. In my experience, if a sense of complacency gets into the system, then the company slowly fizzles out. It's like riding a bicycle, either you move forward or you fall down. My approach is to keep moving, to keep up with the times," says Minocha.
Minchy's has an R&D set-up with three full-time food technology professionals. It has a close-knit management team. "Primarily it's me, my wife, my son and my daughter. We helm the innovation part, identify new products, then the R&D team looks into the feasibility part. We develop a product, some of them click and some just fizzle out. But we keep moving forward," he says.
The company's pickles division is handled by Minocha's wife, Sonia. "It's entirely traditional. Each recipe has been handed down by my grandmother and my wife's grandmother to her. Everything is done by hand. Each ingredient is carefully measured. Quality is the hallmark of every pickle," says Minocha.
"Last year we launched our apple cider. My son played a major role in developing the product and it has grown tremendously. It's a big hit even in smaller towns and has come to be known as Mucchad Cider," he says. The health products are handled by Minocha's daughter.
He says that he was lucky to have the full support of his family in the initial years when survival is critical. He and Sonia established the company in 1992 with an initial investment of `1 lakh. Initially, raising money was a big challenge. "My family, including my grandfather, father and uncle, were very supportive in raising funds. Our first project is still a partnership concern within the family," he says.
Presently, Minchy's products are sold at over 5,000 retail outlets across the country. The company has two manufacturing units, at Solan and Shoghi. A third plant is in the pipeline. It got delayed due to the COVID pandemic. "Despite our countrywide presence, Himachal remains our main market," says Minocha. With the setting up of a warehouse in the coming months, the company is now all set to take its business online.
Minocha says that despite the pandemic, the company has posted a healthy growth, surpassing its 2019 turnover in October 2020 itself. It has around 150 employees.
"We have been lucky to have a good, sincere team," he says. As part of its CSR outreach, Minchy's has also been employing convicts incarcerated at the open jail in Shimla.
Thinking ahead, Girish is now planning to take the company on a higher growth trajectory. "So far our growth has been organic. To grow exponentially we plan to attract investments. You will be seeing a lot of action in the coming days," he says.
Contact: info@minchys.com minchys@gmail.com