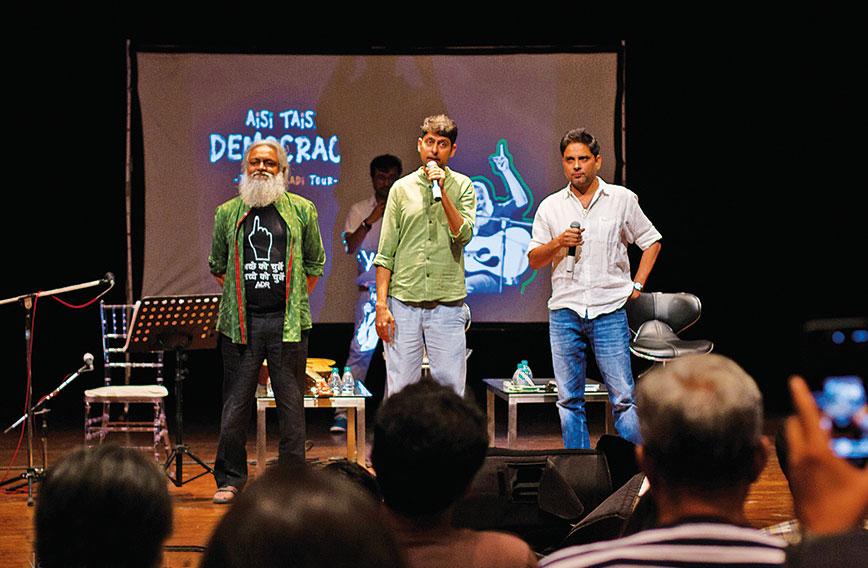 Rahul Ram, Sanjay Rajoura and Varun Grover
Aisi Taisi races against reality
Saibal Chatterjee, New Delhi
Published: Jun. 28, 2019
Updated: Jul. 24, 2019
The big challenge before India's standup comedians, as Varun Grover says in a promotional video for Aisi Taisi Democracy (ATD), is the fast-shrinking gap between satire and reality. "Satire is in direct competition with reality these days," the Hindi film lyricist quips. "Hum do haftaa soch ke koi joke likhte hain, pata chalta hai kal shaam ko ho gaya (We take two weeks to think up a joke, the next thing we know is that it actually happened last evening)," he adds.
It is a challenge all right, but it is a fact that politics and its practitioners in this country are increasingly becoming the butt of jokes, probably making life easier in a sense for satirists. The tribe has been thriving over the past decade, appropriating to a great extent the art of the cartoonist.
The standup comics have also moved into the space vacated by Hindi popular cinema, which has, by and large, not only stopped poking fun at politicians, but has also gone to the other extreme — lionizing them for real and imagined achievements.
Rahul Ram of iconic rock band Indian Ocean, who is an integral part of the three-member Aisi Taisi act, says: "It is probably the state of the country that explains the popularity of Aisi Taisi Democracy's Aazaadi Tour." Every seat at every show was taken as the trio travelled across the country throwing jibes, through sharp-tongued punchlines and no-holds-barred musical interludes, at the way India is being run.
On its Twitter page, ATD is described as "standup comedy, music and stories of our complicated and very funny country". Audiences across the nation have warmed to the act, turning it into a surprise phenomenon of sorts. It is a case of laughter acting as a salve for collective frustration in a time when a climate of fear reigns supreme. Out there running amok are vicious trolls, murderous lynch mobs and politicians making capital out of people's prejudices.
When the same standup stars did political satire in their UPA-era incarnation, nobody applauded them for courage. Today, every act of this nature is described as "brave". Something has obviously changed in India.
However, Ram, whose songs punctuate the acerbic verbal volleys of Sanjay Rajoura and Grover and provide a lively musical spine to what might otherwise have been a monotonous diatribe aimed against India's political rot, points out that in their line of fire isn't just "the last five years" ­— represented by the many strange acts of omission and commission of the Narendra Modi government — but "the ongoing loot and plunder of the country". He adds: "It is only a coincidence that ATD took off in May 2014 (the month that Modi was voted into power)."
Rajoura and Grover have been doing standup political satire for over a decade. They gravitated towards each other in an organic way and ATD in the form that we now know it was born. It was Rajoura's idea to add music to lyrics written by them. "Initially," reveals Ram, "the duo wanted a younger singer to be a part of their act. Sanjay remembered a conversation that he had had with me several years earlier and suggested my name. I jumped at the offer."
Before the Aazaadi Tour hit the road, there was a long lull for Aisi Taisi Democracy. Grover was exceedingly busy writing the second season of the Netflix series, Sacred Games. "He had no time to breathe," says Ram. So, the trio did only a handful of shows in Mumbai in the past year and a half — one in March 2018, two more in August 2018. But since the Aazaadi Tour took off, the group has been on a roll.
The election season has obviously helped. It gave Ram the reason to tweak a Laxmikant-Pyarelal composition from the 1967 Sunil Dutt-Nutan starrer, Milan, into the corrosive "Chunaav ka mahina, hai mach gaya shor, phir aaya hai time to choose who will screw us more". The number, which spares nobody, continues thus: "Mamataji, Maya, Pawar sabka hai sapna PM ki kursi pe naam ho apna/Sonia, Mulayam ka bhi toh hai sapna PM ki kursi pe munna ho apna." He brings the house down every time he croons the number.
Rajoura, who is of the view that the 'romanticism' of the idea of India should change, brings raw and cynical anger to the ATD act, Grover injects an element of disdain and derision into the show, and Ram goes hell for leather through his parodies of popular Hindi songs with lyrics (penned by Rajoura and Grover) that reflect the language of the street, direct and hard-hitting.
The Gaiyya (cow) song, an original Ram composition for ATD, which goes "agale janam mein mujhe gaiyya hi keejo (may I be born as a cow in my next life)" — even uses cuss words to enhance the biting satire on the declining value of human life in the new atmosphere of hate and intolerance that has gripped the nation.
"The Indian tradition," says Ram, "has always been to use popular folk tunes to transmit ideas and thoughts. It is easier to make your point if you use familiar tropes. ATD is continuing that tradition by weaving satirical lyrics into Hindi film songs that enjoy instant recall."
The success of Aisi Taisi Democracy is a marvel in the age of The Avengers and of a spate of Bollywood films eager to bend over backwards and kowtow to the ruling establishment. The Aazaadi Tour, which began on the Ides of March in Ahmedabad, has drawn packed houses wherever it has pitched its tent, with tickets selling out well in advance.
The Aisi Taisi Democracy — Aazaadi Tour ended in the GD Birla Sabhagar in Kolkata on May 18, a day before the eastern metropolis voted in the 2019 general election. The Kolkata show was added on persistent demand from fans of ATD in the city. Says Ram: "We had a couple of shows there earlier, but the response was rather poor. So we thought they probably wanted Bengali content. But now something has changed."
Days ahead of the show, the ATD Twitter handle announced as much: "Initially we were not sure if we would sell enough in Kolkata and now there are only 20 seats left with a week to go.…"
One of Ram's performances has even resonated across the border and brought forth a healthy response from a Pakistani band. Playing on an RD Burman composition from Padosan ("Mere saamne waali khidki mein ek chand ka tukda rehta hai"), he sings: "Mere saamne waali sarhad pe kehte hai ke dushman rehta hai/Jab gaur se dekha usko toh mere jaisa lagta hai (It is said an enemy lives across the border, but on closer look he looks exactly like me)."
From the pungent to pacifist, from the vitriolic to the sardonic, ATD employs different tonalities to put its jokes and punches across. It never fails to hit home. Admittedly, life has never been tougher in this country. Ironically, standup comics have never had a better time. Their alliance with music has only added to the power of their voices even though politics isn't laughing matter anymore in this country.