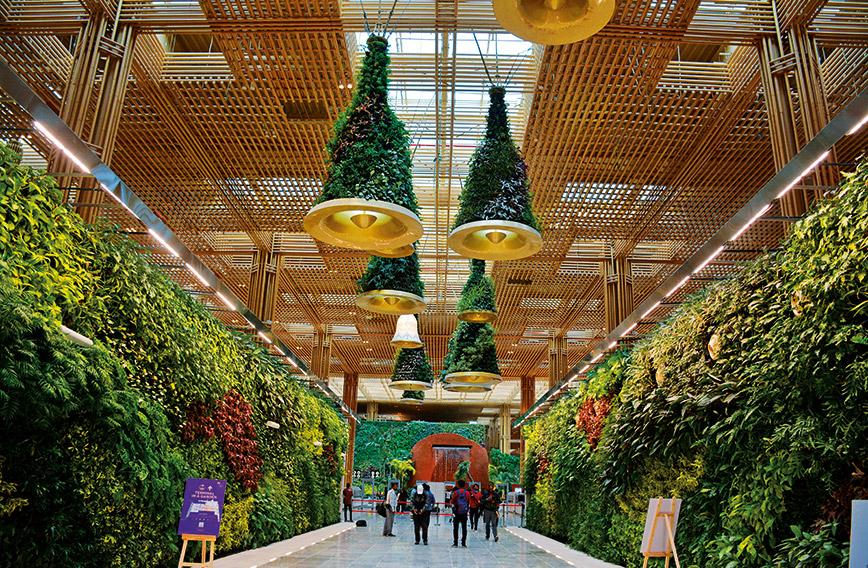 Going all green in transit in Bengaluru
Susheela Nair
Published: Jan. 14, 2023
Updated: Apr. 07, 2023
THE first sight that struck me as I entered the swanky Terminal 2 of Bengaluru International Airport Limited (BIAL) were the green vertical walls around the terminal with hanging gardens cascading from the terminal roof on bells and veils suspended from the ceiling. Filled with lush greenery, the airport provides a unique outdoor experience in the comfort of an indoor environment. The verdant ambience also extends to the green lagoons within its premises and the extensive forest belt between the terminal and boarding piers.
Designed by New York-based architectural firm SOM T2, the 255,661-sq.-m terminal is a tribute to the lovely city of Bengaluru. T2 is a first-of-its-kind 'Terminal in a Garden' and gives Bengaluru airport the status of being the ideal extension of Bengaluru city's green aesthetics. The terminal and the area leading up to it are designed to give passengers an experience of walking in a garden. Right from the entry into the airport campus from the Main Access Road (MAR) to entering T2 and then boarding the aircraft at the piers, passengers will be visually treated with varying shades of green. The four guiding principles that have influenced the design and architecture of T2 are: terminal in a garden, sustainability, technology, and art and culture.
Hari Marar, MD and CEO, BIAL, said, "What makes T2 special is not just its scale and size, but also the fact that it's inspired by Bengaluru city. Built as a terminal in a garden, T2 reflects all that Bengaluru stands for — a green, modern, innovative, sustainable, and culturally rich city. Over the past 14 years, BLR Airport has evolved as the Gateway to South India and with this next phase of expansion, we aim to position the airport as the new Gateway to India."
The key highlights of T2 are 255,661 sq. m of built-up area, 25 million passengers per annum (MPPA), passenger boarding bridges, 30 departure immigration counters, 35 arrival immigration counters, 90 check-in counters, 34 fully-automated self-baggage drop units, automatic tray retrieval systems and 40 self-service check-in kiosks. It is also the first airport to offer 5G services.
3,600 PLANT SPECIES T2 is a treasure trove of unique flora and fauna. One can spend endless hours gazing at the vibrant blooms of a myriad orchids, anthuriums, lilies and lotus species. "We have sourced a total of 620 endemic plants, over 3,600 plant species, 150 palm species, 7,700 transplanted trees, 100 varieties of lilies, 96 lotus species and 180 rare, endangered and threatened species from multiple ecological habitats. Plant species have been selected based on their need for water. They are nurtured by a smart auto irrigation system. The hanging plants are grown in soil-less media. Various sensors have also been installed to alert us about the health of the green walls," says Prasanna Murthy, head of landscape, Bengaluru airport.
The garden surrounding the terminal maintains a microclimate that is two to three degrees lower than its surroundings. The flora and fauna, skylight filtered through delicate lattices of bamboo, and indoor waterfalls inspired by the waterways of Karnataka all provide for a sensorially rich transit for passengers. Inspired by the temples and homes of Karnataka, the bells and veils of T2 are covered with plants.
ENGINEERED BAMBOO Strolling around the terminal, the interiors clad in engineered bamboo inspired by traditional Indian cane weaving grabbed my attention. Besides being fire retardant and long-lasting, it lends the terminal a contemporary yet classic look. Apart from enhancing the beauty of the terminal, these are also essential components contributing to the sustainability pillar of T2. Terminal 2 is created with sustainability principles woven into the design. Equally impressive are the unique bell-shaped lighting fixtures crafted out of banana fibre paper, embellished with Kasuti inspired motifs.
The gardens and forest cover naturally cleanse the air. Solar panels and daylight harvesting result in overall 24.9 percent energy savings. Rainwater harvesting, six major rainwater-fed ponds with 413 million litres of water to cater to the airport's requirements, and multipurpose lagoons where pollutants are cleaned naturally — all these are an integral part of the long-term sustainability plan. The bamboo-covered skylights reduce use of power to light up the space. The bamboo-clad pillars lend an earthy touch.
Other sustainability initiatives include use of natural materials such as bamboo, local granite, exposed brick work and so on. Terminal 2 has a skylight area of 10,494 sq. m. which is almost 12 percent of the roof area. Enhanced indoor air quality strategies like entryway systems and interior cross-contamination prevention, treated reverse osmosis (RO) water used for heating, ventilation, and air conditioning systems further strengthen the airport's sustainability practices. Based on the sustainability initiatives, T2 is recognized as the largest terminal in the world to achieve LEED Platinum Pre-Certification by USGBC (US Green Building Council), prior to the commencement of operations.
The upcoming integrated solid waste management plant will convert biodegradable waste to fuel and manure, leading the airport towards sending zero waste to landfills. The airport believes in going green and its environmental management mantra is simple — responsible reduction, recycling, rejuvenation and re-vegetation. With such innovations, Terminal 2 has established several benchmarks in sustainability with 100 percent usage of renewable energy across the campus.
SEAMLESS YATRA One of the key driving forces behind T2 is innovation and technology that's been applied rationally to make passenger experience simplified, seamless and effortless. Several integrated technology features power the terminal to keep it customer-centric, operationally efficient, and innovative.
Several technological innovations are being executed for passenger ease. This includes using Digi Yatra — from entry into the airport until boarding, passengers can experience an easy check-in process, self-baggage drop, faster security check and convenient boarding.
Digi Yatra remains one of the smartest and easiest processes that has enhanced passenger journeys. With the 'your face is your boarding pass' technology, travellers can pass through security checks without any hassles.
The face of a passenger today has become the single biometric token, and BLR Airport has been at the forefront of developing this smart security implementation to facilitate more accurate screening and higher passenger throughput since 2017. BLR Airport supported the Government of India in rolling out Phase 1 successfully on August 15, 2022.
The 60 artworks featuring works of 43 artists from Karnataka and across India, exhibited at strategic locations, made me pause, reflect and enjoy. The insightfully curated art and décor elements are indeed a visual delight that have the ability to make passengers observe, introspect and feel rejuvenated.
The focus of the Art Programme at T2 is to exhibit the cultural diversity and unique art forms of Karnataka in particular, followed by other South Indian art forms. The Art Programme is based on two themes — Karnataka's rich heritage and culture and the broader Indian ethos, and Bharata's Natyashastra's Naurasa or nine emotions. All these facets accord T2 a special status as a terminal that is modern yet rooted in culture, and an airport that offers a memorable 'destination' experience to all travellers.
One of the heartening features of T2 is that it is user-friendly for the visually impaired with several signages in Braille along with the tactile flooring.