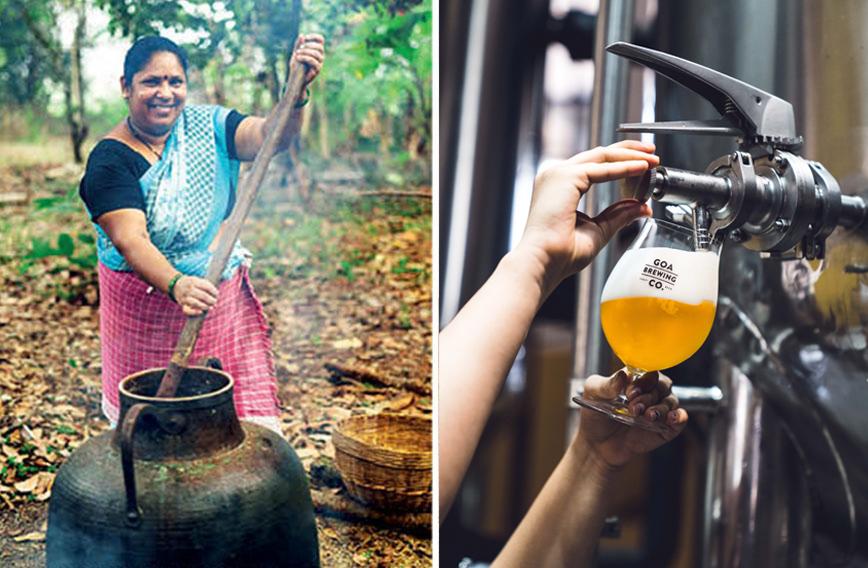 Manisha from Sangolda boiling paddy to make Goan red rice. And right, the Peoples Lager
Brilliant new Goan beer brings back lost rice strain
Derek Almeida
Published: Nov. 27, 2021
Updated: Dec. 18, 2021
WHEN Suraj Shenai launched rice beer in the Goan market in June this year, it was more than just another beer. It was a distillation of the grain culture of a region infused with a complex history and cultural ethos that even predates the arrival of the Portuguese over 500 years ago.
It was also the culmination of a process to document paddy farming and identify 'heirloom' varieties of rice which have been progressively replaced by the more robust 'Jyoti' variety.
"Every region has a grain culture. Like some areas have a wheat or bean culture, ours is a rice culture. That is why Goa is always associated with rice and curry. For instance, the village Assagao gets its name from the Asso rice variety that is grown there," explained Shenai, who in 2017 quit his job at Pernod Ricard, a French liquor company, to start Goa Brewing Company in Sangolda village which is around five km from the world-famous Calangute beach.
Before taking the plunge into the world of beer-making, Shenai had picked up extensive experience in the alcohol-beverage market, having worked with several larger companies. "Large liquor multinationals have a brand narrative that is colonial. The focus was not on anything Indian. The flavours were foreign and the approach was of a big company looking down at us. I thought we needed to challenge the status quo with high-quality products that are rooted in the geography of India," he said.
He returned to the place he called home, Goa, and literally went down to its roots. But before that he made a stopover at Pune where he worked with smaller micro-breweries which were willing to collaborate and even allow him and his team of brewers to manufacture small batches to test in local brewery pubs.
Shenai's approach to beer-making embodies a pint of the counter culture mixed with a dash of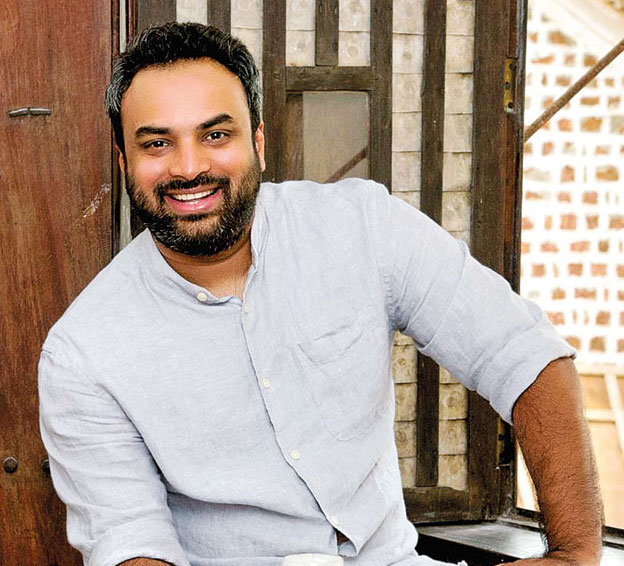 Suraj Shenai: 'Everything about us is local'
risk and a gung ho spirit to challenge the status quo.
"We are not a manufacturing entity with a huge footprint in an industrial estate," he said, "Everything about us is local. We consciously decided to set up shop in a heritage house because that way we add value to old Goan heritage homes which would have otherwise fallen into disuse."
The idea, he explained, is to be local, generate employment for locals and source as much material as possible from the village. For instance, the spent grain is sold locally to dairy farmers and the yeast is picked up by fish farmers.
To launch his first batch of rice beer Shenai sourced rice from eight farmers in Sangolda and the neighbouring village of Saligao at a rate higher than the minimum support price (MSP) offered by the government. Hops, which is a key ingredient, is imported.
The beer is more than a product. It is the culmination of a journey through rice fields and documentation of varieties that were once grown here but phased out in favour of higher-yielding ones.
"In the old days there were about 28 to 30 heirloom varieties of rice grown in Goa and tracing them was part of our process," he explained with the enthusiasm of a researcher rather than an entrepreneur. "Most people are not aware that a variety called 'Jiresal', which is more aromatic than basmati, was grown in Goa."
The search for this aromatic variety took him to the neighbouring states of Karnataka and Maharashtra. The search paid off and Shenai and his team discovered that the variety was being grown in Davangere in Karnataka and Azhra in Maharashtra by Goan communities.
"This variety was taken from Goa to these states by farmers who migrated centuries ago to avoid the hardship unleashed by the Inquisition during Portuguese rule," he explained.
Shenai and Hansel Vaz, an entrepreneur from South Goa who is deeply involved in rebranding indigenous feni brands, put their hands together to restart planting of Jiresal in the state.
"This planting season, about nine acres of land was set aside for Jiresal which is being grown in Goa after a break of 40 years," said Shenai, quite aware of how important this is to reviving the ancient grain culture of Goa.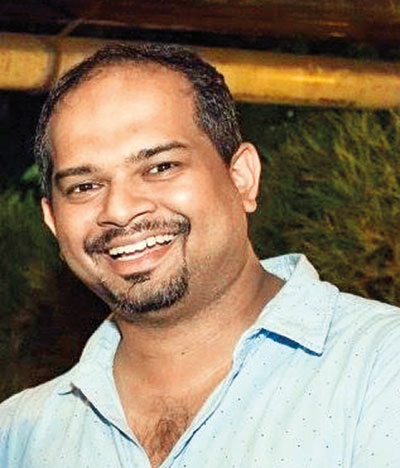 Hansel Vaz
"All credit for this goes to Hansel who identified the farmers and convinced them to grow the variety in their fields," he said. This is a 120-day crop and the first harvest should be out anytime now. They christened it the 'going against the grain' project.
The experience has made Shenai passionate about paddy farming and discovering the problems that have gradually reduced cultivation. "Farmers in the North have larger farms but the returns are negligible. Paddy farming for all practical reasons is a loss-making endeavour. Nonetheless, people continue to grow the grain because it's a tradition and they do not want to leave their field fallow."
The flip side of this situation is that paddy fields are being filled up and sold to builders for a hefty sum. "Is selling of paddy fields then, the only exit available to farmers?" he asks. Shenai believes that we could be looking at the last generation of paddy farmers and one must make an effort to add value to it or it will die.
"By launching a rice beer, which we also call the people's lager, we are actually telling this story about our farmers and our rice culture," explained Shenai. And the response has been good.
Quite early in the day, Shenai decided to be part of the craft beer movement and join what he calls 'the geek economy'.
So, what does craft brewing really mean in the present context? These are small indigenous breweries which give importance to the human element in the brewing process. The aim here is to keep everything local. The international norm is that any brewery which has an output that is less than 1,000 hectolitres per year is generally classified as craft. This is roughly one-fiftieth of the output of giant breweries.
"Craft brewing has been an anti-establishment movement where small breweries in America decided to take on the large multinationals," said Shenai.
He had the story and after a year of experimentation he had the beer. So it was not surprising for Shenai to find two venture capitalists — DSG Consumer Partners, Singapore and Saama Capital, Bengaluru, keen to invest.
If rice beer has a story that is indigenous, the first beer launched by the company has a story that goes back to a time when tourism was in its infancy. It's called Eight Finger Eddie, which is an odd name for a beer or a liquor, or anything for that matter.
The story goes that Eight Finger Eddie was one of the first of the hippie band to discover Goa. Having liked the place, he advertised it extensively and he is probably the one man who did a lot to make Goa visible at a time when it was relatively unknown. When he passed away in 2007, there was a move by old-timers to raise a memorial in his name, but the panchayat was reluctant and the matter was not pursued.
By launching a beer named Eight Finger Eddie, Shenai is paying tribute to the counter culture movement that grew in the US out of opposition to the Vietnam war.
"We wrongly look at hippies as people outside the system. In reality, it is this counter culture

that made San Francisco what it is today and played a huge role in the birth and growth of Silicon Valley. Goa became part of this counter-culture revolution," said Shenai.
Today Eight Finger Eddie is rated as one of the top four craft beers in Asia by international magazines and craft beer forums, claimed Shenai.
"The style of beer that we create is non-conformist. We do not follow the established beer-making tradition," he said. "Ours is a process steeped in research and development and we have a laboratory on the premises which is constantly upgrading and refining new brews."
Goa Brewing Company is constantly adding new beers to its brand list. Some time ago it came up with a French-styled pineapple based brew which was made from locally sourced fruit and during Christmas it launched a Belgium-styled beer that was close to 'the Goan plum cake'. "It is like dessert in a bottle and we brew it every Christmas," Shenai said.
In many ways, Shenai and his craft beer dream are not out of place in Goa which has been a melting pot of cultures for centuries. Being an important port, Goa has been home to people of various religions and races from Europe, the Middle East and Africa. Recently, the relics of St Queen Ketevan were returned to Georgia, 400 years after she was killed in Iran.
"Goa accepts and assimilates," he said.
Goa Brewing Company is not just a manufacturing unit. It embodies the principle of learning and teaching and is open to allowing others to learn the process and experiment. "I am part of the Copy Left movement," he proudly declares.
Returning to his central story, which is about rice beer, Shenai said, "We are not only celebrating the idea of Goa but also taking the narrative back to farmers. We want to make rice the hero and use beer to tell this story."