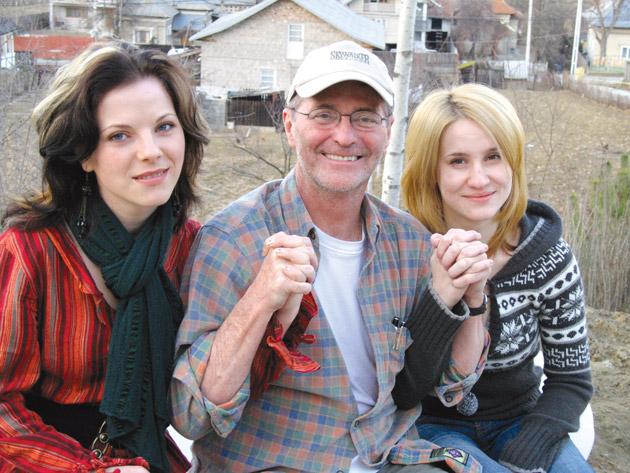 Saibal Chatterjee, New Delhi
Published: Oct. 13, 2015
Updated: Apr. 21, 2017
Every eight minutes a child goes missing without a trace in India. But children certainly aren't the only victims of human trafficking and slavery in the world's worst affected country.
Conservative estimates put the number of trafficked victims in India at more than 10 million.
Many individuals and organisations have been waging war on this evil for decades, but progress has been slow and limited.
Can a documentary film achieve what concerted activism on the ground hasn't? Anti-human trafficking campaigners in India are optimistic that Oscar-nominated Robert Bilheimer's feature-length Not My Life will inject new urgency into the movement.
Not My Life is a harrowing but redemptive film that travels into the heart of darkness and emerges with stories of horror and hope that shine a light on an inconvenient truth.
A specially edited Indian version of Not My Life, "the first film to depict the cruel and dehumanising practices of human trafficking and modern slavery on a global scale", has been co-produced by Bilheimer's Worldwide Documentaries Inc. and Riverbank Studios, New Delhi.
The film, with a Hindi voiceover, was aired on Doordarshan's National channel on 29 June last.
Plans are now afoot to re-broadcast the 84-minute Not My Life on Doordarshan in November to coincide with its India premiere in New Delhi and "the announcement of a three-year community-based awareness campaign designed to radically alter how Indians from all walks of life understand, and respond to, human trafficking and modern slavery crimes".
The 'Every 8 Minutes' campaign is being led by iPartner India, a UK-based charity that currently works with 40-odd organisations in 16 states.
Not My Life, originally narrated by veteran Hollywood actress Glenn Close, clearly establishes that human trafficking is by no means an exclusively Indian problem.
Not My Life was filmed over a period of four years on five continents and in 13 countries – Albania, Brazil, Cambodia, Egypt, Ghana, Guatemala, India, Italy, Nepal, Romania, Senegal, Uganda and the US.
The film reveals that slavery, in one manifestation or other, exists in virtually every part of the world. It also highlights the heinous ways in which the weak and the vulnerable are exploited.
Faced with continuous physical, mental and sexual violence, the enslaved are pushed into forced labour, domestic servitude, armed conflict, begging or the sex trade.
Says the film's director: "Human traffickers are earning billions of dollars on the backs and in the beds of our children and yet no one knows this is happening. We have a huge responsibility, right now, to know the truth and act on it."
"This is the greatest potential of the medium of film," says Bilheimer. "It is a profoundly democratic and enormously accessible way for us to communicate with one another and better understand the world in which we live."
He turns his lens on children and girls subjected to appalling forms of slavery, many of whom have either fought back or been rescued by activists.
The film also celebrates the voices and interventions of remarkable men and women who have led the fight against human trafficking locally and globally.
Therefore, despite the distressing scenario that the film paints, Bilheimer's call to action transmits a message of hope, which is embodied by the growing tribe of supporters and activists throwing their weight behind the struggle to help victims worldwide.
Among the many stories that Not My Life narrates is that of Grace Akallo, who, at the age of 14, was abducted from a boarding school in northern Uganda by Lord's Resistance Army and turned into a child soldier.
She recalls that killing, hunger and rape "were a part of daily life" and "escape was not an option". But she did manage to flee after seven months of captivity and reclaim her life.
Today Grace is a mother, activist and writer who works to draw the world's attention to the plight of children forced into armed conflict.
Not My Life also tells the story of Angie, a teenager from Kansas, who, after running away from home, fell into the clutches of traffickers and ended up as a prostitute at a truck stop in Oklahoma.
Angie was rescued during an FBI sting operation that led to the arrest and conviction of 15 traffickers working across the American Midwest.
FBI Special Agent Mike Beaver, who headed the operation, says in the film: "Angie was, by all accounts, an all-American girl." In other words, she came from a good home and even went to a private school.
As an activist asserts in Not My Life, "This (human trafficking) really can happen to anyone."
Poverty-stricken children are, however, most at risk, a fact illustrated in the film by the story of Cambodian sex trafficking survivor Sreypov Chan.
She was only seven when she was sold by her mother to a female sex broker. She was forced into prostitution in the city of Phnom Penh, where she endured rape, torture and abuse until she escaped at the age of 10. Today she shows her emotional scars to the world so that other victims can heal faster.
"I can never forget my past or the cruelty of those men," says Sreypov. "I'll never understand it, but I use it as power to push for change. I feel better knowing that I'm helping other girls."
Bilheimer writes in his Director's Note: "Sreypov is the only individual in Not My Life to speak, in detail, about the horror of sexual slavery… She does so matter-of-factly, with little show of emotion…"
No matter how diverse their tragedies are, the fishing boys of Lake Volta in eastern Ghana, the garbage pickers of Delhi's Azadpur landfill, the girls sold to brothels in Mumbai, victims of sexual violence in Romania, child workers in Nepal's carpet industry, and the teenagers forced into the sex tourism industry in Cambodia and Vietnam share a similar fate.
Not My Life also seeks to understand what fuels human trafficking on such a humongous scale. Is it only the $32 billion that it yields annually in illegal profits? That is certainly the key reason, but the fact that risks in this business are low draws the criminally minded to it in such large numbers.
Prisons terms are laughably short and cannot serve as a deterrent for people willing to exploit humans for profit.
In the course of filming, a young Romanian trafficker was interviewed inside the Zoha prison in Bucharest. After serving a four-year sentence, he is back to his old ways on the streets.
Cecilia Malmstrom of the European Union admits on camera: "Traffickers are very aware of our weaknesses and vulnerabilities, and they exploit it. They also know that they risk very little because very few of them get caught."
Says Bilheimer: "It is impossible to spend four years among the victims and survivors of these crimes – virtually all of them children – and emerge with anything other than a sense of sheer and utter horror."
But at no point does Not My Life suggest that the world is fighting a losing battle against the perpetrators of human trafficking.
The film shows a clampdown on a Mumbai brothel from where many caged girls are rescued.
It also records a police raid on a human trafficker in Guatemala City. The action is swift and successful and the criminal is led away by three law enforcers.
Trafficking is the defining human rights issue of our time, a problem that is proving to be more intractable than most others. Not My Life demands active engagement from those that have been turning a blind eye to the injustice. It is not difficult to fathom why activists see the film and its message as a boost to their campaign to make the world sit up and take notice.