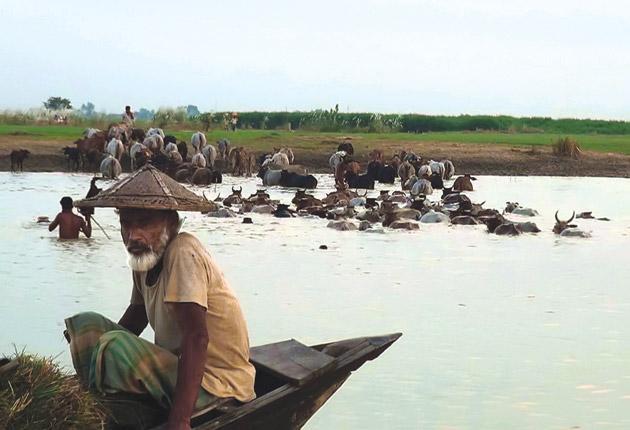 Saibal Chatterjee, New Delhi
Published: Oct. 13, 2015
Updated: Apr. 21, 2017
Ten years in the making, Char-The No Man's Island, posed daunting physical and logistical challenges. But much like the mighty river that the film is about, director Sourav Sarangi found his way around the hurdles to come up with a film that is going places.
Char-The No Man's Island, captures the many moods of a dramatic landscape on the India-Bangladesh river border while focusing primarily on the plight of its people, perpetually susceptible to the vagaries of nature and ill-advised development initiatives.
It is a searing critique of a big dam that has wreaked havoc as well as an empathetic anthropological study of an impoverished community displaced by soil erosion. The epic-scale documentary is informed with as much cinematic ingenuity as urgent emotional force.
Char-The No Man's Island, a co-production involving India, Japan, Norway, Italy, Denmark and the UK, is making waves around the world. "The river never stops," says 47-year-old Sarangi. "It flows on no matter what comes in the way. It simply changes its course when it is up against an obstacle. I had to be a bit like the river during the making of the film."
Shot on the Indian side of the border, the project was hugely demanding on the unit. "It is the first long, elaborate venture of my career," says the director. Access to the location was arduous at the best of times and transport facilities were rudimentary.
The island has no electricity and nobody is allowed on or off it after sundown. Sarangi had to keep riders on standby to ferry the camera batteries to the mainland for charging. And the cameras had to be set to night-vision mode after sunset for filming the villagers, which explains some of the film's most striking images in which humans assume the contours of spectral creatures ...