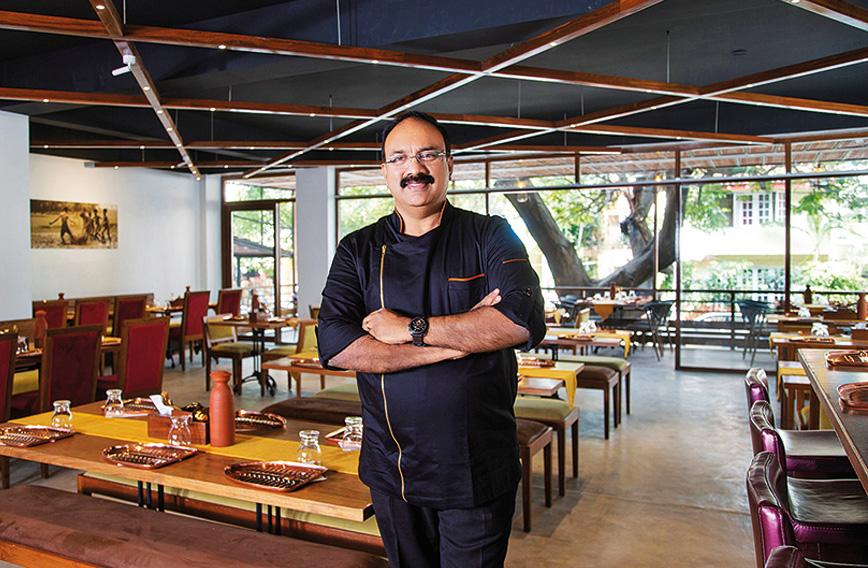 Regi Mathew at his unique restaurant, Kappa Chakka Kandhari
Authentic Kerala meal from 265 homes, 70 toddy shops
Susheela Nair
Published: Sep. 20, 2021
Updated: Nov. 13, 2021
IF you want to figure out Malayali food, how should you go about it? One way would be to spend three years crisscrossing Kerala, visiting home kitchens and toddy shops, to learn the traditional ways of cooking just like Chef Regis Mathew did.
Mathew took along his close friends John Paul and Augustine Kurian and when they were through with their culinary odyssey the three of them set up a restaurant, Kappa Chakka Kandhari (KCK) in Chennai and now also in Bengaluru.
Mastering traditional recipes requires patience and knowing where to look. Invariably the best kept secrets are in homes where they are passed on from one generation to the next. But in Kerala, there are also toddy shops, where apart from intoxicating fermented palm sap, spicy snacks and meals are served.
By the time they were done, Mathew and his friends had visited 265 home kitchens and 70 toddy shops. They had a hoard of close to 800 recipes.
"As a prelude to the launch of our restaurant, we organized familiarization food yatras in Chennai, Bengaluru and Dubai to showcase the food we had tried. It helped us select dishes for our menu besides acquainting people with the concept," says Mathew.
In every way, they were breaking new ground with their restaurant. The unusual name, Kappa Chakka Kandhari, refers to the three indigenous ingredients that are central to the cuisine of Kerala, namely tapioca, jackfruit and bird's eye chilli.
The first KCK came up in Chennai in July 2018 and then in Bengaluru in December 2019 just before the pandemic which put an end to dining in until recently.
"The menu pays homage to the food from God's Own Country by reviving family recipes that have stood the test of time. At KCK, we follow our mothers' cooking styles. It is indeed a culinary ode to mother's cooking and fond childhood memories," says Mathew.
With a team of professional chefs and cooks from homes and toddy shops, Mathew curated dishes based on concepts such as 'Nadan Memories', 'Toddy Shop Memories', 'Ammachi Specials', 'Monsoon Magic', to name a few.
They use the open-vessel, slow-cooking method in urlis, chattis and cast-iron traditional cookware in a separate kitchen with Malayalam songs playing in the background. The kitchen finds ample use for other traditional cookware like appam chatti, puttukutti, idiappamachu and a meat mincer.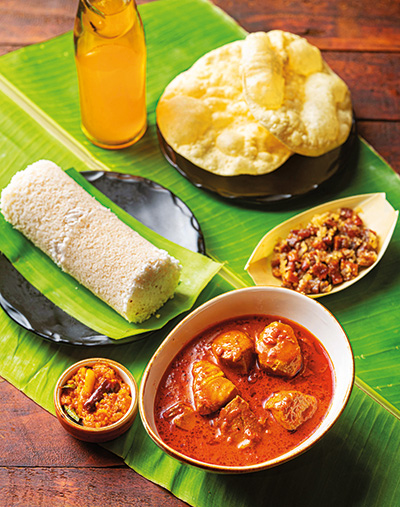 "You will find unusual dishes never found in other restaurants. We are trying to practice culinary social responsibility by conserving recipes that may soon die out, sourcing vegetables and ingredients directly collected from farmers and staying true to the culinary wisdom of generations of mothers and grandmothers. Everything is about freshness and no stored food is used in our restaurant," explains Mathew.
"While travelling through Kerala, we heard stories about food that are not written down but passed down from mother to daughter. One of them is Ayikoora Nellikka Masala Fry, which has its origins in Agasthyamalai, where tribals marinate fish with bird's eye chilli, green peppercorns, wild herbs and sundried gooseberry and bake it on heated river stones, with minerals providing the salt content," says Mathew.
Every dish has a story — Ramapuram's pidi (tiny rice dumplings cooked in coconut milk) with country-style Kozhi curry is offered to devotees at the Ramapuram Church on feast day. The Ramassery idlis are equally interesting. They are not only unique in size, shape and taste, but melt in your mouth and leave you craving for more.
A unique steaming technique uses muslin cloth, netted clay rings, earthen pots and plachi leaves. Once they are cooked, the idlis are served hot with fiery coconut chutney and sambar. Chammanthypodi, the spicy powder made out of roasted rice, pepper, broken black gram, red chilli and coconut oil is the ideal accompaniment.
Eating at KCK in Bengaluru, we started off with goli sodas and also tried a spicy drink made of Kandhari chillies. The spicy Kandhari Ice Cream was equally good while the Cloud Pudding (tender coconut pudding), curated by the chef's mother, was outstanding.
Other traditional dishes served are tapioca, served with a fragrant chutney of small onions, chillies and coconut oil and Pazham Kanzhi, really a poor man's meal, which is fermented rice gruel, with traditional accompaniments. The sweet and spicy Pineapple Nendram Masala or ripe nendrapazham (bananas) with spice, mustard, curry leaves and coconut oil, is a must-try on the menu.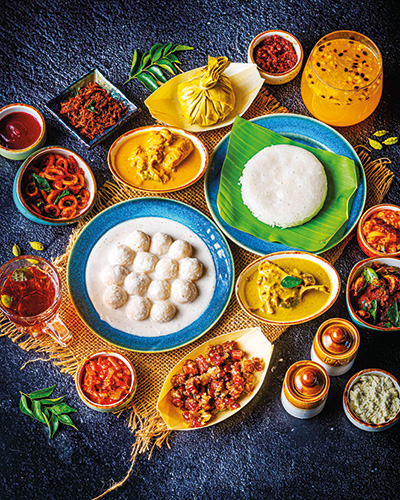 Vegetables that seldom find fame at mainstream restaurants are used here. For instance, dishes such as kadachakka curry, made of dense breadfruit cubes; vazhaipoo cutlet, a cakey banana flower patty; kappa vada, made with tapioca root and chenda kappa, where the steamed root is served naked with oil, roughly cut shallots and Kandhari. Koorrka Ularthiyathu or Chinese potatoes, found only in central Travancore, which have a slightly more fibrous texture, were roasted in pepper and mild spices. Prawn kizhi, a delicious pocket of prawns steamed with coconut masala in banana leaf, reminded one of kizhi (poultice pouches) used in Ayurveda.
SOURCING INGREDIENTS
"Ingredients play a very critical role in ethnic food. For an authentic dining experience, the spices and ingredients are sourced from their native regions from across Kerala. During our travels in Kerala, we also learnt about the ingredients used in certain dishes of some regions. We learnt how these ingredients are grown, where the best ingredients come from," says Mathew.
All these items are sourced directly from farmers, avoiding middlemen. This adds to the flavour of dishes at KCK. The curry leaf, ginger and peppercorns are sourced from Pulpally in Wayanad, jaggery from Marayoor, fish from Cherai, elephant yam from Thrissur, fresh tea leaves from Munnar, cardamom from Idukki, coconuts from a place near Thrissur, cinnamon from Kannur, tapioca and jackfruit from Pala and cold-pressed coconut oil from a homemaker's collective in Ernakulam. As for the famed Kandhari chillies — those come from Thiruvananthapuram.