Aditya Tripathi has conjured up some unusual flavours for his ice-creams and sorbets
Cold Love is here with artisanal ice-cream
Surmayi Khatana
Published: Sep. 16, 2021
Updated: Nov. 13, 2021
WHEN you decide to move on, what can sweetly put the past behind you? Ice-cream, for one. Gorge on it, make it yourself, get others to eat it and finally make a business out of selling it.
This is what Aditya Tripathi, 52, did after two decades of working for companies and then building and exiting from his education technology start-up.
He set up Cold Love, an artisanal ice-cream company with an array of personally curated offerings such as Salted Butter Caramel, Jamun Sorbet, Chocolate Fudge-A-Licious, White Chocolate and Green Chilly, Spiced Walnut & Rum, Dark Choc & Orange and Vanillaah.
It all started with Tripathi knocking around in his kitchen with money and time to spare. One thing led to another and he began making ice-cream, reminded of how as a child he had seen homemade ice-cream being cranked out of a machine. It was such fun to see it being made and great to eat it fresh at home.
Tripathi injected a bit of his childhood into his early retirement. He began gleefully making ice-cream and dishing it out to friends and family who were all as delighted as he was with his new hobby. It was wholesome and grainy ice-cream and came in combinations which sounded happily corny and tasted so very different.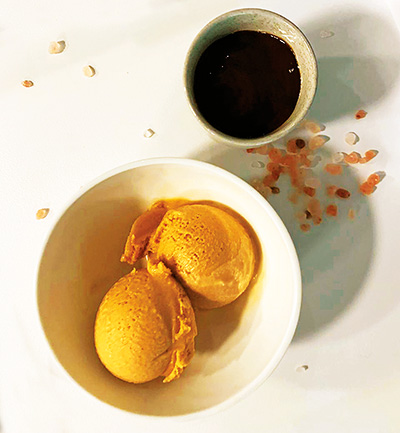 The best ice-creams are personalized and come out of kitchens like Tripathi's. They are handmade, have character and are produced in small batches — unlike factory-made ice-creams which are smooth, made by the tonne and have a long shelf-life.
Artisanal is the term for Tripathi's kind of ice-cream because there is craftsmanship involved. It has the stamp of the creator and is produced with passion and pride. Wholesomeness and purity are its hallmarks. It contains no essences, artificial flavouring, stabilizers or additives.
As Tripathi's ice-cream passed muster in his close circle, he decided to go to market with it. It was one big step out of his kitchen but Cold Love was born in the belief that if friends and family liked what he was conjuring up more people deserved to have it.
Experimenting in "completely the wrong season", Tripathi set up a stall at the Christmas Mela of the German Embassy in New Delhi. The two-day event brought with it confidence, as not only did people love the ice-cream, they came back asking where they could order more.
After a few other smaller events across December, a website for Cold Love went live for orders and deliveries. Tripathi soon took the leap from his home kitchen to a professional kitchen, with support from a close friend, Samir Kuckreja, who has worked as CEO for Nirula's.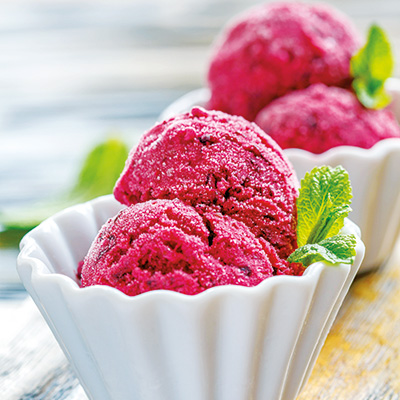 Cold Love was set up in January 2020. Although the pandemic that hit the following March restricted them to deliveries, they have started moving towards a hybrid of deliveries, parlours and cafes.
Functioning out of their kitchen in Lajpat Nagar, in south Delhi, they now deliver and have freezers in Hyderabad, Lucknow, Jaipur and Jodhpur. Cold Love sells around 100 litres of ice-cream a day.
While not formally trained in the making of ice-cream, Tripathi has kept improving and learning on the go. He now has a trusty team of chefs who treat the making of ice-cream like a science. His experimentation mixed with their expertise works as a great combination.
The milk is sourced from free-ranging cows and all ingredients used are grown in India. Their fruit ice-creams are made of actual fruit, making the ice-cream seasonal in nature.
This makes for a dynamic menu that is constantly changing. Currently, they offer 16 flavours including sugar-free ice-creams, experimental flavours, seasonal fruit ice-creams, and a vegan option called Vegan Almond Milk Coffee. They update their menu often to give their customers new flavours to look forward to and try.
What sets outfits like Cold Love apart is the intimate manner in which they make their ice-creams. The close attention given to the making as well as the delivery process and storage, provides a curated experience as unique as the flavours.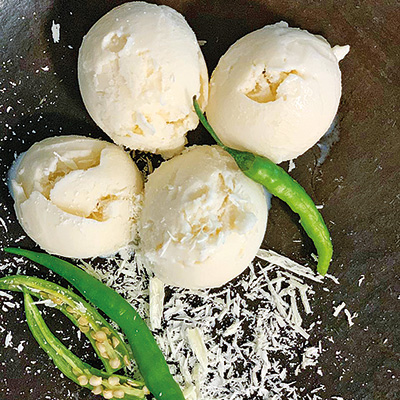 "The development of a new flavour is about a two-week, three-week process," Tripathi says, highlighting the multiple rounds of feedback and testing in the kitchen with the chefs, testers, friends and the rest of the team.
After a flavour is finalized and the precise measurements are noted, the ingredients are prepared, melted, chopped and aged for 24 hours. The ice-cream is then put into a hot churner with a high temperature.Immediately after it is put in a cold churner where it is mixed. The thick semi-frozen liquid is then put in a blast freezer which transforms the liquid into ice-cream that is ready to be delivered. This process ensures the smooth texture and no crystallization.
Along with well-thought-out flavours, the process of updating the menu and the flavours draws on consumer feedback.
Their bestseller, Salted Butter Caramel, made by caramelizing sugar on low heat, has seen reformulations thanks to customer responses.
"In the end, the final judge of a flavour and how well it will do is the customer. We test our unique flavours in farmers' markets, cafes, etc and take feedback," says Tripathi.
Tripathi at first shies away from naming a favourite flavour. "It is like asking a parent to choose a favourite child," he says. But, prodded, he says he would go for Jamun Sorbet, which is really an ice minus the cream.
"I have phases with the flavours, I am enjoying the Jamun Sorbet not only because of the taste but also the colour which was a feat for us to achieve," he says.
The Jamun Sorbet, which is a frozen dairy-free dessert made with water and fruit, was brought back owing to popular demand and specific requests from customers.
While we think that their Spiced Walnut & Rum ice-cream is an acquired taste, we are true fans of their Chocolate Fudge-A-Licious, Dark Choc & Orange, and the Jamun Sorbet.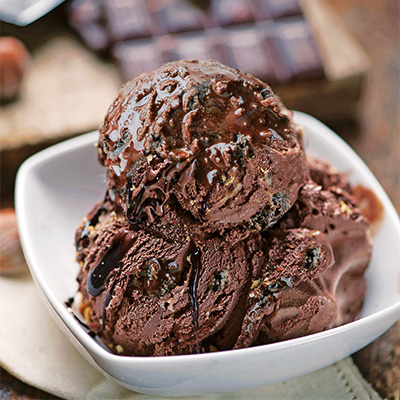 The product, being perishable, required large amounts of research on delivery and storage; the process of making it was just half the work. In the NCR, Cold Love only delivers fresh ice-cream. So, we are told, what you order online is what you will get from the batch of the day.
But there are also ice-cream parlours in Noida and Jodhpur. Recently, Cold Love has opened a cafe in Connaught Place with Blue Tokai, serving affogatos, waffles, crepes, coffee, and of course, ice-cream. You can buy Cold Love in Hyderabad and Bengaluru too.
To these distant locations Cold Love ice-creams take a train ride with dry ice, which keeps them from melting up to 72 hours from the Lajpat Nagar kitchen in New Delhi.