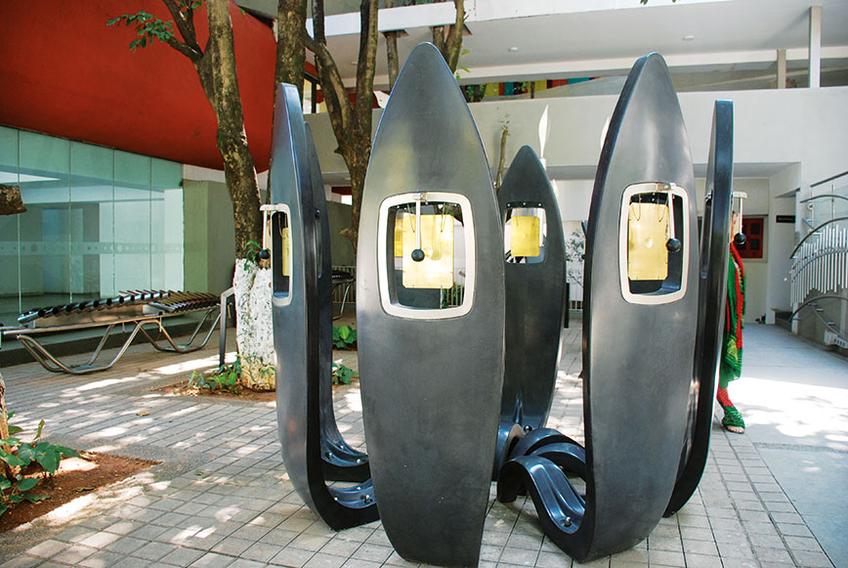 Flower gongs in the Sound Garden | Photograph by Susheela Nair
Shaadi bands to maestros in music museum
Susheela Nair, Bengaluru
Published: Mar. 16, 2019
Updated: Jan. 30, 2020
The Indian Music Experience (IME), India's only high-tech interactive music museum, is Bengaluru's latest cultural hub. Sprawled across 50,000 square feet, the museum is an encyclopedia of Indian music, presented in an engaging manner for audiences young and old.
It has nine interactive exhibition galleries, a Sound Garden with 10 musical sculptures, a learning centre for serious learners and hobby enthusiasts, a cafe, a gift store and a lot more. The music museum celebrates the best of architecture and design.
It is the brainchild of M.R. Jaishankar, chairman and managing director of the Brigade Group, one of India's leading developers. An art lover, Jaishankar was inspired by the Experience Music Project he saw in Seattle, in the US.
Explaining the concept of the museum, Dr Suma Sudhindra, director, outreach, says, "This is a one-of-its-kind museum which tells the entire story of India's vast and varied musical heritage through digital content and cutting-edge technology. We have researched and documented musical treasures from across the country. The museum runs on the formula of 'see, hear, touch and discover'. Here one can play songs, touch the instruments, listen to the music, read about the artistes and know their work."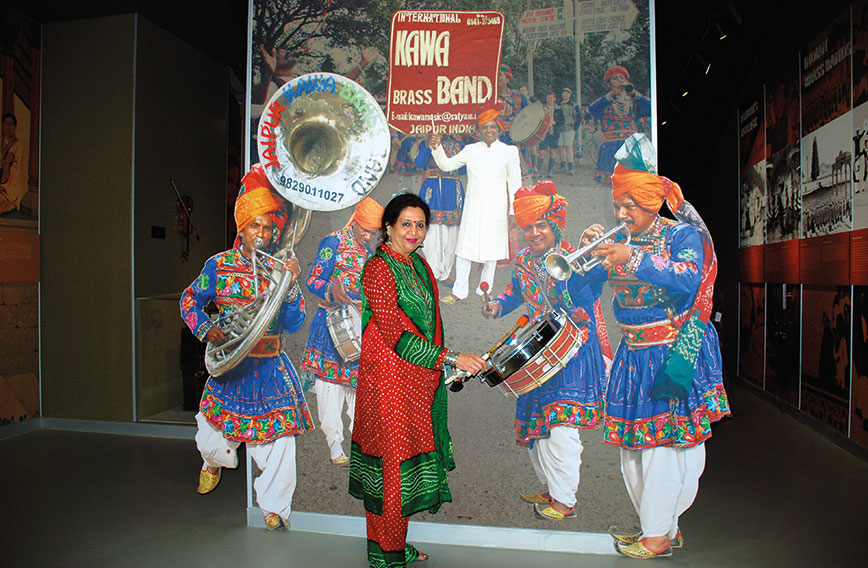 The marriage band also finds space | Photograph by Susheela Nair
We begin by going to the Sound Garden which features 10 installations like wind chimes, tubular bells, flower gongs and singing stones which introduce visitors to the principles of sound. Manasi Prasad, museum director, explains, "One can explore the principles of sound through 10 specially designed 'playful' musical sculptures. Through different materials, we have created installations that will engage people so that they can understand sound and vibrations and feel the concepts of resonance, vibration, pitch, frequency and timbre come to life. At the Sound Garden, anyone can be a musician!"
A digital replica of an 18th century Rajasthani painting that celebrates feminine beauty leads us into the exhibit gallery. Inside, after watching a brief introductory film, I set out to explore the nine galleries. In the first gallery, titled Contemporary Expressions, I took a stroll down a busy street in Bengaluru and relived the early days of independent 'indie' rock music in India. Hybrid sounds, Daler Mehndi's performance costume and auto-rickshaw mini-theatres are the highlights of this section.
From there I moved on to the Living Traditions Gallery where I learnt what the basic concepts of sruti, raga, tala, gharaa, dhrupad, khayal, kutcheri really meant. I got first-hand experience of Carnatic and Hindustani music through interactive touchscreen displays. In the Music of Devotion, Living Traditions Gallery, which celebrates India's diverse and rich cultural heritage, I caught a glimpse of the myriad forms of devotional music across the country. 'Songs of the People' is all about folk and tribal communities of India, their songs and the contexts in which these songs are sung. It also features kaavad, an oral tradition of storytelling in Rajasthan. The kaavad box — a colourful painted wooden box with several doors that unfold to reveal new chapters of the story — grabbed my attention.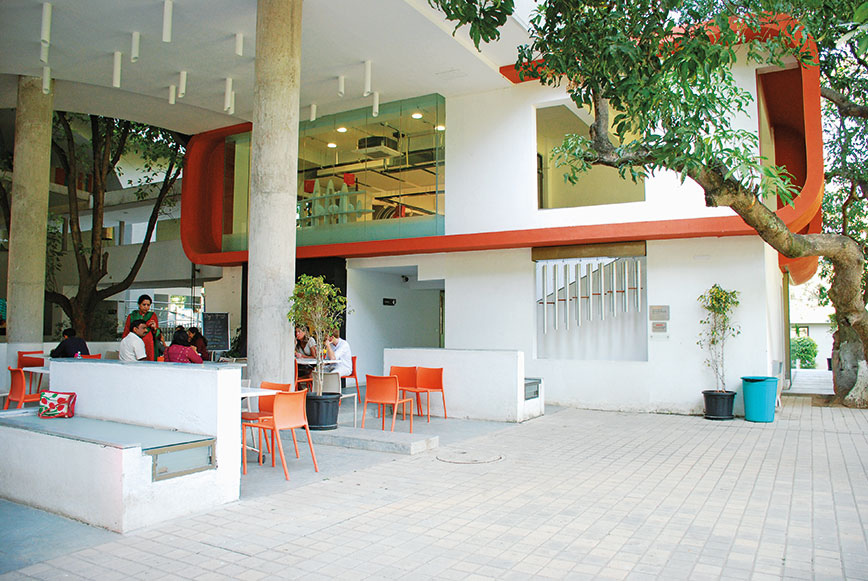 The music museum has an airy cafe | Photograph by Susheela Nair
The Instruments Gallery has a stunning floor-to-ceiling display of 108 Indian musical instruments, with an interactive display that provides information on their origin,
craftsmanship
and sound. Each of the 108 instruments exhibited here has a history. The gallery showcases Vidwan Manjunath's ghatam, Dr M.L. Vaasanthakumari's tambura, a peacock-shaped mayura veena, and intriguing metal horns, leather drums, stringed wooden creations and a variety of mouth harps. The curious visitor can dig deeper into each instrument and musical tradition through a digital interface with audio and video clips.
There is also a Songs of Struggle gallery which explores music from India's national movement, from Gandhi and his bhajans to songs of protest and patriotism in pop culture. Over 35 versions of "Vande Mataram", a replica of Mahatma Gandhi's letter to M.S. Subbulakshmi, and patriotic songs from Hindi films across the ages are the highlights of this gallery. It takes one back into a time when ethnic music influenced the prevailing political environment.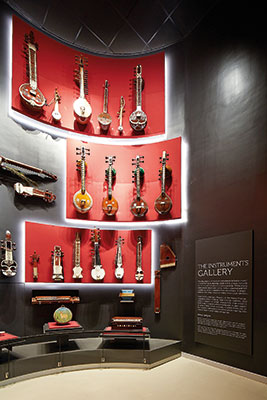 Melting Pot is a narrative of the influence of Western music on Indian music and vice versa. One can cherish vignettes from different eras of Hindi cinema displayed on inset screens in the Stories Through Song gallery. It transports one back to a time when travelling 'bioscopes' were used to screen films. Here one can discover the landmarks and legends of Hindi film music and find the diverse influences of various genres of music in film songs.
In the eighth gallery, I traced the journey of recorded sound in India and learnt about the pioneers of recording. From the gramophone to the mobile phone, the way that music is recorded and disseminated has evolved. The highlight of this Reaching Out gallery is an aesthetically designed and memorable photo-op featuring a Bengali household from the 1920s where the gramophone occupied pride of place. At the Recording Studio, one can sing by choosing a background track, record oneself and select the album cover, and finally email the final track to oneself. It is an experience that no music buff would want to miss.
The Stars gallery or The Hall of Fame at the IME features 100 legends of Indian music from different genres. Occupying pride of place are precious memorabilia that once belonged to Bharat Ratna musicians. They include the shehnai of Ustad Bismillah Khan, the tambura of Vidushi M.S. Subbulakshmi and the concert attire of Bhimsen Joshi.
I rounded off my musical tour with a visit to the gift shop which features exclusively designed IME merchandise such as posters, postcards, T-shirts, key chains and more.