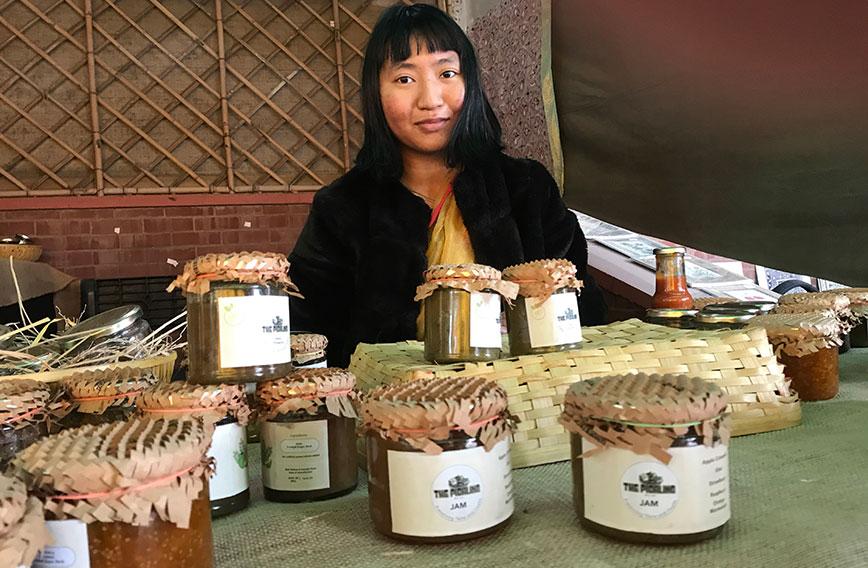 Pami B. waits for cusomers at her stall in Kisan Haat
Innocent jam with heart from artisanal efforts
Civil Society Reviews, New Delhi
Published: Feb. 06, 2021
Updated: Feb. 25, 2021
WHEN your boyfriend's mother puts effort and love into making delicious jams and chutneys the family adores, what do you do to show your appreciation for her efforts?
Simple: you cobble together a business, dream up a brand and begin selling the lovely homemade stuff so that more people get a chance to savour it.
Pami B. is a twenty-something woman from Assam whose stall we come across at the Dastkar's Design Fair in Kisan Haat in Delhi. She is settling into a new life in the capital. She is brave and innocent and so are her jams and chutneys, which are free of additives and full of pure ingredients.
It is a very young business and she is obviously nervous as she fumbles with the billing and stumbles in her pitch to customers. But Pami is one of a growing number of micro-entrepreneurs who seem to be instantly finding customers for wholesome food products.
Pami has called her brand The Pickling. It has a limited inventory: five jams, amla chutney and pure tomato sauce. But with its slogan, 'Preserving taste and health', and its functional label, and for some bottles no label at all, The Pickling is making its own kind of honest impression and is finding its way onto tables like ours at Civil Society.
We suggest you try the orange marmalade, which is made from orange, orange peel, clove and crushed sugar rock. There are no preservatives and you have four months to get through a bottle, the weight of which is not mentioned.
As orange marmalade goes, this one rings true. The orange and clove hang together well and the peel brings in just the right amount of bitterness because it hasn't been muted by too much sugar.
Pami pushes the raspberry jam, which is pulpy, grainy, sweet and a little tangy, which are just the qualities you would expect of a straightforward raspberry. Also on offer are kiwi, strawberry, apple and mint jams.
The amla chutney, presented by Pami with some fanfare, has an explosive freshness. The aroma wafts to you as she opens the bottle under your nose. It is sour and the ginger and garlic packed into it come across strong, just like they should. Of course, amla is full of Vitamin C and ginger and garlic are known for their anti-inflammatory properties.
"I found that my partner's mother was making all these wonderful things and putting so much effort into them that I felt they should reach many more people. The name The Pickling and the packaging and labels are done by me. But the recipes are hers," says Pami.
At Civil Society, we have for long been into honest jams. Two such jams come from Salad Days, whose founder, Varun Madan, has built a reputation among his customers like us for his salads, soups and sandwiches.
Madan likes farming and in addition to the vegetables he grows, he cultivates strawberries. Yes, you guessed it: there is fresh strawberry jam on offer and it's great.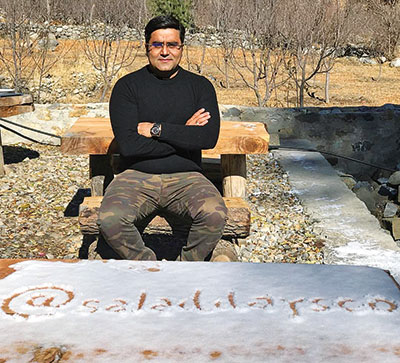 Varun Madan of Salad Days
Madan's strawberry jam is not too sweet and it's free of preservatives. Most conveniently, you get small bottles, which means you don't have to plough through a whole lot and instead have just enough to satisfy you over a few days before moving on to something else.
Madan is a free-roaming, passionate type who has built an enterprise that has goodness in its DNA. He is good to his staff from the delivery boys upwards and during the long lockdown for the pandemic took care of all those who stayed back even though business was at a standstill. He is also good to his customers, never charging too much and bending over backwards to deliver value.
When you are like that you tend to be on a perpetual journey of discovery. Salad Days is based in Gurugram and the farm he grows his vegetables on is not too far away. But Madan has chosen to make the whole country his theatre. He is often biking off here and there. Small things give him a high. How small? Well, as small as an apricot from Ladakh.
Madan brought a whole lot of apricots down from Ladakh to help growers up there who had been caught on the wrong foot by the pandemic. He sold to his customer base, used some in his salads and gift packs, and with the rest he has been making jam. It is still available. It is high on our list of innocent jams because what you get is the full flavour and texture of the heavenly Ladakhi apricot. There is no fudging here and once again the bottles are small.
Many a small entrepreneur in the food business just doesn't make it. We've seen several fold up and who knows how many others there are that didn't survive. It is a difficult business to be in — sourcing raw materials, maintaining quality, packaging it right, delivering on time. Madan has put systems in place. About Pami and The Pickling we still don't know.
Bhuira Jams is a busines that took the slow and steady path to growth while sticking to its mission to deliver a wholesome product from the mountains in Himachal Pradesh while empowering village women along the way.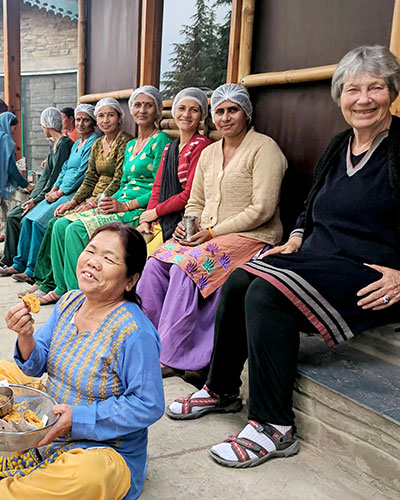 Linnet Mushran with the women of Bhuira
Beginning in 1991, Linnet Mushran, English and married to an Indian, bought a cottage in the village of Bhuira and began indulging in her passion for making apple jelly. So good was the response to the apple jelly she made that in 1999 Bhuira Jams was launched both as a business and as a means of giving local women employment and a greater sense of fulfilment.
We have never met Mushran, nor have we made it to Bhuira, but we have always bought Bhuira Jams products because they are full of fruit and have a unique freshness.
As with most things beautiful, Bhuira Jams was small and mostly unknown for a long time, waiting to be discovered by people like us. For many years finding a bottle in Delhi was difficult. In other cities it wasn't even a possibility. Its marketing and distribution didn't do justice to the jams. But that didn't matter because customers discovered Bhuira. As for Mushran, her goal was to make good jam and help local women earn more with respect.
Now Bhuira is widely available and the internet has made much possible, but when we go to the Bhuira Jams website we learn that while the business has grown nothing else has changed over the years. It is still run with the same passion and social purpose with which it was begun to improve lives and do some good with a nice thing like jam.
"Bhuira jams bring the flavour and romance of the mountains to your table," says the company idealistically. That is quite true and it succeeds in doing so without aggressive advertising and marketing.
The women who work in the Bhuira factory have seen their incomes rise through steady employment. Their families have benefitted. They are also custodians of a brand that carries the name of their village. It works wonders for their status.
As production has increased, the company has gone from one factory to two. Local growers have a ready buyer for their fruits instead of having to negotiate with traders or sell at government-negotiated rates.
It has taken more than 20 years for Bhuira to have got where it has got. On a smaller scale, it has taken Madan almost seven years to build Salad Days' identity. For all the instant opportunities the internet offers, there is no substitute for innocence and the passion to do good.